McMenamin standing for trustworthy leadership
Posted on April 16, 2015 by Vauxhall Advance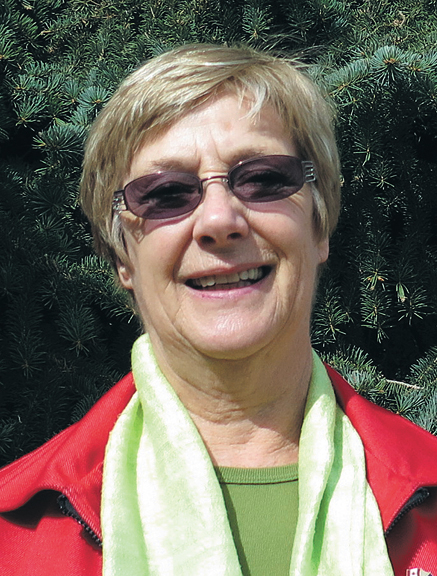 By Trevor Busch
Vauxhall Advance
tbusch@tabertimes.com
Alberta is ready for a change at the top.
That was the message from Little Bow Liberal Party candidate Helen McMenamin, and she wasn't mincing words when it comes to the present record of the ruling PCs.
"I don't really expect a huge amount from the PC government. I'm very disappointed — If they wanted to fix things, they needed to get more money, they said they had a $7 billion shortfall.
"And we're going to have a $5 billion deficit? They've spread the pain around, and they've prom- ised to still build schools. But they won't provide the teachers, the desks, or the books. I think they've got more deficit than they need, and they haven't really taken on the deficit, because maybe people wouldn't like it."
A Lethbridge resident, McMenamin previously ran for the Liberals in the Cardston- Taber-Warner riding in the 2012 provincial election.
"I'm a farm writer, I write about farmers, but I also monitor pesticide trials. I watch and see that the people that are doing the tests are doing everything right. I'm a dedicated Liberal. I choose the Liberals, because when they make a decision, it's not based on ideology or a knee-jerk reaction to anybody. They work through any proposed new policy, and then find the best answer for the most people."
McMenamin savaged the Prentice PCs for not raising corporate tax rates in Alberta in the recent provincial budget.
"The Liberals have a more fair system of everyone paying their share, which would include the corporations paying just a little
more tax. Alberta has a lot to offer — it doesn't also have to be the cheapest tax regime for a corporation."
The province needs a firm focus on agriculture if it wants to succeed in a global environment, according to McMenamin.
"I think we need trustworthy leadership. Everyone in Alberta needs leadership that's for all of the people of Alberta. This is an agricultural area, and I think we need to be fair to agriculture. Surface rights issues don't seem fair to me. I also think farmers need innovation to cope with cli- mate change, and to stay competitive.
"Farmers have to have market access, and that means being competitive in every way, and that doesn't mean just having a trade deal. You've got to be competitive, and compete better than everyone else."
Often a controversial topic in rural Alberta, McMenamin is supportive of increased safe- guards for farm employees.
"The Alberta Liberals also sup- port Worker's Compensation for farm workers.
"I think that will benefit farmers — for one, it's the cheapest insurance you can buy. If we don't have social and environ- mental standards that our buyers of our products can know about, then what have got?
"You have to have more than a good product. The buyers have to know that it's safe, and that it's socially and environmentally responsibly produced."
Education is a key area of con- cern in the present election, an area that is obviously being neglected by the PCs, added McMenamin.
"All voters — I don't care who you are — we all need to focus on education. Whoever the govern- ment is, education is the first
thing that any government should provide. The Liberals would like to see good early child- hood education, and I'd like to see life skills education for anybody whenever they can.
"We'd like to see schools as community hubs, where kids can get a hot lunch, and care for sen- iors in public health centres — and there shouldn't be any fees for school, K to 12 there should be no fees. And after that, they shouldn't be crippling people (with post-secondary debt)."
McMenamin outlined the party's vision for Alberta as it transitions into the future.
"We have a vision for Alberta — everyone paying their fair share, and being able to have the services they need.
"If we all contributed, we can look after the vulnerable. We need decent health care, and we need an environmental plan."