NDP represents real change in Little Bow riding; Muendel-Atherstone
Posted on April 16, 2015 by Vauxhall Advance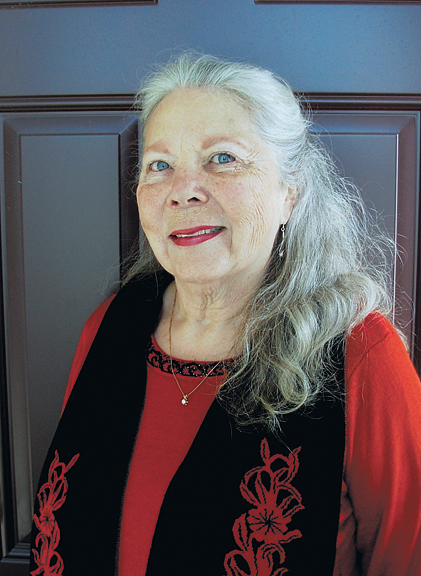 By J.W. Schnarr
Vauxhall Advance
jwschnarr@tabertimes.com
Little Bow voters who feel like they'll never shake off the Progressive Conservative Association of Alberta have an option in Bev Muendel-Atherstone and the Alberta New Democratic Party.
"The Wildrose and PC party are two sides of the same coin," she said. "You'll get the same kind of government with either one. You can tell this because Ian Donovan, who was a Wildrose, crossed over to the PCs. You can see, in his mind, there's no difference."
"That's why you should vote for the NDP," she added. "We are the change you have been looking for a long time."
Muendel-Atherstone previously ran in 2012, and was acclaimed this year. Retired now with her husband in the County of Lethbridge, she has three grown children and four grandchildren.
Muendel-Atherstone has a background in psychology and education, including 16 years as a councilor for the Palliser School Division and 13 years as a teacher of teachers at the University of Lethbridge.
She said the people of her rid- ing are ready for change.
"After 44 years of the same government, no matter what the people of Alberta say they'd like to see, the government doesn't listen. I think it's time for a change. We need to have a government that lis- tens to Albertans and acts on what Albertans say."
Muendel-Atherstone said budget cuts and freezes to education are one of the main reasons she is running.

"When we take away resources from our children, which is what we do when we put more children in the classrooms, then we are robbing children of their education, and we are shoot- ing ourselves in the foot," she said. "Our children today are the leaders of tomorrow."
She said even one year of reduced resources can have a drastic impact on a child's education, as they miss out on key building blocks at every grade.
"We cannot play roulette with the lives and educational futures of our children," she said. "Otherwise, all the talk about job creation and the economy is meaningless. We have to educate the children first. These are the Albertans of the future."
Muendel-Atherstone said the way Premier Prentice treated corporations with kid gloves while dolling out taxes to Alberta residents is a prime example of the Alberta PCs listening to one group over another.
"It was an overwhelming response that people did not want to see (budget funds) come from their taxes," she said. "They want- ed to see the corporate taxes raised. But Premier Prentice said there was just no way he was going to raise corporate taxes."
Additionally, she said the government has been stripping away rural services for years, something she is opposed to.
"That's one of the main things the PCs are going after," she said. "Reducing public services and, when it happens in rural areas, there is a very dramatic impact because of the huge distances involved."
She highlighted the 2012 closure of the Carmangay long-term care facility as an example of how devastating to a community the closure of these types of facilities can be to rural voters, where they serve a large area.
"These are issues that are throughout the entire province, but they are exacerbated in rural areas."
She said for voters looking for a real change in the province, it is the NDP, and not the Wildrose, who presents that change.