Great paddling in Alberta's sunny south
Posted on August 27, 2020 by Vauxhall Advance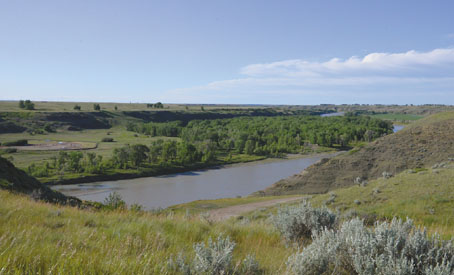 ADVANCE FILE PHOTO
By Trevor Busch
Vauxhall Advance
tbusch@tabertimes.com
Stereotypical perceptions of southern Alberta might conjour up images of parched prairie, or flatland wastelands interrupted by the odd irrigation pivot or pump jack, cast against stubbly foothills with a mountain backdrop in stark relief.
On the face of it, it is not a region that appears to be destined for worldwide fame in water sport adventure circles. But the region harbours a series of mighty arteries with multiple tributaries that tend to bely that stereotype, especially for those who like to ply the waves of the many criss-crossing ribbons that bind the region together.
As for the fame aspect, not having untold multitudes descend on every stretch within easy driving distance in boats, paddle boards, canoes, kayaks, tubes and anything that will float actually makes this mariner rather happy. On most river reaches in southern Alberta (outside Calgary and area) meeting fellow navigators while proceeding downstream is really more of an anomaly than anything else. Which makes most trips a descent into solitude and nature while slowly making your way downstream. Having the impression you might be the only person in the world — if only for a fleeting moment, before a fencepost or an irrigation pump swims into view — is a feeling that isn't easy to experience anymore without traveling a long way from home, into the depths of a forest or park or along a backwoods trail. But on southern Alberta's badlands river valleys, it only takes a few curves in the river before civilization seems to have disappeared.
I'll probably have to dispense with this anti-social whim in coming years as the popularity of kayaking and other river sports is still growing. The days of silent progress while carving through rippling waters will probably be replaced by more and more enthusiasts on the water on every Saturday or Sunday one has the time to float a stretch. Already it's not uncommon to encounter fellow seafarers at put-ins or take-outs, or even occasionally downstream while on the water. Just a decade ago this was considerably less common, especially on the Oldman River east of Lethbridge.
Not that more people is necessarily a bad thing; I love that the sport is picking up among many people in the region. I just may need to find some more isolated stretches if solitude is what I might be seeking. And the solitude I speak of is really more of a euphemism: I only rarely kayak alone, and only on unchallenging stretches of river I know extremely well. Safety first is never poor planning when it comes to kayaking. I've seen enough people swamp their boats or end up in the drink while doing nothing more than reaching for a beverage or simply not paying attention to their surroundings for a split-minute.
Equipment matters, too. Never neglect the life jacket no matter how relaxing a stretch of water you might be on. And while your $200 kayak might easily be good enough for reservoirs, lakes and some lazy river stretches around the area, it could make for a disastrous day if you decided to challenge the Milk River, or some Class III-IV rapids on parts of the St. Mary. Take it from me, it pays to invest a little if that's what your passion is. And this is a been there, done that kind of anecdote. Early on in our river careers during a trip on the Milk, several friends discovered the navigable limits of a cheap kayak can be reached pretty easily. If you don't want to spend the day bailing and draining, don't attempt it — or get a better kayak.
And it pays huge to acquire a river guide. Many of the rivers in southern Alberta can have weirs, challenging rapids, irrigation dams and many other obstacles that may need to be avoided at all costs depending on your level of experience. Just putting a keel in and hoping for the best on an unknown stretch of water can be incredibly dangerous and reckless; witness the multiple deaths on the St. Mary River in 2020.
The best up-to-date river guide I've found is Mark's Guide for Alberta Paddlers (2nd Edition, 2016) by Mark Lund. And it also pays to remember this simple adage when you encounter something around that next bend that makes your bowels turn to ice: "…no paddler has ever drowned on the portage trail."
In July, I took a week off for some staycationing in southern Alberta to travel a few rivers I hadn't traversed yet, and scout out a few others for future reference. Although the weather in early July really left something to be desired — heavy rain and an almost springtime cold that is pretty anomalous around here at the height of summer — we were able to get in a few paddle strokes on three different river stretches.
Bow River
Highway 875 Bridge to Highway 524 Bridge NE of Hays
A scenic prairie paddle on a modestly fast-flowing river, there are no rapids to be seen on this stretch nor rocks to avoid. Mostly a "float" if that's what you're into, the Bow is relatively famous for strong headwinds in certain stretches, and this one was no exception when it flowed directly south, so be prepared to do some strong pulling with the paddle. Early on there are some spectacular badlands formations which I was unaware of; the Bow Valley is often more gradually rolling in many places than sharp badlands cliffs that are often encountered further south on the Oldman River.
Time: Roughly four hours at high water
St. Mary River
Kimball to Highway 5 NE of Cardston
This run provides some good intermediate whitewater on a pleasant, fast river through scenic cottonwood flats and open rangelands. The river here flows swiftly over an open gravel-bed with a few log jams and sweepers on midstream gravel bars. There are a few rapids where maneuvering is required. In early July the St. Mary was very high; what may have been a Class I rapid probably passed for a II, and so on, so monitoring water levels is vital, especially in early summer. An exciting stretch that will keep you watching the curves ahead, it shouldn't present too much trouble for someone with a reasonable level of experience.
Time: Roughly 2-3 hours at high water
Oldman River
Highway 845 Bridge to M.D. of Taber Park
Prairie vistas, leisurely paddling, and spectacular bluffs can all be found in spades along this stretch of water. I've travelled this stretch quite a bit — not as much as Highway 864 Bridge to Highway 36 Bridge, the obvious whipping boy for the local Taberite — but it offers up a wonderful stretch of river for simple floating and enjoying the day as it slips by. Headwinds aren't as prevalent on the Oldman, but make no mistake, this river can start driving you back upstream against the current if the weather is not in the mood to cooperate. Be sure to put in early; depending on water levels this can be a long stretch — too long, some might say. There's opportunity to pull out and put in in a few different places in-between, but unless you know some landowners it might be best to steer clear.
Time: 5-7 hours at high water, 8-9 hours at low water