Townsend's 'Devolution Series' delivers a plethora of releases in 2021
Posted on March 25, 2021 by Vauxhall Advance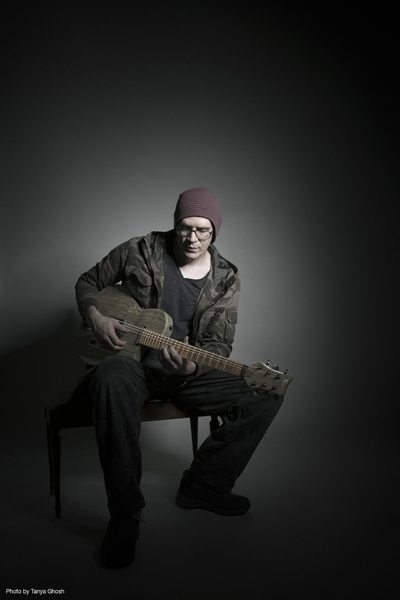 By Stan Ashbee
Vauxhall Advance
editor@tabertimes.com
Canadian progressive metal singer and guitarist Devin Townsend's 2021 will be chock-full of releases, which will include a series of live albums, quarantine albums and "generally interesting projects that keep people entertained," Townsend stated. "While I'm busy on my next larger releases."
Born in Vancouver, Townsend has been referred to in the rock press as a "multi-everything-ist," is a celebrated instrumentalist, a composer, producer, arranger and bandleader. Townsend also led the metal group Strapping Young Lad.
Townsend's "Devolution Series" is a grouping of oddities and interesting material, the multi-faceted musician would like people to hear. The series, Townsend stated, will include all the quarantine songs and concerts, as well as various live shows from the past few years. According to the musician, the first release is a remixed and remastered version of the "Live in Leeds" show originally on the "Empath" Ultimate Edition.
"It was a cool acoustic show that deserves to be heard I think, so we can use this as an introduction to the series. I'm currently deep in the writing of my new projects and I am very excited to be doing so," Townsend noted in a recent media release to announce the projects. "Live in Leeds" will be released this month.
"Basically, I've been busy for the past year just trying to keep business afloat and I also try and do things that are creatively interesting to me," he said, adding for the fans that support what he is doing he also tries to make sure they aren't just getting "a load of garbage — just to try and make money."
Townsend said the idea of the label was to do four releases this year that were more of a low-key release, as opposed to something with a lot of special editions. "The 'Devolution Series,' which 'Live in Leeds' is part of, is one of four live records I'm putting out. I think it's really cool. It's been such a crazy year — trying to figure out how to do anything. It's been pretty intense."
Honestly, Townsend admitted, he hasn't left his studio in a year. "I wake up in the morning and I write and mix."
In a different scenario, where the world wasn't in the midst of a completely divisive worldwide pandemic, being in his studio and writing every day would be exactly what Townsend would want to do. "But in this environment, it's a different experience because it's got an undercurrent of uncertainty about it. What typically has happened with me, as far back as I can remember is, my writing has to reflect my world. So whatever is going on in my world is what is going to come out in my music. I've ended up writing this series of songs and movements called 'Puzzle' that is a very accurate description of how things have felt over the past year, so it's a chaotic and bizarre record, movie and all sorts of things."
"I've got a month until I have to deliver it and it's a film, it's two soundtracks to that film and it's a bunch of content that goes along with it. I'm really proud of it, but it's not songs, necessarily. It's not like a normal record. But, I guess it's what I felt I needed to do this year. It seemed like all signs are pointing to something abstract like that as being the right move for me," he explained.
Immediately upon delivering the "Puzzle" project at the end of March, Townsend said he starts his next actual record, which is something he's more excited about now. "It's a lot more streamlined and a lot more straight forward than this 'Puzzle' project. Everything is a reaction of what came before, so I feel like I needed to get this thing out of my system. It's been such a crazy year. I sit down to try and write songs and all that comes out is just bizarre, chaotic, abstract s**t. I figured that's my best move — just to do that and get it out of the way."
"On the other side of that, I'm starting to get the impression there's an actual record," he added.
As for the follow-up "Devolution Series" release, Townsend noted the next one is one of the concerts he did for a quarantine project he had been working on. "Where I put together sort of a metal band and we did this online stream where we did it to green screen and it's this kind of cheesy version of us playing in space. But it was cool. It's a good sounding recording and everybody played really well. I'm going to put that out following the Leeds show."
All of the releases are interspersed between Townsend's major releases, "for lack of a better term."
"I'm thrilled I've got an audience that supports what I do. Basically, the idea is to try and provide content I feel strongly about that just kind of keeps everybody engaged on a certain level. Those four records are sort of live records that are going in-between these other projects I am doing," Townsend said.
An integral essence of a musician putting out new content is the touring aspect, in support of a new release — something that has been missing from an artist's repertoire for over the past year due to the COVID-19 pandemic.
"I think you have to have hope or else things get a little bleak. I'm supposed to headline 'Bloodstock' festival in the U.K. in August. All the vaccines in B.C. are supposed to be here in July and August, so it's one of these things where they're saying 'can you commit to this?' and I'm like yes, but I don't know. My hope is vaccinations get here in time and I can do it because it's a big gig for me and I would love to be able to get back out there. You just kind of have to leave it up to circumstance, I think," Townsend said.
"I guess the bottom line is I'm booked for tours up to the middle of 2022 right now and they just keep cancelling them. I think a lot of that is there's a big pool of bands that once the restrictions are lifted, it's just going to be the floodgates are going to open. Along with that, we've lost like 30 per cent of the venues, so routing becomes crazy. I know there's a lot of friends of mine who are techs, road crew that just don't do it anymore and had to go get jobs. Not only is there going to be a million bands trying to get out on tour, but there's going to be less venues and no crew," he noted. "I've got no doubt it's all going to open up and in due course it will be some sort of semblance of normal. But in the beginning, when everybody is scrambling to get back out there, it's going to be a gong show."
Some life-long fans wonder about Townsend's older catalogue of material and hard-to-find releases and if he plans to re-master and/or re-release some of those selections, such as "Ocean Machine."
"Years ago I had a flood at my house and I lost all the tapes, so 'Ocean Machine' is what it is," he noted, adding this year alone he has four live records and the "Puzzle" project, as well.
Townsend's world is so full of new stuff, oftentimes fans will be talking about old work and he doesn't remember the song they're talking about. Townsend said he thinks his creative process is, "I just vomit things out and then forget about them. That's a super romantic way of putting it, I guess," he joked.
Townsend admitted he really likes his job and thinks it's really cool. "It's a real honour, after all of these years, to have people still paying attention to it. The reason why I have so many releases, typically — is not only to keep the boat floating, but also I want to keep people engaged and make sure whatever we do put out is good quality. It's a weird time and there's no reason for people to buy physical product anymore, so if you're going to do it, it's got to be cool."
"So, thank you to anybody who has paid attention to what I do, because I really like doing this."