The importance of pride during Pride Month
Posted on June 3, 2022 by Vauxhall Advance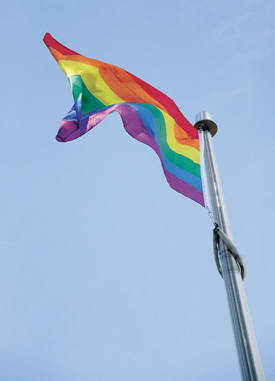 With June being Pride Month, and this week being Pride Week, we thought it would be prudent to discuss why Pride Week is so important in the LGBTQIA2S+ community. To put it quite simply, it is important because it lets members of the community know that it is OK for them to exist.
The media that we produce and consume daily has also played a critical part in why Pride Month is not only important but necessary. The sheer amount of heterosexual normality that exists within our media can be extremely alienating for people within the LGBTQIA2S+ community. 
No matter what the story is, nor what form of media the story is, if there is a lead male character and a lead female character it is always assumed as well as quite honestly expected that they would get together by the end of the story. Although on the surface this may seem harmless, but when it is needly shoved into stories that don't have anything to do with romantic elements, it can reinforce the sentiment that only men can fall in love with women and vice versa. This is especially problematic if the characters had an antagonistic relationship with each other because it can demonstrate that it is more normal to fall in love with someone that is the opposite gender, even if you hate them and not be romantically attracted to them.
Another element within media, particularly when it comes to movies and TV shows, is the vilification of the LGBTQIA2S+ community — mostly due to the Motion Picture Production Code, more informally known as the Hays Code that was in place from 1934 to 1968. Originally developed to have the movie industry self govern itself before an external rating board was established, the Hays Code disallowed the release of any movie that portrayed characters that were not heterosexual — the only exception being villains. Despite being removed over 50 years ago, the effects of the Hays Code is still very visible in our modern media. Quite often, both gay men and lesbians are portrayed to be extremely aggressive in an attempt to pursue romantic relationships. Along with this, our media also tends to portray same-sex couples as always ending in tragedy. Either one of the individuals came from an abusive situation, a relationship where their previous partner passed away, usually by taking their own life, or these couples never give them a happy ending, usually by having one of them die at the end of the story.
Of course, corporations have to enter Pride Week now to try and make a profit. Every June, corporations roll out all of their rainbow theme products to try and encourage the LGBTQIA2S+ community to spend money at their establishment. Yet it is quite obvious to see that this is a shallow attempt to try and show allegiance to the community, especially when you look on Twitter. Companies are so eager to change their logo to rainbow ones except with their Twitter accounts where their countries only permit heterosexual relationships. One of the companies that is really blatant in their false sense of allyship is Disney. 
In Star Wars: The Rise of Skywalker, they claimed they had the first lesbian kiss in a major Hollywood movie yet, it is merely a blink and you miss it moment in the background when the rebellion is celebrating. Something that could easily be edited out for perhaps an international release in a country that once again does not allow people to be non-heterosexual. Then there's the situation with the animated show The Owl House — a series that was scheduled for three full-length seasons, but as soon as the episode came out where the main character was revealed to be a lesbian in the second season, the third season of the show was mysteriously cancelled. Later, Disney eventually walked back their approach allowing the show to have six episodes for its last season instead of the normal 12.
Fundamentally because of all these negative elements, blatant exploitation, and hate that the LGBTQIA2S+ community receives, Pride Month exists to let the community reach out to each other and say "we are here for you, it's OK to exist, and there is nothing wrong with being who you are."