Volunteer firefighters have busy week
Posted on April 25, 2019 by Vauxhall Advance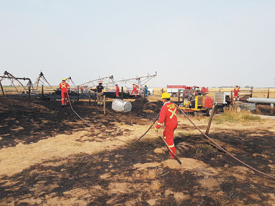 ADVANCE FILE PHOTO
Station 5 in Vauxhall of the Municipal District of Taber Regional Fire Service has had a busy few days.
On Sunday afternoon, the station was called to a scene south of Vauxhall where a family was out target shooting.
A simple spark from a bullet hitting the metal target started a small fire around the target area and with dry conditions and gusting winds, the fire grew out of control.
The 9-1-1 call came in around 4:18 p.m. and 23 Regional Fire Service members from Station 4, 5 and 7 responded to the call along with three water tenders and nine fire apparatus.
Mutual aid from Stations 4 and 7 was called for, and the plume of smoke was visible as far away as Barnwell and Grassy Lake.
Station 4 thanked Taber Water Hauling Hand Copperfield Farms for assisting with water and Taber Police Service dispatch for getting TWH involved.
Over 17,000 gallons of water was used to extinguish the fire that grew to almost 90 acres in size.
The last two remaining units, Engine 5-3 and Sierra 5-1, were back in service around 8:15 p.m.
With the service made up of mostly volunteers, responders left their Easter suppers with family and friends to help with the call.
Monday also proved to be another busy time for Station 5, as they had two calls out.
The first was at 12:05 p.m. due to a tractor fire near the Hamlet of Enchant.
Engine 5-2 provided mutual aid, with an extra 3,000-gallon water resource for Station 3 (Enchant), with extra water just in case the tractor fire turned into a grass fire. Later that night, another call came in at 5:45 p.m. for a structure fire within Town of Vauxhall limits.
The first unit arrived three minutes are being dispatched and discovered the fire to be a small garden shed. The fire was put out and items were removed in order for crews to utilize the thermal imaging camera to be sure the fire was fully extinguished. The interior was wetted down again to be sure.
The full extent of damage was contained to the shed and the structure is still in good enough shape to be used moving forward.
No damage was reported to the house or on both sides of the shed and all trucks were back in service by 7:30 p.m.
It was discovered through questioning of neighbours that the fire was purposely set by a youth playing with a lighter in the shed. M.D. of Taber Regional Fire Service wants to remind parents to discuss the dangers of playing with matches and lighters with children to avoid similar incidents.