Former Advance reporter covering fire fight in High Level
Posted on May 30, 2019 by Vauxhall Advance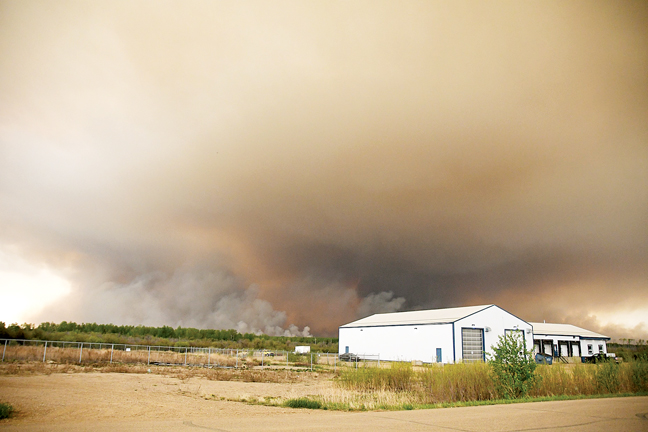 FIRED UP: A controlled burn south of High Level, near the Tolko sawmill on May 22 darkened the sky. Taberite Cole Swarbrick has been one of many on a contracted team of firefighters who are helping protect the Tolko property. ADVANCE PHOTOS SUBMITTED BY J.W. SCHNARR
By Tim Kalinowski
Alta Newspapers – Lethbridge
With a massive wildfire raging about three kilometres from the town of High Level, around 4,000 local residents have been evacuated.
However, a few hundred individuals have been allowed to remain in the community to support ongoing firefighting efforts. Former Lethbridge Herald/Taber Times/Vauxhall Advance reporter J.W. (Bill) Schnarr is one of those individuals.
Schnarr spoke to the Herald early last week when the evacuation order came down.
"We were given permission as kind of an essential service to ensure information keeps flowing," explained Schnarr. "We're grateful for the opportunity. I have been spending the last couple days driving around checking things out and taking lots of pictures, and being sure to throw things up on social media to get the word out as much as possible. As far as I am aware, there isn't any other media up here right now."
"We are down to maybe a couple hundred people left in the town," he added. "It is mainly first responders and support staff here, but we have been told there is some staff in the hotels and at some of the restaurants. There might also be a grocery store that has some staff to it. Those are just essential things to ensure the first responders who are here are being well taken care of while they are here."
Schnarr, who is the editor of the High Level Pioneer-Echo, says it is strange to be one of the few people moving around in the usually bustling community.
"Last night after the evacuation, I went out and I drove around in town," he recalled. "The power has been off for two days now, and the town was just dead quiet. You can't hear anything. It was really eerie, and it felt like the town was completely asleep while there is this danger present nearby. I feel safe in the town, and I think if there was an imminent danger to our lives they would remove us from the area. I felt it was important to not to just our readers in High Level to stay, but also to people across the province who might be interested in what is going on."
Like everyone remaining in the community, Schnarr is relying heavily on his smartphone, generator power and battery packs to keep his information flowing. He is ready to evacuate at a moment's notice if the fire changes direction dramatically to burn back toward town.
It's not quite like any story he has ever covered before, he admits.
"I have been trying to put into words some sense of the enormity of it," said Schnarr. "I have also been having a hard time really capturing the real feel of it with my camera. Just the idea that something that large and that destructive is out there, and to be this close to it, I have really been affected by it."
More firefighting resources continue to arrive on scene to fight the wildfire, now measuring 127,000 hectares. Alberta Wildfire has 400 firefighters along with 28 helicopters fighting the fire.
To read more of Schnarr's reports from the scene of the High Level fire, follow him on Twitter @JWSchnarrEP.