Taber celebrates Pride with flag raising
Posted on June 6, 2019 by Vauxhall Advance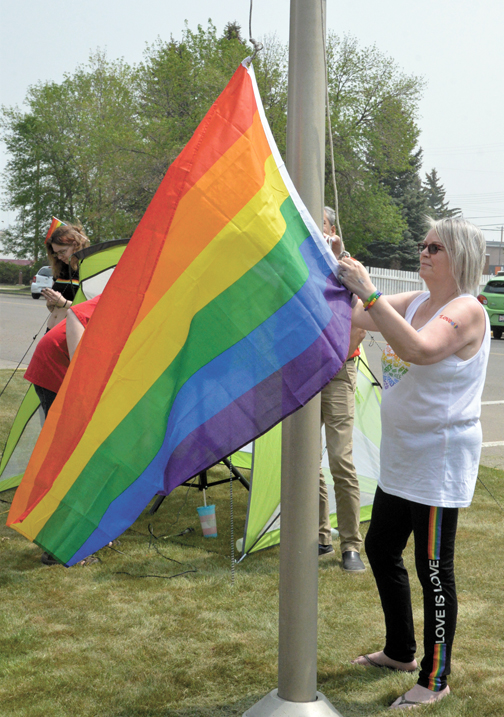 ADVANCE FILE PHOTO
By Greg Price
Vauxhall Advance
gprice@tabertimes.com
Despite swirling controversy the last three years, the Pride movement continues to make inroads, as the official flag raising at the Taber Provincial Building took place on a warm Saturday afternoon.
Several dignitaries were in attendance, along with a fair-sized crowd to usher in the day's activities which would later take place at Confederation Park and a dance afterwards at the Legion Hall.
Karen Worme said a prayer in her native language along with performing a smudging ceremony at the flag pole as an elder with Treaty Six First Nations, who has lived in Taber for the last 40 years.
"We just want to ask you to protect their flag Lord, that no harm comes to it. We are all proud of who we are and there is no discrimination against anybody," said Worme, who repeated her prayer for the audience in English.
Worme's prayer alluded to the Pride celebration in 2017 that saw the Pride flag which was raised at Confederation Park, first stolen and vandalized, and then burned when it was raised a second time. The actions prompted the town to rescind its community flag protocol policy, citing community safety concerns among its reasoning, not allowing any flag aside from town, provincial or federal flags could be flown on town-owned flag poles.
The then-NDP provincial government stepped in and offered that the flag be flown at the Provincial Building, and the new UCP government has carried on the tradition for 2019.
"We are proud of who we are. I am a Cree, native, and we get discriminated. There is no room for that. Everyone is proud of who they are. God put us on this earth to enjoy this world," said Worme. "I'm honoured to be allowed to be here to say my prayers. I have grandchildren and nieces and nephews who are gay. They have struggled in their days of discrimination, both with being native and being queer. But they stand proud, and are proud of who they are. God gave us this earth for everyone to enjoy. Who are we to say anything about anybody?"
The 2019 Pride celebration was preceded by an online petition circulating to disallow the Pride flag from being flown at the Provincial Building, which days later, had a petition in favour of allowing it.
Jayce Wilson, co-chair of the 2019 Pride celebrations in Taber talked about the history of the movement which started as a riot on June 28, 1969, as a series of spontaneous demonstrations by members of the LGBTQ+ community protesting a police raid that took place in the early-morning hours at the Stonewall Inn in Greenwich Village, New York City, a popular gay meeting place.
"At the time, it was still illegal to be gay. The LGBTQ+ community faced constant harassment and police brutality and anti-LGBT laws," said Wilson. "On this night, everything came to a head."
That springboard led to the first Pride parade being held on June 28, 1970 in New York City, known as Christopher Street Liberation Day, marking the first anniversary of the riots. Wilson quoted the words of Jennifer Finney Boylan (born James Boylan), an American author, transgender activist, reality television personality and a professor at Columbia University who is a contributing writer with the New York Times, about the importance of Pride Week across North America, which while still a celebration, is also a peaceful protest against the inequalities the LGBTQ+ community still face today with various issues. Homosexual relationships are still illegal in 74 countries, and in 13 of those countries, the punishment is death.
While forward progress has been made in North America since the Stonewall riots, Wilson noted there is still work to be done like ending the practice of conversion therapy
"I am so over defending my own humanity. I am so over providing a power-point presentation about the fact that I exist, and I'm completely done engaging anyone who has a clever theory explaining why they actually understand my soul better than I do," said Wilson, quoting Boylan. "To be blunt, if your crazy-ass theory of the world does not ease the suffering of the people you do not understand, maybe what you actually need is a new theory."
Town councillors Carly Firth and Jack Brewin attended the flag raising. Among other dignitaries were fire chief Steve Munshaw and police chief Graham Abela, along with David Khan, leader of the Alberta Liberal Party. Official opposition leader Rachel Notley also gave a recorded message of well wishes.
"My friend Michelle Robinson and I came here last year, and we were so inspired by the community turnout and the courage and conviction of the people who live here in Taber and southern Alberta and we wanted to make sure we would be here again this year," said Khan. "I do want to echo what Jayce has said today. Pride is a movement, it's a protest and fight for LGBTQ rights. There's still a lot of progress we still have to make. Those of us who live in the bigger cities may have become complacent and our Prides become a bit more corporate and a bit less of a protest. We have to realize there is a lot more work to be done. Work that can be done here in rural Alberta and small-town Alberta. Taber Pride is really a leader across Canada in making sure we are working hard for inclusion across Alberta and across Canada in every big city and small town."
Khan highlighted the work still needed to be done, in asking Premier Jason Kenney to reverse his promise to roll back Gay/Straight Alliance privacy protections for vulnerable LGBTQ youth.
"I hope now that Mr. Kenney is premier, he will be the premier for all Albertans and reverse that policy in his election campaign. We also need more work to be done in banning conversion therapy. We have tried to do it provincially, and haven't been successful so far."
A petition has been launched in the House of Commons, along with a Senate bill that has been introduced for consideration that would ban conversion therapy federally and make it illegal, pursuant to the Criminal Code.
"These are things we can continue to work really hard on and there is lots of progress we can make, so let's not get complacent. We also want to celebrate all the hard work and courage of all the people here at Taber Pride," said Khan.