Local volunteer describes winding road to Victim Services
Posted on June 27, 2019 by Vauxhall Advance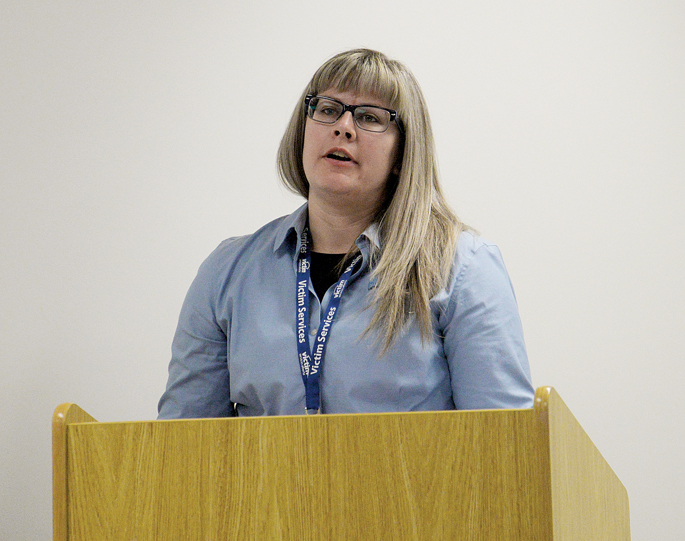 SUPER HERO: Mary Klassen gives her testimonial at the Taber Public Library of how anyone is capable of having 'superpowers' in their capacity for empathy in serving as a volunteer for Horizons Victim Services. ADVANCE PHOTO BY GREG PRICE
By Greg Price
Vauxhall Advance
gprice@tabertimes.com
The following is Part Three of a multi-part series of a presentation done at the Taber Public Library last month in bringing awareness to Victims of Crime and Survivors Week. Following articles will highlight an agency that works alongside Horizons Victim Services, along with a testimonial from a person who received help from it.
Everyone has the ability to have superpowers when the foundation is love and caring.
In recognition of Victims of Crime and Survivors Week, the Taber Public Library held a special presentation that ran the whole gambit of victim services, from formation to end result. A volunteer with Horizons Victim Services described her superpowers in what has allowed her to serve the organization.
"Don't be fooled by what you have seen in the movies and things you have read in comic books. There are no radioactive spiders that bite you to give you superpowers, nor is there a magical staff in a far away galaxy that will give you superpowers as soon as you touch it," said Mary Klassen, as she started her presentation as an advocate of Horizons Victim Services.
Klassen has spent years developing her superpowers. She started when she was young when she remembered her little sister falling and crying. When she was crying, Mary wanted to cry.
"I was hurt because she was hurt. I wanted to make her feel better. I did whatever I could to make her pain go away. When she started to smile, it made us both feel better," said Klassen. "Compassion and empathy are two of my superpowers."
School was an interesting time for Klassen, because she wasn't like the other kids. She didn't feel any different, but the other kids definitely treated her differently. Much like those with superpowers, Klassen's costume stood out with her homemade dresses opposed to those that were store bought. She didn't eat the same foods as other kids. English was also not Klassen's first language. She would eventually catch on to the English language and started to blend in. It was not easy, but in gaining that appreciation for empathy, Klassen started playing with the other kids with more regularity and had a partner when students were paired up for projects.
"I was eventually treated like the little girl I had been all along. The little girl who loved to go to school and wanted to be friends with everybody," said Klassen. "What I didn't know at the time, but what I learned was dignity."
It is that dignity Klassen cherishes in her role as a victim services advocate which she ensures her clients have.
"Dignity is our inherent value and worth as a human being. We are all the same, and it is within our power to treat others with dignity," said Klassen.
Klassen has now been able to hone her superpowers of empathy and compassion as a proud mother to five children. Learning confidentiality when her kids confide in her, or activities only involve certain children, is a trait that has proven invaluable in being a shoulder to lean on for victims of crime in one of the most traumatic experiences of their lives.
"I have taught my children from a young age, there are some things not everyone needs to know. They are things that are not necessarily dangerous, just things that can hurt feelings when told," said Klassen. "I find it helps build trust between my kids and myself. They trust me, knowing I will do whatever I can to help them. And we trust each other, knowing it works best when we keep it between us."
Having five kids, you have to have a listening ear, hearing all of their concerns and stories, even if it's the 100th time you have heard it.
"Simply showing you care can solve many problems," said Klassen. "What do you think can be accomplished with these types of superpowers? I am happy to be able to use my powers to help others in our community. As a volunteer with Victim Services, I've used my abilities by providing care, support and a listening ear in times of crisis. People who have fallen victim to domestic violence, assaults, motor vehicle accidents and other traumatic incidents, really need someone with the ability to care. My superhero friends and I treat the victims with whom we interact with dignity, confidentiality, respect, and compassion. Think of the superpowers you have, I bet you have some of the same powers as I do. Each and every one of you would make a great superhero, so please consider becoming an advocate."
Horizons Victim Services currently has 11 volunteer advocates. It serves Taber Police Service and Taber/Vauxhall RCMP. There are currently 76 victim units in the Province of Alberta in which the Taber/Vauxhall area is one of them. The board applies for the grant money that is in a fund that comes from victim surcharges on tickets/sentences, to be able to pay for services that the victim services unit provides.
The Taber area has a maximum budget of $150,000 annually that is allowed. Currently, the fund sits at a $71 million surplus.