Vauxhall native looks at Alberta Film with a different lens
Posted on July 11, 2019 by Vauxhall Advance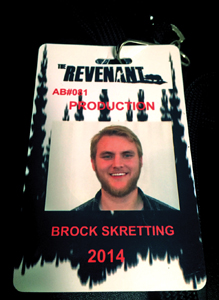 ADVANCE FILE PHOTO
By Ryan Dahlman
Alta Newspaper Group
Vauxhall native Brock Skretting has worked hard at establishing himself in the Alberta film industry. He has been an assistant director on television shows Wynonna Earp and Jann to a production assistant on CBC's Heartland to a trainee production coordinator on the Academy Award-winning film The Revenant.
Now as the head of advocacy for the non profit organization Keep Alberta Rolling, Skretting is working hard to establish Alberta on the North American and world stage for film production.
He describes it as "meant to be a lasting educational resource — continually updated stories that show people different career paths they can take to get into the industry and tools for creators within the province so they can create wealth by creating content and live happy, healthy lives."
He says that members of Alberta Film as well as others in the film and television industry production got together as a "strength in numbers" to help keep the film industry strong.
You may have seen the commercials on television or on the Internet.
Skretting explains that Keep Alberta Rolling went from an idea into a movement into to an official non-profit organization. He says a lot of film industry organizations started meeting last October and realized there was a disconnect amongst the groups.
"There is staggering global growth in the film market. Everybody knows that more content is being made than ever before with people binge-watching shows on Netflix and tech giants Amazon, Apple, Facebook and Hulu creating streaming platforms for Canadian's living rooms," Skretting noted.
"In Alberta however, few people know about just how successful and established the film industry is and the amount of private investment and jobs it brings to cities and rural areas. How do we spread that positive message? How do we get everyone in the industry to tell their story so that we can create more jobs and bring more money into the province?"
They decided to make this a grass roots, worker, Alberta based non-profit because that's who they are.
He says for every big name out there who "makes it" as an actor there is "Jeff Marsland the Generator Operator who 'makes it' not only as a worker but also as a husband, a father, or a friend."
Skretting says there are 50 to 150 people on every film set who have jobs that touch every sector and require every skill noting each are equally valid — the attention is fantastic and brings money with it — but it's important to respect Alberta and the Albertan worker.
"These are remarkable people and their stories need to be told. Telling stories of different featuring different positions in the industry it also allows people to see different educational paths that lead to employment so they can make a game plan and take advantage of opportunities when they come up," said Skretting in describing the Keep Alberta Rolling campaign.
The Vauxhall native said he, Scott Lutley, a Gaffer (head of lighting in film), and Vince Varga (an Albertan publicist) decided to pull together these Alberta film organizations to discuss how we can promote the benefits of film industry, train more people, and build infrastructure to keep up with growth.
"People are now asking how their town can be like High River and attract the next "Heartland" series or how they can help promote the industry so their sons and daughters may one day have a job right here in Alberta. It's outstanding," explained Skretting. "How can we set up the small towns of Alberta to capitalize on this opportunity by becoming film friendly? Lots of great ideas and many volunteer hours later and what we're starting to see is a shift. For the first time in Alberta history the film industry was identified as a priority cultural and economic engine for all political parties. In February, the UCP and stakeholders from the industry held a round table attended by 24 MLA candidates — an unprecedented level of engagement for Alberta."
Skretting says that what people may not realize is that Alberta also has a very strong and growing commercial, web-series, and independent film talent pool that garners international recognition.
He believes because of the beauty of the locations and the strength of the crews there is a wide variety shot in Alberta. There is award-winning movies like The Revenant, Interstellar, The Assassination of Jesse James all the way back to Unforgiven and a strong group of hugely popular TV shows: Fargo, Tin Star, Heartland, and Wynonna Earp. It is more than just status to have these productions shot in Alberta. It brings a lot of exposure and helps with down-the-road tourism, but there is definitely more direct benefits.
"It's all about the economy. Kevin Costner brought with him millions of dollars spread to the local economies of Fort Macleod, High River, Lethbridge, Drumheller, and Didsbury."
"So that picture you might be able to get with the stars represents money for small town businesses and land owners. It means that hotels are full and pubs are packed. Take what Alpha did for Brooks, what Heartland and Tin Star has done for High River or what the feature films have done in Cochrane and Banff/Kananskis area, those become drivers for the local economy. The community pride that comes from people around the world coming to see where Maggie's Dinner is filmed, where the ranch house is in Interstellar or where the mountains in The Revenant are located. It's palpable and it brings in additional money to these businesses that really need it right now."
Entertainment executives love Alberta for other reasons, one of which is landscape.
"Alberta has the things that you can't build or buy. The magnificent mountains, the rolling hills, the endless prairies. All of these things make for great cinematography because we live in one of the most beautiful places on earth," explained Skretting. "Alberta used to be sort of type-cast as "western only" but now with shows like Fargo you've got a winter crime drama, Wynonna Earp is a superhero sci-fi, Interstellar was sci-fi. It's really opened up and producers now know any type of movie or TV show can be made here."
"I think the crews stand out here because the Albertan work ethic stands a cut above other places in the world. With the beautiful and rugged terrain sometimes comes difficult logistics, conditions that Alberta crews are used to and thrive in."
"One aspect the organization wants to work is the tax structure. Alberta film organizations feel they are caught in "an out-dated grant system and a world of red tape left by previous governments."
Skretting adds the majority of film jurisdictions in the world have a rebate system that help boost local jobs, businesses and rural towns, incentivizing where a production spends its money. Modernizing, removing red tape, and making the shift to a similar system would send a signal to the world that Alberta is 'Open for Show Business'.
To have an idea of what Skretting has done recently when it comes to work on films, television series and specials see http://www.dgc.ca.