Former Vauxhall educator thankful for victim services
Posted on July 18, 2019 by Vauxhall Advance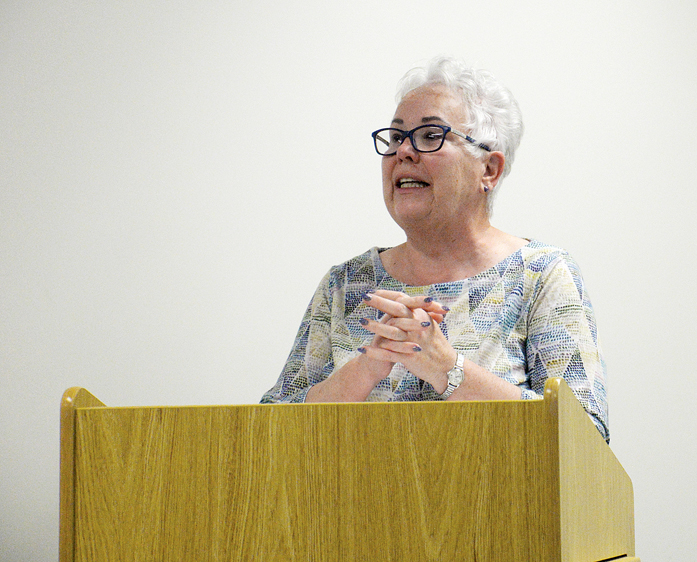 WORDS OF THANKS: Diane Nelson was a guest speaker at the Taber Public Library, as she told onlookers how victim services played a big role in her life in dealing with the death of her husband Eyrland, as part of Victims of Crime and Survivors Week. ADVANCE PHOTO BY GREG PRICE
By Greg Price
Vauxhall Advance
gprice@tabertimes.com
The following is Part Four of a multi-part series of a presentation done at the Taber Public Library in bringing awareness to Victims of Crime and Survivors Week.
Everyone hopes they will not need the help of Horizons Victim Services, but when life takes a trying turn, it is a service people are forever grateful for.
Diane Nelson has classified herself as a victim not just once, but thrice.
A now retired educator, Nelson was a vice principal at Vauxhall High School, and she went to work one day that will be forever etched in her mind in tragedy.
"Low and behold, one of my high school students had made a pact with his girlfriend that he was going to commit suicide. He did and she didn't and his younger brother was in one of my junior high classes," said Nelson. "I didn't know whether to spit or wind my watch and I couldn't find a phone number or a name of an agency. In order to heal I initially made a book up which was pre-cursor to the school division coming up with a policy and doing their own work."
Nelson was also teaching at W.R. Myers 20 year ago when the tragic school shooting happened that claimed the life of one youth while injuring another.
"We were victimized, but again, there was more than one person and the school division took very good care of us providing counselors," said Nelson.
More than a year-and-a-half ago, Nelson would eventually come face to face with the aid of Horizons Victim Services in its current incarnation.
Nelson took an early retirement to care for her best friend and soulmate husband who was ill.
A teacher by choice and not a nurse, Nelson nevertheless soldiered on with her love done against the advice of some.
"My husband's doctor told me that I shouldn't take him home, that he should go into care. But those big blue eyes looked at me wit tears in his eyes and I said 'naw, I can take him home.' They asked me if I needed home care and I said nope, I can ask him if he's taking his medication just as easily as anyone else," said Nelson.
Diane's husband was a severe diabetic which acted like a slow-eating cancer. Nelson's husband was a robust 300 pounds Grizzly Adams who slowly shrunk to 140 pounds. One Saturday morning, her husband asked her to help him up at 7:40 a.m.
"At five to eight, he slowly put his head down and passed away," said Nelson who frantically called 9-1-1 at the time.
Nelson admitted her frustrations with the call where the person constantly quizzed her to note when her husband was breathing.
"After about the fourth time, I said 'What the hell does he is not breathing mean to you.' I ran down and opened the door and the police were there, and I cannot ever imagine so much chaos in my house," said Nelson. "There was police, the ambulance drivers, people were running in and out."
Tamara Miyanaga, assistant program manager of Horizons Victim Services came walking through the door which helped calm the storm of a distraught Nelson.
"I don't remember what she said, she just put her hand over my hand and slowly talked to me. It was my youngest granddaughter's birthday in a day and I said we are going to tell her granddad is dead," said Nelson. "But a five-year-old doesn't understand death. She (Miyanaga) brought us over pamphlets and we were able to discuss plans and what death meant. It was very difficult to discuss with my granddaughter, but the pamphlets Tamara brought over, we felt we explained it well to her."
Nevertheless, when they drove by Southland Funeral Home last year, the granddaughter once again inquired when granddad was coming home.
"Small children don't really understand, but I can tell you the calm presence of Tamara for that half hour she spent with me not, knowing really remembering what she said, but the fact she was simply there. I think all of last year was a blur where I eventually got my brain back after 10 to 12 month," said Nelson. "I still have my grey moments. We knew death was coming and we sort of planned for it, but when it happens, it's just chaos and with Tamara coming, she was a breath of fresh air in a moment of sheer chaos. I didn't even know my house could hold that many people at the time. The police, ambulance, Southland Funeral Home, my 40-year-old just sobbing in my arms, and he was a boy. It was really traumatic and I was holding it together for everybody. You never know when you are going to be a victim, but I don't know what Taber would do without any of you."
Horizons Victim Services currently has 11 volunteer advocates. It serves Taber Police Service and Taber/Vauxhall RCMP. There are currently 76 victim units in the Province of Alberta in which the Taber/Vauxhall area is one of them. The board applies for the grant money that is in a fund that comes from victim surcharges on tickets/sentences, to be able to pay for services that the victim services unit provides. The Taber area has a maximum budget of $150,000 annually that is allowed. Currently, the fund sits at a $71 million surplus.
If you would like to learn more about Horizons Victim Services, you can call 403-223-8991.