Labour drain results in M.D. project shuffling
Posted on September 5, 2019 by Vauxhall Advance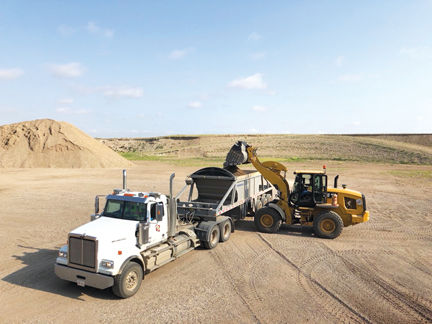 ADVANCE FILE PHOTO
By Cole Parkinson
Vauxhall Advance
cparkinson@tabertimes.com
With plenty still on tap for the M.D. of Taber's public works staff, some shuffling of projects was requested by the heads of the department.
During council's Aug. 27 meeting, staff brought forward their request to push a handful of their projects to 2020 in order to better develop their operators.
"We are proposing a change in operations and what we are proposing is to combine our shoulder pull (reshape roadway/driving surface and shoulders to an acceptable cross section) and the construction crew. We've lost a number of skilled operators last year. These are very well trained, highly skilled operators and we have a bunch of new operators and we're working on their skills," said Kurt Carver, projects supervisor and co-director of public works.
With this proposed change, three of the scheduled shoulder pulls (one in Division 5 and two in Division 3) would not be completed until next year.
"We're looking at 17 miles (of shoulder pulling) that we would roll into next year," said Carver. "We would focus on the areas that we are around right now, just for proximity and it makes sense operationally to keep working on those ones instead of mobilizing all of the large pieces of equipment over long distances."
In the report given to council, administration stated the public works department has lost four operators to private construction contractors and director of public works, Jeremy Wickson, had accepted the same position at Lethbridge County.
While the M.D. is still looking to replace their public works director, they are fully staffed in equipment operators, though many are quite new to the position.
"If we combine the crews, I can spend a little more time with them and develop their operator skills," said Steve Bostock, field operations supervisor and co-director of public works.
A combination of the five construction crews and four shoulder pull crews leads administration to believe it will also prove to be more "efficient and effective than two crews working separately."
With the public works department experiencing some big turnover, council was more than willing to accommodate the requested change.
"I think to be fair, we put shoulder pulls on late, not really knowing how much. I think that is a bit of an experiment for us and it's been a learning lesson," said Coun. Brian Brewin. "I would add it is also probably a safety thing. If you have people out there, you want to make sure you have some qualified people around to make sure it is being done right."
Even with the push of 17 miles of shoulder pulling, the public works department have put in a ton of work and had a successful summer season.
Due to a fairly stable summer in regard to weather, public works was happy with the results they were able to acquire.
"It really has been a great year, I have to say that. The weather has been excellent, it's more of just the manpower change and the newer operators which I would like to develop a little bit more," continued Bostock. "I believe the people we have filled the positions with, I think moving forward with this plan here and working with them, next year we will be able to split up again."
A motion was made that council accepts staff's recommendation to abandon the scheduled projects for the 2019 season with unfinished projects rolling over to the 2020 construction season, and was carried unanimously.