M.D. council examines weed control concerns on oil/gas leases
Posted on September 12, 2019 by Vauxhall Advance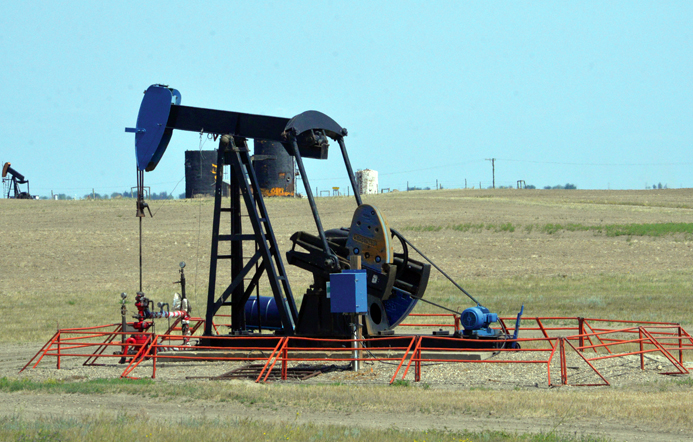 ADVANCE FILE PHOTO
By Cole Parkinson
Vauxhall Advance
cparkinson@tabertimes.com
A growing concern around maintenance on oil and gas lease sites is being looked at by Municipal District of Taber council.
While the issue of unpaid tax on some of these properties is a major concern, so too is the upkeep in regards to weeds and maintenance on the land which led to council bringing the issue forward at the request of Coun. Leavitt Howg at their regular meeting held on Aug. 27.
"Throughout the M.D. of Taber, a large number of oil and gas lease sites are overrun with unwanted vegetation. Very little herbicide spraying or mowing for control of unwanted vegetation has taken place the last several years," said administration's report.
Administration also suggested the lease sites needed to be separated into three categories — wells that have been assigned to the Orphan Well Association (OWA), if the company is in receivership and if the company is still operating but delinquent in weed control.
In administration talking with the Farmer's Advocate Office, they received advice on all three options if landowners are experiencing maintenance issues.
"The OWA has established a program that is trying to address weed issues. As the inventory of OWA wells grows exponentially, they realize they can't reclaim them fast enough and there will be many that sit for years awaiting reclamation and weed issues will arise. Contact the OWA if you know your well is in their inventory," said the report in terms of wells assigned to Orphan Well.
A company in receivership was looked at as the worst possible position for those who owned the land.
"This is likely the least favourable situation for the landowner. The interim party is the company undertaking receivership proceedings who is tasked with liquidating worthwhile assets and paying off secured creditors. Landowners are not considered secured creditors and there is no incentive on the part of the receiver to address surface lease concerns from landowners. The Farmer's Advocate Office is lobbying the government to make provisions in the Weed Control Act that will provide more options to landowners when this is happening on their land."
If the company was still operating but was delinquent in weed control and other required maintenance on the leased land, Farmer's Advocate recommended contacting the Alberta Energy Regulator for further consultation.
"Apparently, they have been trying to deal with several cases in this regard. "
Administration went on further to highlight how landowners could potentially deal with any issues.
"A landowner can apply to the Surface Rights Board for damages they feel they are entitled to as a result of the surface impacts of oil and gas on their land. Unfortunately, you can only apply for damages that occur off the lease site. This can include weed issues, contamination that goes beyond the lease site, fencing, or impacts to livestock. This a Section 30 application through the Surface Rights Board," continued the report. "At this point, there seems to be many unknowns on who is responsible for weeds. This is happening so quickly and in such a large scope, that regulators are finding it difficult to keep up on how to deal with it. All of this being said, it seems the onus is still on the landowner to advocate for action on their own lands. There is not one organization or government department who a landowner can call to have their issues addressed. Seems like the best case right now would be the well goes into the Orphan Well Association and the weeds will be addressed through their programs."
With no real clear answer on how council could proceed, they were adamant about finding some solution sooner rather than later.
"I don't know what the right thing is or the right way to go about it but something needs to be done because it is becoming harder and harder. You don't want people going there and taking care of it themselves because something may happen. Then who's liable?" stated Howg.
One option council was in favour of was going was discussing it with MLAs Grant Hunter (Taber-Warner) and Joseph Schow (Cardston-Siksika), and other ministers in the provincial government.
"I think the best bet would be to bring it up with the Minister of Environment (Jason Nixon)," added Coun. Brian Brewin.
Council was receptive to bringing the issue forward to higher levels of government to try and find a way to resolve the issues landowners are facing with weeds on oil and gas leases.
"I think we need to try and advocate for this somehow," said Deputy Reeve Tamara Miyanaga. "If we get some traction that is great but it is getting out of hand. It'll keep getting worse every year."
A motion was made to draft letters to the two local MLAs in regard to weed issues on oil leases to see what the next steps may be, and was carried unanimously.