Community peace officers excited for 2020
Posted on January 2, 2020 by Vauxhall Advance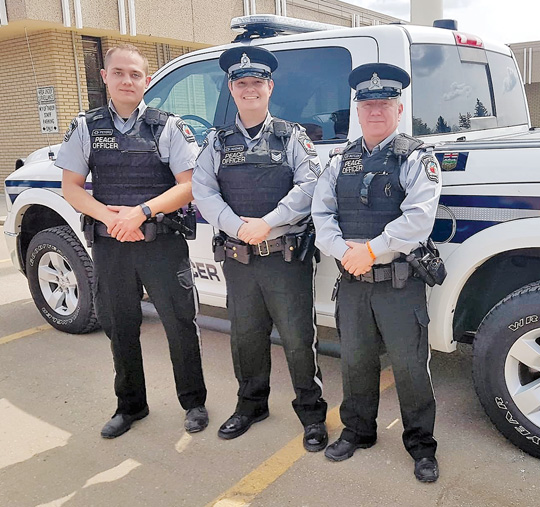 ADVANCE FILE PHOTO
By Cole Parkinson
Vauxhall Advance
cparkinson@tabertimes.com
Another year is coming to a close for the Municipal District of Taber Community Peace Officers.
After coming into place in late 2017, the program is heading into their third year of operations in the M.D. and so far, so good.
With Kirk Hughes at the helm, along with officers Dana Butler and Henry Peters, the group has seen plenty of evolution since inception.
"The Community Peace Officer program has evolved at pretty much a high trajectory. We have been very fortunate in the officers we have hired, and the experience we have managed to gain since the guys first started and even that experience has managed to grow," explained Kirk Hughes, director of community safety in an interview with the Advance last month.
"We have had a lot in the last year, even in the last two years, just with the volume of calls. The public is now aware that we exist and we take care of these certain municipal acts which means they are more likely to call. Everything from pivots to illegal dumping to any bylaw for unsightly premises. Maybe two years ago people may have looked the other way and they may have called the M.D. but generally, they didn't have a contact person and now they have that person. They know that exists and they have an avenue to get that illegal dumping stopped or deal with pivots or deal with dogs. We see the call volumes have increased and people are calling."
While 2018 was a year of growth and learning for the program, 2019 has been full steam ahead for the officers. Residents may have not been fully aware of what the CPOs brought to the region but according to Hughes, they have been getting a lot more calls this year.
"We definitely doubled our call volume (compared to 2018). Traffic enforcement and some of our safety stats have been improving. Even the precedes of the peace officers in the region working with our community partners in the RCMP and Taber police with their dispatch centre, CP Rail police, sheriffs and commercial vehicle enforcement. It's just the opportunities to utilize our program in a holistic approach throughout the entire M.D. to make the community safety a little better," he said.
One of the reasons for the expanded calls for service rests on the fact the group has added more training for their officers.
"We've had a very strong commercial vehicle enforcement program in the last year and that has expanded significantly this year. We sent officers to Lethbridge College for increased training and getting them to understand the inspection portion of the vehicles. I think working with farmers and with the trucking companies, and the educational component in making those vehicles roadworthy on our roads to prevent damage to our infrastructure or any unfortunate accidents on our roads, that is a huge component of our program," continued Hughes.
Looking at 2019 as a whole, the officers saw quite a few busy times, though the summer months proved to see the most calls.
"I think July and August was a big stretch. We had a lot more municipal complaints in regards to pivots and we had a lot of following up with complaints in regard to rural crime. Working with the RCMP with the Rural Crime Watch initiative and getting our SCAR notification in place. Just doing that behind the scenes stuff that most people don't see CPO programs doing," stated Hughes. "July and August just flew by but we did a lot of good work. The best part of those two months was that it was fun. You want your guys to have fun when they are out there working hard. We have a very good community to work in."
With plenty of work done by the officers, one particular moment stood out to Hughes as the strangest and most memorable call. In early July, the CPOs were made aware of a weather balloon travelling from Stanford University that had gone off course and would be crash landing somewhere in the M.D.
"I would say the weather balloon that landed in a farmer's field was the highlight of our program's year. We had a few interesting calls but that was one where you have this very unique looking weather balloon land and how do you locate it and how do you secure it? There was a lot of interesting aspects of it, even as a police officer I had never experienced that before. How do you transport something that looks as scary as it does to a postal outlet and ship it to a university without a bunch of alarm bells going off? If I had to pick a number one interesting call, that would probably be number one just simply on that fact it was so unique. That was a good experience to work across a border. We dealt with CBSA (Canadian Border Services Agency) because obviously we were transporting it over the border and we dealt with (Stanford) and the RCMP. It was quite the interagency cooperation."
Another significant addition to the program has been the introduction of the South Central Alberta Regional Notification System (SCAR) by the M.D. earlier this fall.
"SCAR was used twice yesterday (Dec. 17). SCAR is a good initiative to push out information to the general public in the M.D. Everything from road closures or even notifications for emergency management such as a train incident. That is the kind of information we want the public to know and they want to know. Getting that information out as a CPO and having the ability to contribute to that program is beneficial to the entire community safety aspect," added Hughes.
With only limited days left in 2019, Hughes and his officers are starting to look ahead to the coming new year.
"2020 is hopefully another expansion. In 2019 we did our strategic review and we had an audit with the Solicitor General in November. So in 2020, we are looking forward to continuing with that strategic plan. To implement more projects that are on the go with council direction and with the new CAO (Arlos Crofts), determine what our level of service is and what they expect of us and adapt accordingly," said Hughes, who also touched on the fact that a lot of the success of the CPO program can be attributed to both Butler and Peters. "We are fortunate that we hired the two guys that we did. Both are well known in the community, they make a strong effort to get out and make those connections that were perhaps never made before. You have Henry Peters who is an ex-truck driver and he understands the transportation aspects of this job and he can relate to people in the trucking world better than anyone can. He understands why things happen if there was a short cut why that was made. And being Low German Mennonite he has the ability to talk to people and be that bridge from the law enforcement and the M.D. and the general public, which is a huge benefit to us. Dana (Butler) brings a wealth of knowledge that he has from community policing and he's able to spearhead a lot of the operational stuff to keep everything on track at the office. Those are two critical pieces if our program is going to remain successful."