Grant funding comes through for Horsefly project
Posted on February 20, 2020 by Vauxhall Advance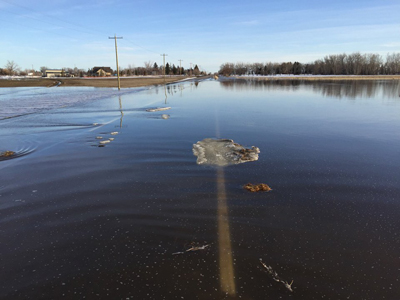 ADVANCE FILE PHOTO
By Cole Parkinson
Vauxhall Advance
cparkinson@tabertimes.com
With discussion around the Horsefly Spillway project funding still ongoing, some good news has been brought forward for all municipalities involved.
An agreement from the Alberta Government has been received by the Municipal District of Taber outlining the grant information and requirements of an Alberta Community Resilience Program (ACRP) grant received in the amount of $7,397,610 was brought to M.D. council's regular meeting on Feb. 11.
This grant is addressed to the Municipal District of Taber as they are the managing party and co-chair of the Southern Regional Stormwater Committee.
"With that, the M.D. of Taber and other parties would be looking to fund 10 per cent of the first $3 million spent, so up to $300,000. We feel that maybe a cap we spend if there are land acquisitions," explained Craig Pittman, director of infrastructure. "And then 30 per cent of the remaining $4.4 million, roughly, in the years to come."
The ACRP grant received by the M.D. is allocated for Phase 1 of the Horsefly Spillway Project (Taber Reservoir to the Oldman River) and is 33 per cent of the total cost of Phase 1, which is estimated at $22,417,000. The construction costs of all three phases of the Horsefly Spillway Project are estimated at $49 million in 2020 dollars. At the Southern Regional Stormwater Committee meeting held on Jan. 31, the committee recommended for the M.D. of Taber to execute the ACRP agreement.
They are also currently seeking funding through the Investing in Canada Infrastructure Program (ICIP).
Other committee members are currently working to provide financial aid toward the project and program.
"The ACRP grant is money that is fronted and at the end of the project, that is where other contributions kick in. It is possible that out of the M.D. of Taber and other committee members pockets, there may not be a dime spent in 2020," added Pittman, though it was pointed out that money would be coming from the municipalities at some point.
Administration has already earmarked $300,000 out of the M.D.'s budget just in case.
With $7,397,610 coming in funding, council had to decide to either move forward with the project or give the money back.
"We're at a point where funding is in place and it's time to fish or cut bait," stated Pittman.
Council was in favour of moving forward with the project, especially since not doing it could potentially lead to disastrous results financially.
"We'll never get another opportunity for 75 per cent funding. It's a once in a lifetime opportunity if we are going to do it. Let's be real though, we still need to come up with the 25 per cent," said Coun. Brian Brewin.
"I know it's a big amount of money to commit to but after seeing what happened two years ago and the potential of what could happen to that main canal and the economic impact it would have, this municipality needs to move forward with it," added Reeve Merrill Harris.
Administration estimated the project would cost the M.D. of Taber $6 million over the next 30 years.
"We could have that kind of damage in one year if the canal busts," replied Brewin.
A motion to execute the ACRP grant was carried unanimously.