New M.D. of Taber CAO happy to return closer to home
Posted on February 20, 2020 by Vauxhall Advance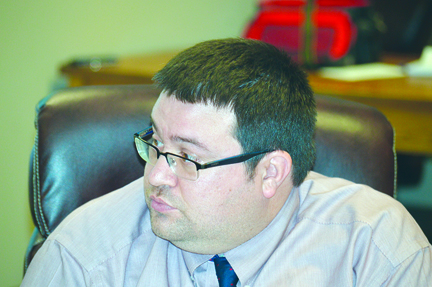 M.D. CAO Arlos Crofts
By Cole Parkinson
Vauxhall Advance
cparkinson@tabertimes.com
There's a new man at the helm for the Municipal District of Taber.
Starting Jan. 1, Arlos Crofts took over the chief administrative officer position at the M.D. of Taber after the departure of long-serving CAO Derrick Krizsan.
Bringing a wealth of knowledge and experience in the position, Crofts is coming over from the Town of Redcliff where he served as CAO for several years.
"I've been a CAO for nine, nine and a half years. Before coming here I was a CAO with Redcliff, just down the road, for six years and before that, I was the CAO for the Town of Swan Hills in northern Alberta for about two and a half or three years. In the early stages of my career, I was in Vulcan County for a short period of time as a special projects officer. I got in the municipal business through the Alberta Municipal Internship program," he explained. "When I was going through university doing my studies in political science, you learn a lot about different levels of government. Just through that you get drawn to some of those interests. Municipal government is pretty related to what I studied as a young adult. It was a natural fit."
Coming over to the M.D. of Taber was not only a new opportunity career-wise for the CAO but it also offered a chance to be closer to his family.
"What drew me to the M.D. of Taber was coming back closer to home. I was raised in Lethbridge and my wife was raised in the Lethbridge area as well. It is nice to come back and have our kids close to grandparents. It is something they really haven't had since they've been alive. That was the big driver to coming out this way."
Even with just over a month on the job, Crofts has hit the ground running with both council and staff.
With plenty of people and places to see, Crofts reports a good start to his M.D. of Taber career.
"It has been good. With meeting new people and the people in the community, different stakeholders that the M.D. interacts with, which is quite a few, everybody has been extremely kind and welcoming. That has been a very good experience," stated Crofts, who also detailed his first impressions of the staff. "They have been absolutely remarkable. Bringing me up to speed and essentially training me to the M.D. of Taber specific initiatives that are happening. They have already shown themselves to be very competent and kind."
Working with council and their many initiatives is also a focus in 2020 for Crofts.
The move to a new municipality and a new council may be a daunting task but Crofts has been impressed by the seven M.D. of Taber councillors and their kindness in welcoming a new CAO.
"Typically, I like to think I have gotten along with my councils that I have gotten to work with in the past. I consider myself rather adaptable in that respect. Council here has been great and just like everyone else, they have been very kind and welcoming. They want to see business continue and see things move forward," said Crofts. "I am excited to be able to work with council on their strategic priorities. And I know that is a generic and cliche response but council has some pretty clear set strategic priorities that they have laid out. Just like a CAO should, that is where I want to put our efforts and start realizing some successes that contribute to those priorities."
The transition to any new job comes with its challenges and Crofts realizes it may take some time to settle in at the M.D.
A big portion of getting the transition to a successful point is building the relationships between the new CAO and the existing staff and council.
"A big piece of transitioning (municipalities) is relationships. Just getting to know who you are working with. Getting to know the feel of the community and understand the value of the community. That is also what drew me here. There is some similarity to what is important to me and what is important to the community here. Really, the transition is getting to know everyone."
As far as any type of accomplishments the new CAO is hoping for in his first year at the M.D. of Taber, Crofts is just hoping to build upon those relationships.
"I really do want to know staff well, I want to get to know council and community stakeholders well. To me, that would be an accomplishment."