Local municipalities bracing for Coronavirus
Posted on March 19, 2020 by Vauxhall Advance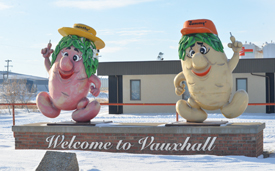 By Cole Parkinson
Vauxhall Advance
cparkinson@tabertimes.com
With COVID-19 concerns continuing to push their way into Alberta, municipalities in the area are taking every necessary precaution.
As of March 17, there have been 179,111 confirmed cases with 11,525 deaths globally while Canada has 424 confirmed cases (one in the south zone) and one death, according to the World Health Services situation report 57.
The Municipal District of Taber issued a press release mid-afternoon on March 16 which stated they would be closing their side of the Administration Building, their Operations and Maintenance Building, all hamlet shops and their Regional Fire and Enforcement Stations from the public.
"The Municipal District of Taber wants to emphasize that our ability to react to any emergency situation remains unchanged at this time, Regional Fire and Community Peace Officers are carrying on operations as per usual and are ready to respond when required," reads the M.D. press release. "We thank our residents for their patience and understanding during this time and remind them to check our website for further updates or register for our S.C.A.R. notification system via our website," reads the release.
Similarly, the Town of Vauxhall have also closed their office to the public.
"Due to the escalation of COVID-19, the Government of Alberta has declared a state of emergency under the Public Health Act, the Town of Vauxhall administration office will be closed to the public until further notice. The town recognizes the need to continue to provide services to the community while complying with recommendations from Alberta's Chief Medical Officer," reads a statement from the Town of Vauxhall.
"Our priority is public safety and the continued operation of critical infrastructure. We thank members of the public for their understanding as we do our best in balancing the need to provide public services and complying with provincial health recommendations."
All public facilities including the arena, community hall and public library are now closed though public works will continue to operate all essential services including garbage collection.
The Town of Taber office has remained open but they are preaching a safe distance between public and town employees.
"We haven't done that (closed to the public). There have been some restrictions asked as far as if there is not a need to be too close to town personnel. That is kind of the recommendation to keep a little bit of distance between people," explained Taber Mayor Andrew Prokop.
In a special meeting held on March 17, Taber town council made a resolution to close the Taber Ice Arena, the Aquafun Centre, Community Centre Auditorium and meeting rooms as well to cancel all forthcoming Coffee with Council events.
In terms of council meetings, Taber town council is requesting people view on their livestream. Board committee meetings — Recreation Board, Arts and Heritage Committee, Municipal Planning Commission and Municipal Police Commission meetings have been suspended unless urgent decisions need to be made.
With any questions, the Town of Vauxhall is asking you to phone 403- 654-2174 or email at cao@town.vauxhall.ab.ca.
For more information on COVID19 from the Town of Taber's perspective, you can email covid19@taber.ca and visit taber.ca/covid19.
For the M.D. of Taber, visit mdtaber.ab.ca/p/covid-19-response.