Vauxhall town council discuss COVID tax relief
Posted on April 23, 2020 by Vauxhall Advance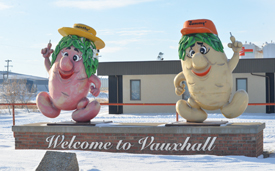 By Cole Parkinson
Vauxhall Advance
cparkinson@tabertimes.com
As the COVID-19 pandemic continues to force many to self-isolate, the Town of Vauxhall is hoping to provide some relief to those affected financially.
During council's special meeting held on April 7, the idea of providing short-term relief for residents and businesses due to the pandemic was brought forward.
"As a result of the COVID-19 outbreak, many businesses in Vauxhall have been forced to curtail their operations, or close temporarily. As a result, businesses may experience severe difficulties with their cash flows and profitability for the foreseeable future. This impact filters down to Vauxhall residents," reads administration's report. "Should council decide to eliminate penalties associated with late payments for utilities and taxes, administration is required to bring a new bylaw to council with these changes."
Some examples from other municipalities were in the agenda, including the Town of Coaldale who have moved taxes back from June 30 to Sept. 30 while penalties after Sept. 30 are cut in half and the previous two per cent increase for non-residential has been cut to zero per cent.
"Some of the ideas were to look at utilities," added Mayor Margaret Plumtree.
In Vauxhall, utility late payment charges after the 22nd of each month incur a penalty of 2.7 per cent, property taxes are normally due on June 30 with notices of assessment usually sent out in May, a penalty of four per cent unpaid balance of the current taxes on July 1 and an additional four per cent is levied upon all current taxes remaining unpaid after Sept. 1 and Nov. 1.
Payments received after Dec. 31 of the current year are subject to an additional late payment penalty of 12 per cent and that is applied to all outstanding balances not paid on or before Dec. 31.
"One of the things administration did today (April 7) to help us make this decision, if we want to go this route, this is for taxes. If we did not collect any of the taxes, our bank account would go down to $36,314. So that is something to consider as well," added Plumtree.
Council was in favour of giving residents a break on their taxes, though a concern around people abusing that advantage was evident.
"I think we should absolutely be giving a break for those who are impacted but not everybody is impacted," said Coun. Richard Phillips. "There are many residents who are still happily employed and getting the same money as always. There are still many pensioners who are getting their pension so, although I want to do something to help those who are suffering financially from this, I don't like the idea of giving everybody a chance to not pay their taxes until the end of the year because it does impact cash flow. I would like to see a solution that enables us to give a break to those who need a break and to encourage those who do not need a break, to pay at normal times."
A suggestion to make it clear those who can pay their taxes on time, do so, was stated.
"If we do offer this, we should make it very clear that anyone who is able to pay, does pay," said Plumtree.
Other councillors had similar issues around those able to pay not doing so.
"I share the same concerns that Richard has. Is there any legitimate way we can screen people to make sure they are not going to abuse the opportunity?" asked Coun. Ray Coad.
"We have been researching other communities and there is a screening application process that we can implement to try and ensure people who are applying need this," answered Plumtree.
Some on council saw this as a fairly minor step in the process and it could be easy to identify those who were struggling.
"Could it be as simple as asking people to submit a letter to the town stating how they have been impacted financially? I don't think we need to track them down, there is going to be some trust in this," added Phillips.
Another idea was to have employers write letters to back up employees who are facing financial struggles.
While most of the focus was on helping those with financial issues due to COVID-19, council also realized there should be some sort of enticement for people who could pay taxes on time.
"Is there a way we could give a perk to those who do pay their taxes on time to encourage people to pay them?" asked Coun. Kim Cawley.
"That's not a bad idea to encourage people (to pay taxes on time). When you look at the interest you are going to make on that money sitting in the bank," said Phillips.
While this is a situation many haven't faced before, Coad detailed his experience with municipalities who had offered a tax reduction in the past.
"I have had some experience with two municipalities, but I can't remember the details. But they did offer a four per cent reduction in their taxes if they paid on time," he said.
"That is the sort of thing that I had in mind but in today's interest rate environment, I think far less than four per cent would be an incentive, you could give one per cent off," added Phillips.