M.D. fire departments busy last week with multiple fires near Hays
Posted on April 30, 2020 by Vauxhall Advance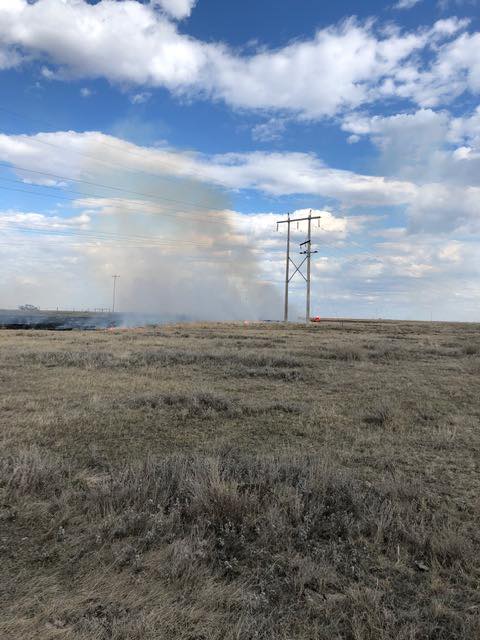 ADVANCE PHOTO FROM M.D. REGIONAL FIRE FACEBOOK PAGE
By Cole Parkinson
Vauxhall Advance
cparkinson@tabertimes.com
The Municipal District of Taber Regional Fire Service has been kept busy early this spring.
Last week saw multiple fire events that required M.D. fire stations to attend in order to battle the blazes.
On April 22, M.D. station 1 (Hays) were dispatched just after 4 p.m. for a grass fire by an irrigation canal in section 31-13-14-W4.
Sierra 1-1, Engine 1-2, and Wildland 1-4 responded to the call but while on route, Station 1 Chief Yaroslawsky noticed another large active fire south of the first call. Due to this, a mutual aid was called in for Station 5 (Vauxhall) to respond to the first call while Station 1 battled the second fire.
"Station 5 responded as mutual aid with Station 1 Hays for two separate fires. A broken power line mid-pole started the original that travelled south to HWY 524, a second fire started north of the call on the same power line. There were four wildlands and three engines on scene to extinguish the fire, other outside resources such as our local water haulers Lariat and Clear Choice along with two M.D. water trucks were also kept busy keeping us filled on scene," explained Brian Schafer, M.D. regional fire chief.
When Station 5 had the first fire out and under control, their units shifted over to help Station 1 continue battling the larger blaze.
The fire was a result of downed power lines and all fire units were back in service by 9 p.m. but that wasn't the end of the day for the firefighters.
"Once we were all cleared from the scene and cleaned up, a second call came in southeast of Hays, a goose flew into the power lines and started another grass fire that was quickly contained," continued Schafer.
While southern Alberta is no stranger to dry conditions, Chief Schafer explained it was already at an advanced stage early in the spring.
"As of today, April 23, the FFMC (Fine Fuel Moisture Content) map shows our area in dark red which means extreme conditions. It is very easy for a fire to start right now given these conditions, as it gets warmer outside and the humidity remains low, the risk will be even higher," he said. "People need to be aware and be fire safe with whatever they may be doing outdoors right now."