Vauxhall town council approves its three-year operating budget
Posted on May 7, 2020 by Vauxhall Advance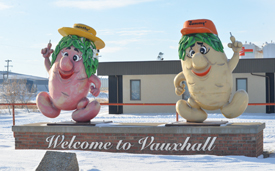 By Cole Parkinson
Vauxhall Advance
cparkinson@tabertimes.com
Vauxhall town council has approved its three-year operating budget.
While council had discussed their budget in detail earlier in the year, the budget was brought forward
again for approval during their regular meeting on April 20.
Administration detailed the major changes in the operating budgets for the coming year as a quick refresher for council.
"We did increase the water revenue for $60,000 in 2020 and $72,000 in 2021 and going forward due to the rate increase. There is $3,000 for council for the Chromebooks which have been purchased. I reduced the tax penalties by $4,000 in lieu of cancelling the tax penalty bylaw. A $1,000 decrease in penalties for utilities. We did our email change over which cost $3,000. We also have a monthly email fee now so that is approximately $3,000 a year. We did take out one residential lot sale in 2020/2021," said CFO Wendy Bergen. "As this budget is presented, we are collecting about $37,000 of our amortization. The original
three per cent tax increase is in here as well."
Net losses for the town in 2020 totals $403,669, 2021 is set at $362,354, 2022 sees $337,169 and 2023 is at $349,549.
All three readings of the bylaw were passed unanimously.
Council also discussed Bylaw No. 966-20 Property Tax. Tax rates are 7.7148 for residential and 17.2236 for farmland, non-residential, machinery/equipment and linear. The minimum amount payable as property tax for general municipal purposes is set at $500.
In the bylaw, it states 'the estimated municipal revenues from all sources other than property taxation totals $1,598,971.'
The estimated municipal expense, excluding non-cash items' for 2020 is $2,276,975 which leaves a remaining balance of $678,004 which is to be raised by general municipal property taxation.
Requisitions from the Alberta School Foundation Fund comes from residential/farmland ($173,636) and
non-residential ($62,847) for a total of $236,483.
The other requisition comes from the Taber and District Housing Foundation which is residential/farmland ($7,325) and non-residential ($1,845) for a total of $9,170.
Assessed value of all property in the town of Vauxhall shown on the assessment roll is residential ($67,079,240), farmland ($60,380), nonresidential ($14,692,150), linear ($1,754,990) and machinery/equipment ($463,500) which totals assessment at $84,050,260.
All three readings of the bylaw were carried unanimously.