COVID-19 knows no boundaries – long-haul trucker screenings a concern in Coutts
Posted on May 14, 2020 by Vauxhall Advance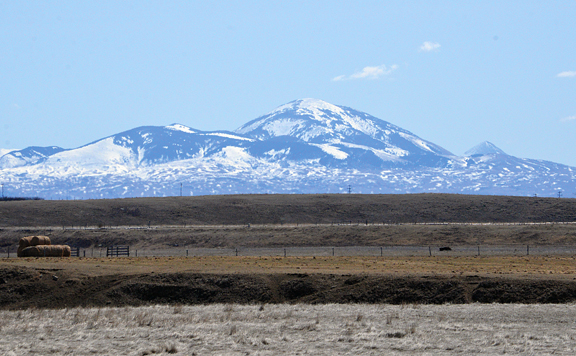 UPSTARTS: The Sweetgrass Hills, east of Sweetgrass, Mont./Coutts, Alta., burst out of the surrounding prairies just across the U.S. - Canada international border. Further east, the Whitlash-Aden Border Crossing is one of the few crossings on the Canada–United States border that is located on an unpaved road. ADVANCE PHOTO BY TREVOR BUSCH
By Stan Ashbee
Alta Newspaper Group
Coutts is a southern Alberta village situated one hour south of Lethbridge and two hours north of Great Falls, Montana.
It is a 24-hour port of entry border crossing, with over "one million travellers and nearly 500,000 trucks passing through annually."
Long-haul truckers continue to bring supplies back and forth between Canada and the United States during the COVID-19 pandemic, which knows no boundaries.
Coutts Mayor Jim Willet said the village is a truck community.
"We've got brokers, we've got one trucking company, we've got a parking lot for trucks, and the scales are here. I have no beef with the trucking industry or with truck drivers at all," the mayor noted, adding even a village councillor is a truck driver.
As far as he's concerned, Willet said, truckers are front-line soldiers.
"To go down into the United States with what's going on down there and take your chances going to pick up a load somewhere and coming back up to Canada is almost like going on a mission in WWII," he said, somewhat jokingly. "I would just like to see them screened a little better, so we know for sure what they're bringing with them when they come back."
Willet pointed out he's been trying to get an answer from both the provincial and federal governments in regards to the screening of long-haul truckers crossing the border.
From talking to the village councillor (also a truck driver), Willet added, the councillor noted screening the first time through at the border consists of being asked basic information and questions a traveller might be asked at an airport.
"Have you been in contact with anybody? Do you have any symptoms? Do you know anybody with COVID-19? Where are you going and do you have a plan? Then they give you a card and the next time you come through as a trucker you show a card and they know you've been through all that before and they just basically ask 'how are you feeling today?' and away you go," Willet said.
Willet said his concern is Montana is straight south of the Village of Coutts, which Willet also noted (as of mid-April) there have been, "399 cases of COVID-19 detected."
"Twenty-six of those are in Toole County, which is straight south of me and three of the seven fatalities in Montana are in Toole County. So it made me a little nervous. They've got the National Guard in actually to help them out in Shelby to get things cleaned up. My problem is most truckers are on the honour system and even if 99 per cent of them are honourable, that one per cent goes from here to the next truck stop, or to the next washroom at the side of the road, or for something to eat and so on," Willet said, adding it doesn't take much to see the possible continuation and spread of the COVID-19 virus in that type of scenario.
According to the Coutts mayor, he has reached out to area MPs including Lethbridge MP Rachael Harder and Medicine Hat-Cardston-Warner MP Glen Motz – but hasn't heard back from the representatives.
Cardston-Taber-Warner MLA Grant Hunter, who is also the province's associate minister of Red Tape Reduction, responded to Willet by saying Alberta Health Services (AHS) doesn't have the manpower to address the situation at the border, but the government is monitoring the situation.
"The thing that concerns me, especially in Coutts, I've got a population where 55-60 per cent is in the prime target area. It's a bunch of retirees and single widowers and widows and old folks. We're an old town. I'm 72. I want to keep it out of our town," he said. "I could very well lose half of my population, myself included."
On April 14, Willet said he was able to connect with the provincial government through a remote Town Hall session for mayors and reserves.
Willet noted he was able to ask Dr. Deena Hinshaw, Alberta's chief medical officer of health, the following question: "Possibly, with the new rapid screen devices, every truck could be screened and logged in and 40 kilometres up the road any who have tested positive can be stopped and informed, sent to quarantine, or whatever. With the conditions in the United States only going to get worse — and the incidences of asymptomatic carriers — it would seem this is something that should be done right across the country. Has the province talked to the federal government about more comprehensive screening?"
Both Dr. Hinshaw and Alberta Premier Jason Kenney spoke to the posed question, according to Willet.
"Dr. Hinshaw was not aware of how the screening was going and promised to look into it. The premier talked about how he is wanting to institute tougher border protection and he had not considered the truck traffic, other than when the border was first shut down and the feds did not want to play with the province. They have not revisited that first refusal to co-operate, but now realize the provincial health authority has more power than first realized," Willet recalled.
According to the Canada Border Services Agency (CBSA), the CBSA is working closely with the Public Health Agency of Canada (PHAC) to help prevent the spread of 2019 novel
coronavirus into Canada at all international ports of entry, it was stated in an e-mail to the Alta Newspaper Group.
PHAC, it was also stated, is responsible for advising the CBSA of any required enhanced measures to be implemented at the Canadian border to help prevent the spread of serious infectious diseases into Canada.
The CBSA works in close co-operation to implement and operationalize the measures PHAC recommends.
"The CBSA is committed to limiting the spread of COVID-19 in Canada, while facilitating travel and trade. Since March 21, a temporary restriction on all non-essential travel at the Canada-U.S. border has been implemented."
"However, there are exceptions in place to ensure critical infrastructure, essential services, and economic supply chains continue between Canada and the U.S. Healthy workers who provide essential services, maintain critical infrastructure, and ensure economic supply chains continue between Canada and the U.S. will be exempt from the new requirement for mandatory isolation provided they are asymptomatic. Individuals exempt from mandatory isolation will, however, be required to continually self-monitor and practice proper self-isolation measures when not performing their duties," it was stated in the e-mail.
All travellers arriving in Canada, including exempt travellers and workers such as truck drivers, flight crews, and healthcare workers — are subject to questioning about their health.
The following question is asked by the border services officer to all exempt persons entering Canada: "Do you currently have a cough, difficulty breathing, or feel you have a fever?"
CBSA officers not only query travellers on the state of their health, they are trained to observe visible signs of illness and will refer any traveller who they suspect of being ill, regardless of how the traveller responded to the health screening question, it was stated. "If the traveller is displaying symptoms of illness, they will not be permitted to enter Canada."