M.D. approves tender for drainage project
Posted on June 18, 2020 by Vauxhall Advance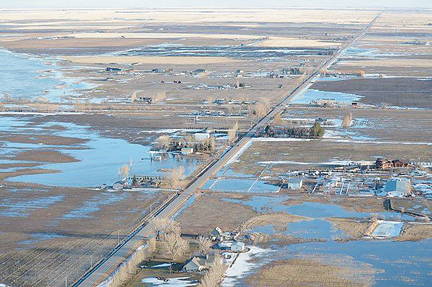 ADVANCE FILE PHOTO
By Cole Parkinson
Vauxhall Advance
cparkinson@tabertimes.com
The West Township 8 Range Road 16-5 drainage project will finally see its completion come fall 2020.
After several years of work, the project was put to tender late last month and seven bids were received by the M.D. which were then reviewed at council's regular meeting on June 9.
Tender bids came from Ossa Terra ($1,152,800), DeGraaf Excavating ($1,440,179), Dennis Dirtworx ($1,467,831.40), BYZ Enterprises ($1,552,462.50), Whissell Contracting ($2,034,593.32), Transcendent Mining and Mobilizations ($2,147,823.18) and Acre Prime ($2,593,926).
"The West Township 8 Range 16 Drainage Project has been an ongoing flooding issue for several years. A drainage study was completed for the drainage area in 2014 at which time landowner consultation occurred to look at the best possible way to solve drainage issues in this defined area," reads administration's report. "A stakeholder committee was formed which included representation from the M.D. of Taber, landowners affected in this area, SMRID, TID, and Alberta Environment and Engineering consultant staff. A recommendation demonstrating an agreed-upon solution by this committee was sent to council for approval. Council directed M.D. of Taber staff to apply for provincial funding under the Alberta Community Resiliency Program and were successful in obtaining funding under this program at a 90/10 split with the province picking up 90 per cent of an original engineered estimate of $2.58 million. A consultant was retained to design and supervise the construction of the project as well as assist in obtaining a Water Act approval from Alberta Environment. As a part of the funding program requirements, we were required to incorporate a wetland component to the project and have partnered with TID on lands by Horsefly Reservoir. All Water Act spprovals are in place."
Council questioned whether the bids received were in line with what administration was expecting.
"It's actually a little bit lower than what I expected it to come in at but that's the bid tender process. (Ossa Terra) has already done a few bridge file projects for the M.D. of Taber over the last couple of years," replied Jack Dunsmore, M.D. project manager contractor.
With the original estimation being higher than what bids came in at, council had questions on what happens with grant money given to them by the Alberta government.
"I know we had the money in the bank for this. Just wondering, if it comes in at this price, we have received more money than we are going to be spending," stated Coun. John Turcato.
"We have $2.32 million from the province. What we would probably look at doing is talk to them, and typically what happens is that money has to be sent back to the province if you don't use it. But there may be some scope work that we can broaden the scope a bit, that's what we would ask the province for," responded Dunsmore.
"I think the first priority would be to get this project done and then maybe have those discussions," added CAO Arlos Crofts.
As far as additional work that may be able to be added on, council asked what that would entail.
Administration added any of that work would have to be done on that site and the money couldn't be used for any other project in the nearby area.
"There is a possibility of that. There are some things we would have to look at and the only way that could work is, it would have to be tied to the project itself. We can't move 10 miles over and do another project," continued Dunsmore, who also answered if they could expand the boundaries of the original project. "I would say probably not expand the boundaries because then you get back into more engineering and more Water Act approvals. It would probably have to be more on the lines of where this water is going to and is there something downstream that could be impacted where we can do some work on. That will depend on what Alberta Environment thinks as well."
The good news though is the project is scheduled to be completed come this fall.
"The tender document states October 31 of this year. The funding we had extended to March of 2021 and that has to do with making sure the plants grow in the wetland component that we had to do as part of this project," said Dunsmore.
A motion that council approve the tender price of $1,152,800 as provided by Ossa Terra Ltd. for the construction of the West Township 8 Range 16 Drainage Project was carried unanimously.