Kenney prepared to gamble for job creation
Posted on July 23, 2020 by Vauxhall Advance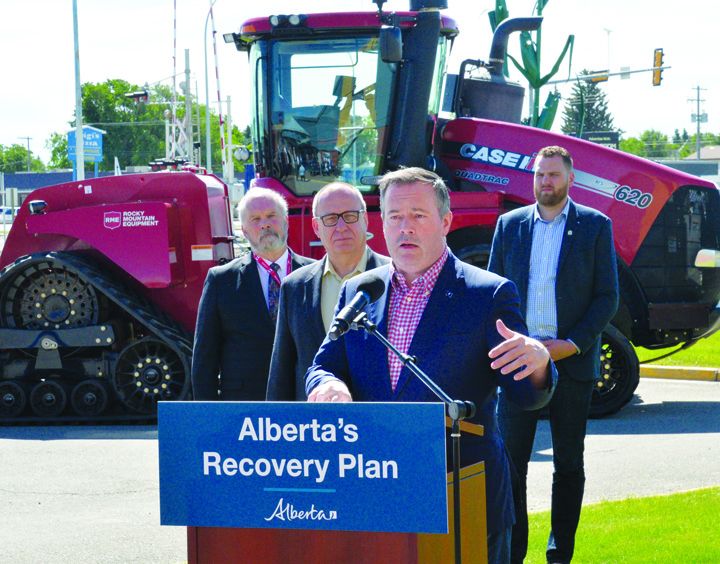 ADVANCE FILE PHOTO
By Tim Kalinowski
Alta Newspaper Group – Lethbridge
Premier Jason Kenney said his government has adopted an aggressive policy of corporate tax cuts and infrastructure stimulus spending to try to attract investment, create jobs and help build bridges to get Alberta over the financial "chasm" of the next 12-18 months.
"The fiscal situation is dramatic," he told the Alta Newspaper Group in a recent interview. "But our immediate focus is on the broader economic crisis that we are living through. We probably have an effective unemployment rate in Alberta of 20 to 25 per cent. We have an official rate of 15 per cent, but if you actually measure it against the typical number of people in the workforce it would be more like 20 to 25 per cent of Alberta now. We have made a very conscious decision to address the fiscal challenge in the future, and to focus on protecting jobs and livelihoods right now."
Kenney acknowledged his strategy is a gamble. Lowering corporate taxes will dramatically increase the provincial deficit over the next two years, but will also, he believes, attract much-needed private capital investment to offset the loss of royalties from oil and gas revenues.
"The Job Creation Tax Cut to reduce by one-third the general business tax rate in Alberta was informed by the very best economic advice from some of the country's leading tax economists like Prof. Jack Mintz, Prof. Bev Dahlby, Prof. Ken McKenzie and others who have estimated this will increase our provincial economy by about $12 billion," he explained. "It will help to stimulate the creation of 55,000 full-time, private-sector jobs over the four years that would not otherwise be created by an income-shifting dynamic where the income will be so strong the tax gap between Alberta and other provinces will be so large that many businesses will be compelled to shift operations to Alberta."
The gamble, of course, is those private investment dollars will fail to materialize leaving Alberta in a much worse fiscal situation than it is today despite these measures.
"From early March when we could see this (COVID) crisis hitting, I immediately started thinking what was going through the mind of Roosevelt and other leaders (I have read about) in the Great Depression," he explained.
"One of the key learnings about Roosevelt's response to the Depression was his willingness to experiment, to be bold, to take a chance on different policy directions with the expectation they would all pan out 100 per cent."
"Leadership at a time like this cannot be characterized by an extreme aversion to risk," Kenney added. "We are facing the greatest economic challenge of our lifetimes, and perhaps since nine decades. This is not the time for the faint of heart. We have to take some prudent and calculated risks, but risks nevertheless. And we need to do so with the expectation that we are not going to create spectacular growth, and get out of this, in a few months. This is going to be a tough, protracted period."
Kenney said Alberta has also started a new agency called Invest Alberta to aggressively seek out and target investment by touting Alberta's low taxes and other socio-economic advantages.
"We are not going to just leave it out there passively," he said. "We have also announced as part of the recovery plan the creation of Invest Alberta, a new investment promotion agency that will take advantages like that and sell them aggressively on Bay Street, Montreal, Vancouver, Houston, New York — wherever."
Kenney said his government is committed to ensuring all Albertans are taken care of in this crisis. While he disagrees with the $15 minimum wage brought in by the NDP, Kenney confirmed his government has no intention of rolling it back in this difficult time; although his government is still exploring a server's wage differential, similar to the current youth minimum wage differential, for those who make tips and work in bars and restaurants as discussed in the previous provincial election. But, he stressed, no decisions had been made on that as yet.
Kenney also recognized other measures were needed to help small businesses.
"That's why we provided $14 billion of support for people through the height of the pandemic, including a three-month deferral on utilities, deferrals on non-residential property taxes, deferrals on student loans where the government is paying for the interest, deferral on Workers' Compensation premiums, and we're paying for half of those for small- and medium-sized business," he explained. "It's why we provided over $100 million in isolation payments for people who had to stay home at the beginning because of health restrictions. It's why we are providing $200 million in the small-business grant so if little businesses can't operate, they can make that first inventory order and pay that first payroll or buy the PPE they need. It's why we put up a billion dollars of liquidity through the Alberta Treasury branches, and so much more."
But, Kenney said, the government's greatest contribution to the health of small businesses is to foster a more prosperous economy for all Albertans.
"At the end of the day, what we need is a growing economy so that restaurants and (small) businesses like that can survive, and flourish, and generate more demand in the economy," he said. "Governments are taking unprecedented measures to provide income support to people right now, but ultimately there is a limit to that. We can't run an economy forever at half speed with government (money) printing presses."
Kenney said despite the extreme challenges of the COVID/oil price crash "double whammy," he foresees better days ahead in the mid-term.
"I am optimistic about the mid-term," he confirmed. "Tens of billions of dollars in capital spending in upstream production for oil or gas has been cancelled because of the price collapse, and across the world. This means once demand is fully recovered post-COVID, and inventories come down, almost everyone expects a shortage of supply in crude, for example, which should be reflected in decent prices. Right now we have recovered to a survival price, for example, and I am hopeful 12 to 18 months from now we will be in a much better position. But the role of government has got to get us to build a bridge over the chasm in the interim."