M.D. of Taber continuing work to limit zebra mussels in the area
Posted on July 30, 2020 by Vauxhall Advance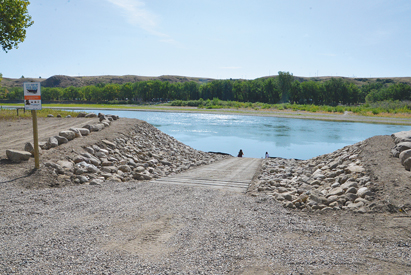 ADVANCE FILE PHOTO
By Cole Parkinson
Vauxhall Advance
cparkinson@tabertimes.com
As boaters continue to hit Alberta waters during the summer months, the worry of zebra mussels invading the Municipal District of Taber is still present.
While no reports of the mussels hitting Alberta have surfaced as of yet, the concern is still there as an introduction of the invasive species could result in big financial issues.
In order to try and delay and prevent the zebra mussels from reaching the M.D. of Taber, administration has been working with multiple partners on how best to proceed.
"We have been working with local irrigation districts, Fish and Wildlife and invasive species experts to build a plan to figure out how we can enforce the zebra mussel invasive species problem," explained Kirk Hughes, CPO Sergeant and director of community safety, at the M.D.'s regular meeting on July 14. "We haven't had it in the M.D. of Taber yet but we have had it in other areas around us. With my other hat (director of planning and economic development), economically, it is a very staggering problem if we get it in our irrigation districts. It is very primary at this stage but we have spoken to many agencies about how that is going to be played out regarding inspection and enforcement. We can't have zebra mussels in our irrigation districts."
The danger of zebra mussels comes from the fact they reproduce large numbers in a single spawning season, with reports suggesting it can be up to one million eggs.
One of the main reasons they spread from lake to lake is by unknowing boats who don't realize the zebra mussel has attached to their equipment.
In terms of irrigation and economic impact, when zebra mussels attach to pipes they can restrict the flow of pipes up to 40 per cent and there is a large cost associated with removing them.
As COVID-19 numbers continue to surge in the United States, the border remains closed and will be for the foreseeable future, which provides some relief for Alberta waters.
Even with the border closed, the arrival of the species in Alberta is inevitable and the group is hoping to be as best prepared as possible for when it comes.
"With the border closed right now, we are not seeing that spread and in speaking to some of the invasive species experts, the concern is zebra mussels in the irrigation systems. They are doing a very good job on the prevention program and a lot of that has to do with the drain and dry your boats program that has been pushed. If you go out to any of our reservoirs, you'll see those signs up there. We're trying to build forward a plan for the future, we know it's coming we want to make sure we can catch it. Right now, the enforcement part, or even the inspection part, is a bit lax because there is so many different watercraft. There are some watercraft spots but they aren't always being checked. So we are trying to work with irrigation districts and Fish and Wildlife to give us some power to do those inspections," continued Hughes.
"The zebra mussel is in Manitoba, that's the closest it is now (in Canada)," added Coun. Brian Brewin. "The inspections that they did through Alberta Environment last year, they did find 30 boats that were contaminated so it is working. To think it isn't coming this way is ridiculous, it is here. We just need to be vigilant on these boats to make sure they clean it up before they go into our lakes."
The zebra mussel was first reported in Lake Winnipeg in October 2013 and has been found in several lakes in Manitoba in the following years.
"I give credit to the irrigation districts, they have been doing some very excellent monitoring and when I brought this forward many months ago, they were happy to jump on board and give us a hand to try and determine how we could assist them as a municipality," said Hughes. "It has to be a holistic, multi-fronted approach between the province, the irrigation districts and municipalities and the public. That is the only way we can prevent the spread and try to stop it."