Taber chamber of commerce promoting 'Spirit of Taber Cornfest' for 2020
Posted on August 27, 2020 by Vauxhall Advance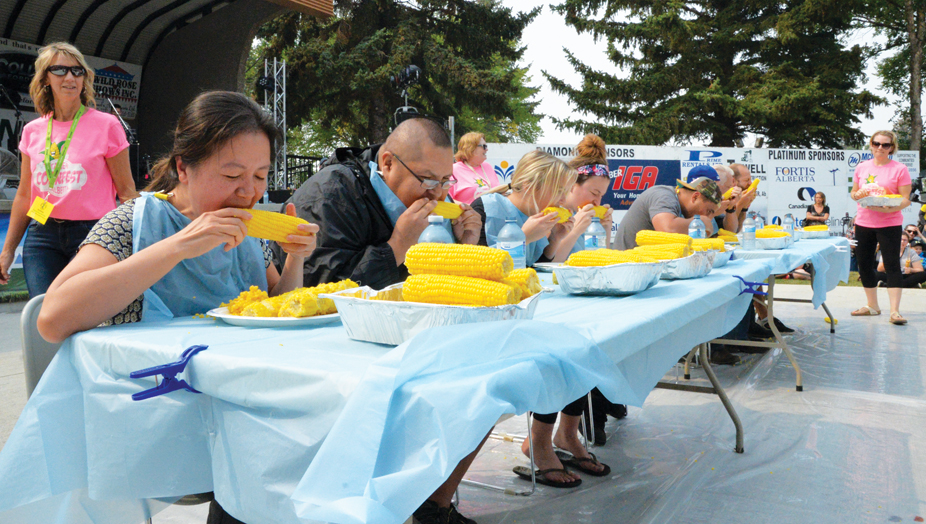 ADVANCE FILE PHOTO
By Trevor Busch
Vauxhall Advance
tbusch@tabertimes.com
Cornfest 2020 has been officially canceled, but the Taber and District Chamber of Commerce (TDCC) is moving ahead with a limited celebration on Aug. 29 to ensure that Taber's premier annual event doesn't go quietly into the night.
While Cornfest 2020 was cancelled earlier in the year due to the pandemic, with the loosening of some of those restrictions and limitations on public gatherings, in recent weeks the chamber board has been planning and working towards a small event that meets all of the Alberta Government's recommendations but will provide an opportunity for local businesses to showcase what they have to offer.
"While these events are not Cornfest, it is the chamber's intention to provide our community with an outlet to celebrate summer and all that Taber has to offer, while supporting our local economy," said TDCC president Joanne Sorensen. "The Taber and District Chamber of Commerce has really tried to rally and support local businesses during the COVID-19 pandemic. The local economy and businesses were hit hard during this time and I believe it is the chamber's role to help out in what ever way possible whether it be promoting changes to businesses operations, temporary closures, different operating hours or helping them with information on provincial and federal programs available. I think our manager Anne Jensen has done a great job providing our business community the necessary and current information needed."
Known as the Spirit of Taber Cornfest, the limited celebration on Aug. 29 will feature the Taber Car Show in the downtown from 10-4 p.m., and a drive-thru first come, first serve pancake breakfast from 8:30- 10 a.m. at the Taber Community Centre, behind the auditorium. The weekly farmer's market will be moved to Saturday, from 4- 7 p.m., and local food trucks will be in place from 1-6 p.m. 
A shop local market event #MyTaberSummerMarket will run from 9 – 6 p.m. to coincide with the chamber's #LocalFirstTDCC two week campaign running Aug. 17- Aug. 29, and will provide an opportunity for shopping in the downtown and also to win gift certificates to local TDCC members. 
A map of the participating businesses along with a bingo card with free things to do "anytime" in Taber will be available before and during the event (businesses do not have to be a chamber member to participate on Saturday, however businesses do have to be a member for the LocalFirst gift certificate campaign.)
"It was clear by the Cornfest committee that we must follow Alberta Health regulations and recommendations and in doing so we were not able to host Cornfest this year," continued Sorensen. "There is a lot of support from our local businesses to have the Local First campaign. This enables us all to shop local and then have the possibility to win a gift certificate to that same business or another local chamber member whom you have never shopped at before. The Taber and District Chamber of Commerce is funding this entire campaign so it is a win-win for the shopper and the business. Who wouldn't love that!"
In conjunction with the TDCC's corn eating video challenge #Tabercornfeast from Aug. 17-30, the chamber will also be giving away free corn at Cenotaph Park at 12 p.m. on Aug. 29. And to wrap up the festivities, fireworks will commence at the golf course at 10 p.m.
Cancelling Cornfest 2020 was a difficult decision for the chamber, but one that was largely unavoidable given the impact of COVID-19.
"I think it was very hard for every community to not only postpone but actually cancel their community festival," said Sorensen. "It is a hardship to the businesses and vendors who count on the income they earn during these events but also disappointing for those who attend as the Taber chamber is proud of hosting Cornfest as a 'Family Free Event' where many residents and visitors from the surrounding communities come and enjoy."
Cornfest 2021 is scheduled for Aug. 26-29.