M.D. of Taber continuing efforts to prevent spread of invasive species in their waters
Posted on September 17, 2020 by Vauxhall Advance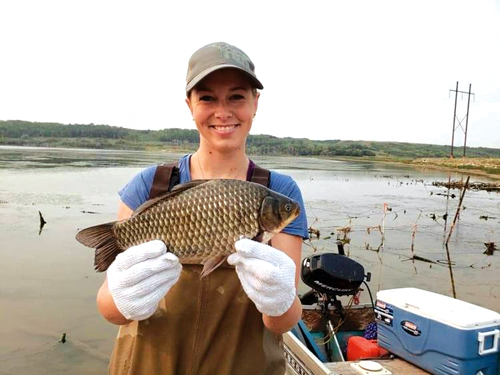 Photo courtesy of Shayna Hamilton
By Cole Parkinson
Vauxhall Advance
cparkinson@tabertimes.com
A number of invasive species have been found in and around the province of Alberta, which has led to further concern in the Municipal District of Taber of preventing the spread.
While discussions around zebra mussels have been had several times with council and administration, the continued findings of Prussian carp in different bodies of water has also brought concern for local ecosystems.
During council's regular meeting on Sept. 8, a discussion around both zebra mussels and Prussian carp was had as councillors asked about the impacts both could have to local irrigation districts.
A question from Coun. John Turcato was asked whether zebra mussels had been found in British Columbia.
"I'm not sure. I know we've had some zebra mussels in the southwest area, and that may very well involve British Columbia. There's nothing in our irrigation systems yet and we're working with Alberta Invasive Species to try to get powers to search boats and prevent that spread into our area," answered Kirk Hughes, director of community safety and CPO sergeant.
"The reason I ask is, I came home from B.C. in August with a boat and by the time I got to the watercraft testing station, it was closed," responded Turcato. "So I'm not certain how that is funded but I wonder if there is a way to get it to 24 hours. If there are provinces that have zebra mussels in them, we should be manning those 24 hours a day because I don't know that we are. I think that's probably a way of keeping them out of the province."
Administration further answered the inquiry by pointing out the provinces each look after the invasive species issues within their own area.
"Anything that deals with the invasive species stuff is dealt with by the province and I'm now curious if there is any inter-provincial regulation in regard to that. That is something I can bring up to them when I speak with them in regard to those centres. That's why we want powers to search these boats ourselves. A lot of these boats, as for example with Sherburne Reservoir, they may come from the United States, British Columbia or Manitoba and no one has searched or checked. That's how we get zebra mussels into our system. By allowing our officers to check the boats to make sure they are in compliance, it gives us an extra layer of protection to prevent them from occurring in our irrigation districts," said Hughes.
The issues around Prussian carp have also been a focus for the M.D. CPOs as Hughes' report to council highlighted the fact he had spoken with Fish & Wildlife Invasive Species experts regarding the Prussian carp alarm in Alberta waters.
"So there have been a few catches of Prussian carp in the province. Basically, what Prussian carp is it's a goldfish that people have kept or purchased, generally for their aquariums," continued Hughes. "Subsequently, they dump them, either in their toilet bowl and flush them into the sewer system or they drop them off into local ponds and creeks because they either think this species will die in the winter or adapt to the ecosystem. The problem with Prussian carp is they are an invasive species, they aren't designed to be in these waters and it outcompetes the natural fish there. They eat a lot of the vegetation and it causes a lot of problems with the health of our ecosystem. It will outperform some of our endangered species like the different types of trout."
With plenty of water around the M.D. of Taber, the concern around finding Prussian carp has intensified and the hopes to keep it out is continuing to be a high priority for not only them, but municipalities in the area.
"If you went down to the Taber Trout Pond, there's a sign that says don't dump fish into this (body of water). It's getting the message out there in the regard that if you have unwanted pets or animals, there's a way of disposing of them as opposed to dumping them into our water," continued Hughes, who also touched on why they are an invasive species.
"These can produce at a rapid rate and they don't even need males to reproduce. A potential two or three goldfish can turn into 100 in a matter of weeks. That's a massive concern for not only the province but the M.D. of Taber. If we get these in our irrigation districts, it makes our waterways less safe and less usable."