Community Marketing Grants return to help local businesses
Posted on January 28, 2021 by Vauxhall Advance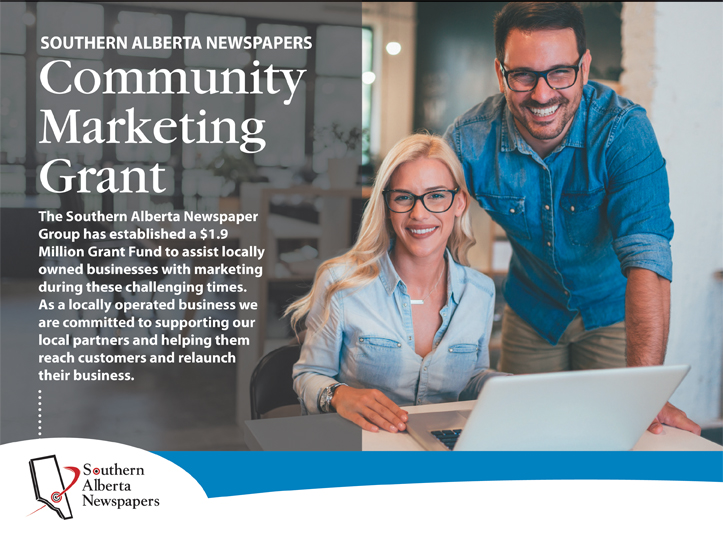 It has been one full year since the first case of the novel coronavirus was reported by Health Canada. In this time, we have seen restrictions come into place, lifted and mandated back.
In amongst the rising and falling COVID-19 cases, our communities and economy have been tested and in the end, we have witnessed the true test of any community, its ability to come together and rise above adversity.
Be local, shop local, support local is not only a movement in words but in action. The fabric of any community is tied tightly with all its businesses. So beginning today, Southern Alberta Newspapers is re-launching a second series of Community Marketing Grants to help our local businesses continue on through this pandemic and come out stronger at the end.
SA Newspapers is providing up to $2.1 million of matching advertising funds for locally-owned and operated businesses.
"The vast majority of southern Alberta businesses have experienced the challenges of COVID-19, from restricted capacities, to extra costs by following health and safety guidelines and temporary — or in some cases permanent business closures. Our commitment to the communities we serve remains our top priority and we strongly believe for businesses to successfully emerge from this pandemic they need to re-engage with their customers, new and old — and inform them they are back in business. This re-engagement comes with an obvious challenge — reduced cash flow due to COVID-19," said Ryan McAdams, group publisher.
That cash flow challenge, McAdams added, is the driving force behind the Community Grant program. "Our program will assist locally-owned and operated businesses by providing access to matching advertising grants, for their advertising and marketing needs — as they work towards a more normal business operation."
Grants are available for a minimum of $300 to a maximum of $10,000 of matching funds each month. The matching dollar grants will be available in February, March and April and the grant must be used within the month. SA Newspapers is encouraging all locally-owned businesses to apply for the grant.
"We want to support you. We want to connect you to consumers who want to step up and take action and shop local," noted McAdams.
"We recognize when we support locally-owned businesses, we are supporting the community, as a whole. Local businesses employ your friends, your neighbours and your family," continued McAdams.
When the local economy is stimulated non-profits see more donations, new jobs are created and local business owners invest further in their community and innovation takes hold.
"We originally ran this program when COVID first hit the market. We decided to bring it back because the need still exists and many local businesses said it helped them immensely. While there is a light at the end of the tunnel, many local businesses need help to ensure they are around for the brighter days ahead. We too are local, we feel it is our responsibility to help our fellow businesses and neighbours get through these tough times together," McAdams said.
Applications must be submitted via an online form found at http://www.tabertimes.com/community.grant.
Those who apply for the grant will receive a response to their application within three business days.