Kenney speaks on proposed Rogers/Shaw merger
Posted on April 1, 2021 by Vauxhall Advance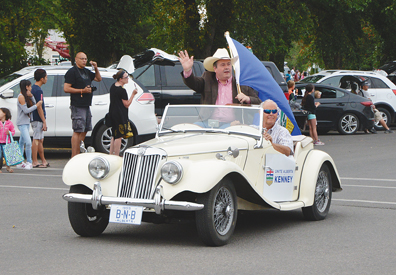 ADVANCE FILE PHOTO
By Cole Parkinson
Vauxhall Advance
cparkinson@tabertimes.com
With the announcement of a proposed merger between two of the largest telecommunications companies in Canada, Premier Jason Kenney has given a warning the provincial government will be watching.
Rogers Communications has put forward a $26 billion (including debt) bid to buy Shaw Communications, which would need federal approval from various agencies in order to be successful.
From Alberta's perspective, Kenney says a thorough review is needed before a deal is complete.
"Obviously, their proposal is subject to assessment and approval by federal regulatory agencies, specifically the Competition Bureau and the CRTC. We expect those bodies to carefully review the proposed merger, and to ensure it is in the best interests of consumers and the Canadian economy," he said, in a media conference earlier this month.
Kenney says in discussions with both Rogers CEO Joe Natale and Shaw CEO Brad Shaw, he's cautiously optimistic of what a potential merger would bring to Alberta.
"Rogers has made a number of commitments to increase jobs, service and investment in Alberta," stated Kenney.
"If this proposal is approved, we would hold Rogers to those commitments, as they would be good news for Alberta's economy. The plan outlined by Rogers and Shaw would mean significant net job growth in Alberta, especially in high-paying high-tech jobs. This would further diversify our economy and build on recent major breakthroughs in Alberta's tech sector, such as the Infosys expansion into Calgary announced just last week — which will create up to 2,000 new jobs over the next three years. This is on top of a record year for venture capital investments and successful tech startup growth," he continued. "The merger also includes a commitment to significant expansion of 5G and high-speed Internet coverage across the province, which is good news for Alberta's rural, remote and Indigenous communities and their local economies."
Rogers also said they would be investing $6.5 billion in Western Canada "to build critically needed 5G networks, connect underserved rural and Indigenous communities and bring added choice to customers and businesses."
With the announcement stating the Calgary Shaw office would still be a major part of the company moving forward.
"Rogers has committed to making Calgary the company's western headquarters and to creating 3,000 net new jobs in the west, about 1,800 of them in Alberta. Most importantly, approximately 500 of those new jobs would be located in Calgary at Rogers' proposed new National Centre for Technology and Engineering Excellence, which would be a big boost to our goal of making Alberta a hub for digital innovation, particularly in the fast-growing wireless and telecommunications industries," continued Kenney. 
"Obviously, we would prefer Rogers locate its national head office in Calgary. However, choosing Calgary as the home for this new National Centre for Technology and Engineering Excellence is further evidence Alberta's Recovery Plan is working and our economy is diversifying. We are also pleased to learn of the merged company's plan to expand Rogers' relationship with the University of Calgary, to maintain Shaw's strong support for local charities and community groups and to support Indigenous-owned and operated Internet service providers."
Despite this cautious optimism, he also stated the government would keep a close watch on Rogers and the commitments they've given.
"The Government of Alberta will closely monitor Rogers' regulatory filings, and will likely make submissions to the regulatory agencies to defend the best interests of our economy and consumers. In particular, we will seek to have the commitments to increased employment and investment a condition of federal regulatory approval. If the proposed transaction is approved, Alberta's government will work closely with Rogers to ensure the company keeps its commitments to a significant net increase in employment and in wireless infrastructure for rural communities. We will also work with Rogers to continue expanding investment and employment in Alberta in the years to come. With the country's lowest taxes, lightest regulatory burden, youngest and best-educated workforce, high quality of life and low cost of living, we believe there is a compelling case for this merged company to continue expanding its presence in Alberta."
One of the bigger concerns around this potential deal has been the impacts it will have on Western Canadians, particularly in Alberta — where Shaw has a large footprint.
The fact it could lead to higher costs for consumers has also been pointed to as a major concern across the west with the potential merger. 
Others were more critical of the potential merger.
"Throughout the pandemic, (Canadians) have felt how important it is to stay connected online — but prices are skyrocketing. Big telecom companies are making massive profits in a time where most families are struggling to get by. A merger will just make it worse," tweeted Jagmeet Singh, leader of the federal NDP party. 
"I have to agree, this Rogers-Shaw deal is indeed an indictment of the inherent false of — highly-regulated oligopolistic industries shielded by governments blocking foreign competitors, all to the detriment of consumers," tweeted Aaron Wudrick, federal director of the Canadian Taxpayers Federation.