Crime rates down in the M.D. of Taber over last several months
Posted on September 2, 2021 by Vauxhall Advance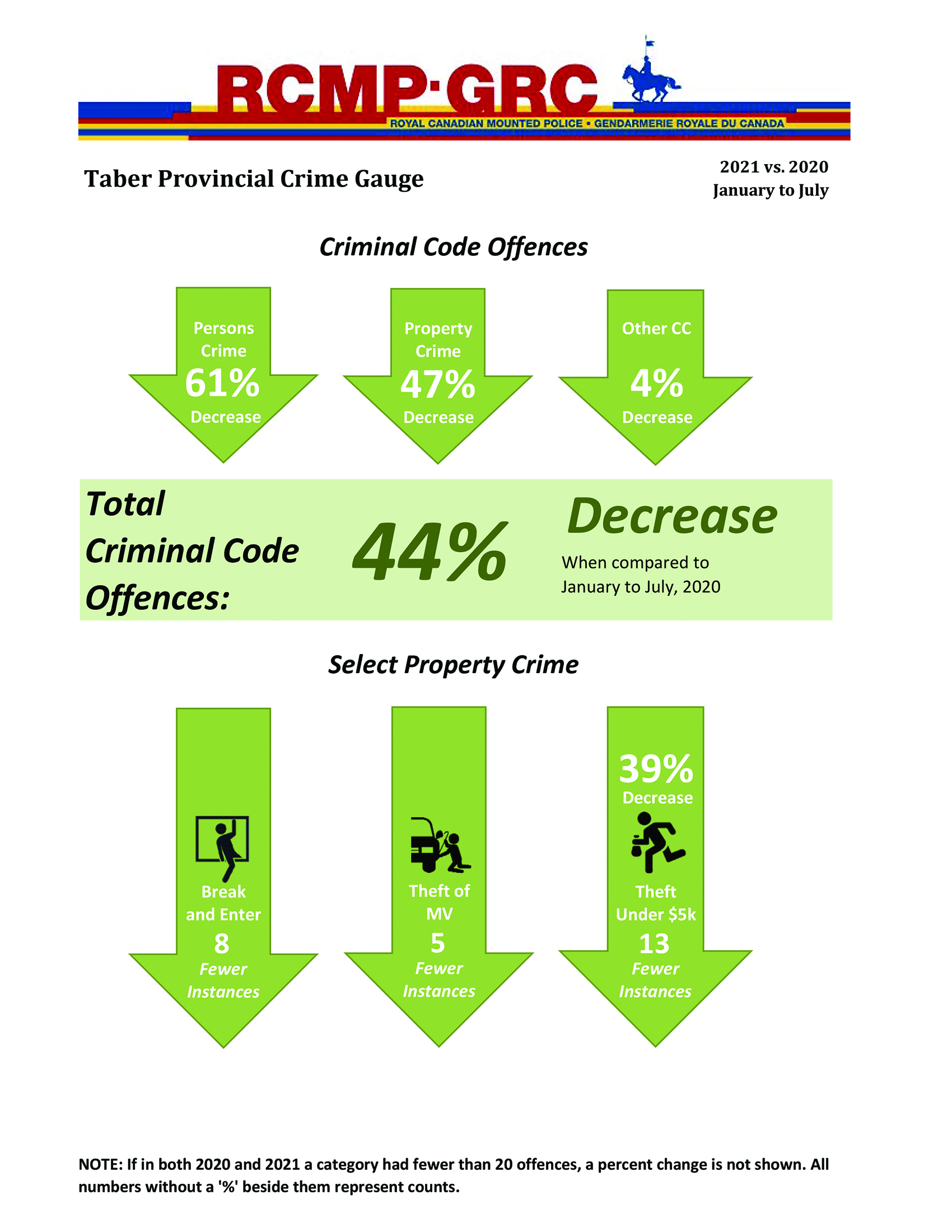 Submitted by Taber/Vauxhall RCMP
Crime statistics were released comparing crime rates in the M.D. of Taber from January to July 2021 to the same period last year and the crime rate is down by 44 per cent in comparison to last year.
These crime rate statistics includes both person crime and property crime.
Person crime category include crimes against a person, such as assaults and threats.
Property crime category include crimes such as theft, fraud or break and enter. It is through help from the public that the RCMP are able to do investigations into crimes that are occurring and can investigate and lay charges appropriately.
Help from the public also helps RCMP to identify individuals that may be responsible for crime patterns and occurrences.
Taber RCMP continue to do patrols throughout the M.D. of Taber, including in the communities of Barnwell, Grassy Lake, Vauxhall, Hays, Enchant and Wrentham.  RCMP members are also out patrolling the rural roads throughout the area of the M.D. of Taber.
Taber RCMP are also responsible for part of Warner and Vulcan County, as well as the whole of the M.D. of Taber.   
Taber RCMP are asking landowners to keep an eye out for anything suspicious and report when they see something.
Landowners are more aware of who and what belongs in an area and can assist RCMP in finding individuals who are engaging in criminal activity.
To report a crime in progress you can call 9-1-1 for emergencies or call the 24-hour complaint line at 403-223-4446 for matters that are less urgent but still require police attendance.  Taber RCMP detachment administration line 403-223-4447 is for questions regarding ongoing investigations, criminal record checks and other questions.