Group publisher recounts struggle with kidney disease
Posted on April 21, 2022 by Vauxhall Advance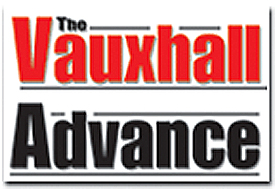 By Trevor Busch
Vauxhall Advance
It was just an ordinary trip to the doctor for Ryan McAdams.
Back in 2011, McAdams wasn't experiencing any serious health problems, but when he got a follow-up call from his doctor he immediately jumped to conclusions. But it turns out he was well off the mark in his amateur diagnosis.
"I never knew there was something wrong. I went for a routine check-up back in 2011 and got a phone call from the doctor's office a couple of days later…that's not usually a good thing, and the first thing my mind went to was cancer. I don't know why I thought that, but it's what I remember thinking. So I went in the next day, and she said 'I've got you set up with an appointment with a nephrologist.' I said, 'What's that? I know what a psychologist is, I know what an optometrist is, but a nephrologist what is that?'"
"She said, 'It's a kidney specialist'."
His doctor explained he was displaying some warning signs of kidney disease. After seeing a specialist, going through a battery of tests and an exploration of some family medical history, McAdams was diagnosed with polycystic kidney disease.
McAdams is the general manager for Southern Alberta Newspapers, which includes the Lethbridge Herald, Medicine Hat News and various weekly newspapers throughout the region.
In his early 50s at the time he received his diagnosis, McAdams had no symptoms initially and it was determined that his kidney function was still pretty good at around 42-45 per cent. But he knew he needed to make some lifestyle changes — get more exercise, lose weight, eat better and eat less, and avoid kidney-challenging foods — anything to mitigate his loss of kidney function and delay dialysis or the eventual need for a transplant.
To read the full story, pick up a Vauxhall Advance issue or subscribe to an ePaper digital subscription! You can sign up for digital or traditional subscriptions on vauxhalladvance.com by clicking subscribe under ePaper on the home page.