Vauxhall Food Bank meets needs created by rising costs
Posted on June 16, 2022 by Vauxhall Advance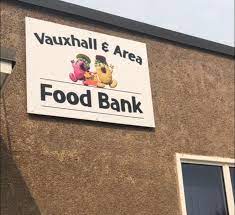 By Cal Braid
Vauxhall Advance
news@abnewsgroup.com
The Vauxhall and Area Food Bank has been incredibly active and contributing to the community for the last year and a half. 
No one needs a lesson in inflation at this point in 2022; a trip to the grocery store, gas pump, or a look at a utility bill is a sharp daily reminder that higher prices are ubiquitous. Higher prices require significant changes to the family budget and put a damper on disposable income.  
Shannon Moffey, vice president, and husband Rob Moffey, president, serve as the leaders of the local food bank. They served relatively few families during the pandemic, but clientele numbers have increased now. Community members either weren't aware of or reaching out for the service. 
"There wasn't enough publicity about it," Shannon stated. 
She's confident that the food bank has raised publicity and awareness about their presence, and many more people are calling and coming in now.  
"It really has increased and a lot more people are using it. More people need to use it because as we know, utility bills and everything have gone up, and people can't manage."
She also touched on where donations were coming from within the community.
"Donations-wise, we received a big donation from the firefighters of Taber and the Municipal District. They went around door to door and that was extremely wonderful of them. We have a few monetary donations every now and then, but we don't get a lot of walk-in donations. We have a couple of farmers who donate a cow every year, but we're always in need of donations," she said.
"We're open on Wednesday afternoon from 1 to 4:30 p.m. We've been open for a year and a half like that. We've served about 700 adults and 350 children since January 2022, but that's the same ones over and over," she said. "We have hampers that we give out once a month. And we have help-yourself shelves that we have every week that people can come (in for)."
To read the full story, pick up a Vauxhall Advance issue or subscribe to an ePaper digital subscription! You can sign up for digital or traditional subscriptions on vauxhalladvance.com by clicking subscribe under ePaper on the home page.