M.D. of Taber sees plenty of dry conditions across the municipality in 2022
Posted on October 19, 2022 by Vauxhall Advance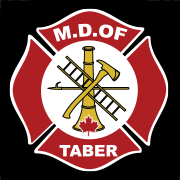 By Cole Parkinson
Vauxhall Advance
cparkinson@tabertimes.com
While the Municipal District of Taber has recently downgraded their fire ban to a restriction, the municipality has seen plenty of dry conditions in 2022. So much so, the M.D. Regional Fire Service has just recommended easing restrictions after over a month of a fire ban.
"It's been quite dry. We had a little bit of rain earlier and then we got a little shot at Cornfest, which was a little bit of a damper on the celebration, but all it was it was pretty good. You know, kind of needed for us, for sure, but we didn't get that through the whole M.D.," explained Nathan Cote, regional fire chief. "So, the northern portion stayed fairly dry and stuff. So, we did have a fire ban on which we actually just kind of knocked it down to a restriction. So it's been okay, call-wise has been, you know, knock on a little bit of wood, I guess, but it's been all right. It hasn't been too out of the ordinary anyways, but yeah, it's been, it's been a good year."
Like any other year, the department has seen its fair share of calls over the first 10 months of the year. Looking back at the year, Cote explained they've seen just under 300 calls so far.
"We range probably in somewhere, I would say probably in the about the 250 calls a year, between 250 and 300 calls a year throughout the entire M.D. service. And you know, each goes to varying degrees. Usually down here in the southern part is maybe a little bit higher call volume, just due to more population and a few more things going on in the area. Like I said, it's a fantastic regional system that brings everybody together and works well to help our citizens," he added.
In the fall, the department has transitioned full-time to the Alberta First Responders' Radio Communication System (AFRRCS). With an extended range, stations across the municipality can hear each other loud and clear, whereas the old system was much more spotty.
To read the full story, pick up a Vauxhall Advance issue or subscribe to an ePaper digital subscription! You can sign up for digital or traditional subscriptions on vauxhalladvance.com by clicking subscribe under ePaper on the home page.