McCain announces historic investment for Coaldale facility
Posted on March 16, 2023 by Vauxhall Advance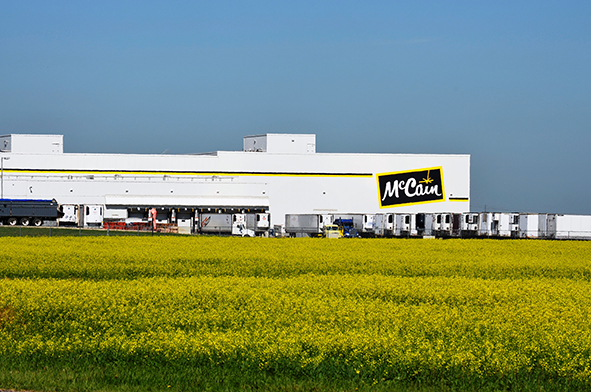 By Erika Mathieu
Vauxhall Advance
McCain Foods has announced a $600 million investment in southern Alberta which will double the size of the Coaldale McCains facility and bring hundreds of new jobs to the region.
President and chief executive officer of McCain Foods, Max Koeune, said the development in Alberta is the largest-ever investment in McCain's 65-year history and will support Canadian producers and through the company's commitment, "the future of agriculture and innovation in Canada."
Koeune said the expansion in Coaldale, "will fuel continued growth for the business, allowing us to serve key markets further by bringing customers high quality potatoes that begin with our dedicated local farming community."
According to McCain, the implementation of new technology in the Coaldale plant aligns with the company's commitments to sustainable practices including goals to cut greenhouse gas emissions in half across global operations by 2030. Renewable sources such as wind and solar will provide the Coaldale site with 100 per cent renewable energy. Further sustainable practices will include the implementation of a water recycling system which will produce potable water to be used in the manufacturing process. As well, efforts will be made to utilize and transport renewable biogas to steam boilers to help offset natural gas demands on site.
Mayor of Coaldale, Jack Van Rijn, applauded the company's announcement and noted, "having a significant employer like McCain's on Coaldale's doorstep brings a number of important spinoffs to our community. This expansion will benefit our retail and service sectors; supportive industries like trades and manufacturing; and our housing developments."
The existing processing facility has operated in Coaldale since 2000. As of 2023, the site provides jobs for 225 people and supports southern Alberta potato farmers. The historic investment will result in the creation of over 260 jobs, more than doubling the workforce at Coaldale to 485 hourly and salaried employees once the new additions are fully operational. 
The construction of the facilities is set to begin later this year, and will see the creation of two new "state-of-the-art" production lines. McCain representatives could not offer confirmation of a firm timeline of when the Coaldale expansion would be operational. In anticipation of the new positions, Van Rijn said Town Council, "will make the availability of housing a top priority," in the coming months.
Van Rijn said the Town will continue to, "work closely with our good neighbours, Lethbridge County, through the Lethbridge Water Commission, to ensure proper infrastructure is in place to accommodate this major expansion."
Reeve of Lethbridge County, Tory Campbell, reaffirmed the County's commitment to working with municipal partners in the region and the Province, "to insure we continue to build and maintain the infrastructure capacity needed to attract investment to southern Alberta."
Ongoing advocacy efforts are underway at every level to ensure the region is equipped with the infrastructure needed to cement Canada's Premier Food Corridor as an integral piece in the global agri-processing supply chain. As municipal and regional efforts continue to gain support from Federal and Provincial governments to support projects and include a nearly $1 billion investment into irrigation expansion in Alberta, as well as improved highway infrastructure, municipal and provincial tax incentive programs have come online within the year to make the region more competitive for attracting investment. Both Lethbridge County and the Town of Coaldale have passed commercial/industrial tax incentive bylaws in recent months.
Reeve Campbell said McCain's investment, "will have a significant impact on our local economy and producers, we believe there is great opportunity here in Lethbridge County and in southern Alberta for agri-food and value added processing."
Van Rijn said the expansion of McCain Foods, "is the first step of helping to make Highway 3 the premier Agri-Food processing corridor of the world. As a municipal official, I offer much thanks to the Province of Alberta and our MLA, Grant Hunter, for making southern Alberta an economic priority."
Acknowledging there is still much to be done on the Highway 3 twinning front, Van Rijn offered, "their (the Province's) efforts to pledge funding to twin Highway 3 and to invest in irrigation infrastructure in the south is beginning to pay big dividends."
Campbell said, "Today's announcement re-affirms that we're on the right track."