Burdett auto service closes after 60 years
Posted on April 13, 2023 by Vauxhall Advance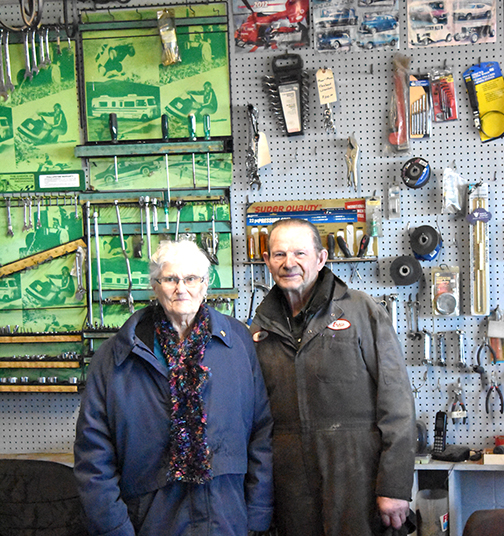 By Anna Smith
Southern Alberta Newspapers
At 89 years old, Ernie Pahl is finally going to have to retire, as Pahl's Auto Service closes its doors for good at the end of the month.
Pahl started his career in Bow Island in 1951, before moving out to the area in 1963, when the owner of the current garage suggested that he purchase the highway-side shop.
"He said to me, 'you should come and buy my place, you look like (you) could need a place to work. And so when you start thinking about it, we just made a decision," said Pahl. "Traded our house in on the garage, and we didn't have any spare money those days. And so that's how we started out. In a little garage, down here. It was bigger and had some rooms around the outside and it's where we lived for about three years."
Pahl recalls often working from seven in the morning to eleven at night, just to make sure that anyone who came in was able to get out on the road safely, including getting calls in the middle of the night when there was an emergency, since he lived in the garage with his wife, Lucille, and their three children.
"After that, Lord kind of showed the wife a plan that we needed to build a garage, and so we'd have someplace warmer to work in, and so we started working on it. I'd work eight hours at mechanic work. And then I'd put another eight or ten hours in here working on this building for about three or four years. And we moved into this building in 1978," said Pahl.
Since then, the shop has been a pillar of the community, hosting many students from Senator Gershaw High School for work experience or summer jobs, and Pahl being a town councillor for several years as well as an elder at their church.
"When we first started, we had traded our house for the downpayment, plus put all our money in we had saved. And we went to the bank and asked them if they would help us with an operating loan. So we went to the bank, and the bank said we were a poor risk," said Lucille Pahl. "About three years later, I went into the bank, and he said, 'You know, I sure made a big mistake.'"
Through faith, the support of the community, and one instance of stepping on a live snake, the Pahls have seen their family business through generations of children and grandchildren working and playing in the shop where it currently resides, on the side of Highway 3 between Bow Island and Burdett, for the past 60 years.
"Another thing that I can recall is that, in the end, all people would break down on the road. And we'd never know who Ernie was bringing home for supper. Because, you know, he would always bring them home, and work all night to get them going again in the morning," said Lucille.
However, due to the plans to twin the highway, those years are coming to an end, as the province needs the land in order to commence construction. While the family is sad to go, they are grateful to have had the support of the community surrounding them for so long.
"We should thank the community for supporting us all these years," said Lucille. "It was a step of faith to come here, and we couldn't have done it without them."