Horsefly Spillway construction continuing in M.D. of Taber
Posted on May 18, 2023 by Vauxhall Advance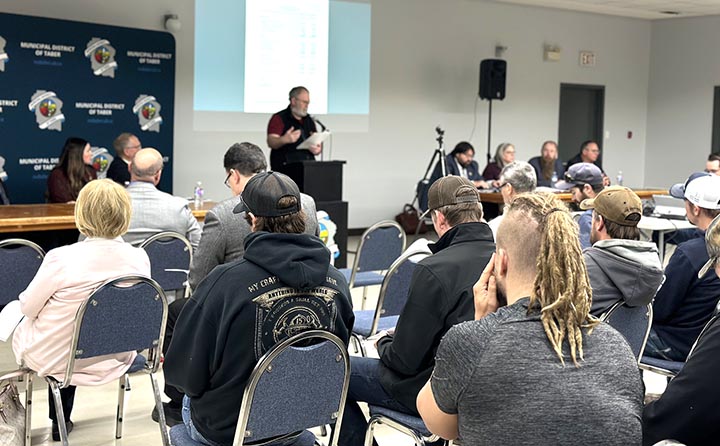 Advance Photo submitted by M.D. of Taber M.D. of Taber held their Annual General Meeting on April 27 in Hays.
By Heather Cameron
Vauxhall Advance
Local Journalism Initiative Reporter
During the M.D. of Taber AGM on April 27 in Hays, CAO Arlos Crofts provided an update on the Horsefly Spillway Project.
"This is, I would say, a decade-long – at least decade-long – project that past councils and past administrations have initiated and worked on, and the torch has been passed across the transitions, so it's quite a positive legacy project with respect to regional storm drainage," Crofts said. 
Crofts stated that about a decade ago, a regional committee was formed to help mitigate the impact of large overland flooding scenarios and events. That committee, Crofts said, came together and prepared a regional Storm Water Drainage Plan. They also identified seven key projects throughout southern Alberta that were relevant to the regional drainage program, one of which was the Horsefly Regional Emergency Spillway.
The Horsefly Emergency Spillway, Crofts said, is divided up into three phases of construction. The first phase, Crofts said, goes from Taber Lake out to the Oldman River. The second phase goes from Horsefly Reservoir to Taber Lake, and the third construction phase, Crofts said, goes from the St. Mary River Irrigation District (SMRID) Main Canal to Horsefly Reservoir.
Crofts said that the update particularly focuses on phase one and the action that the M.D. is taking on that. The project, Crofts said, commenced construction in December 2022 and the project was awarded to DeGraaf Excavating. The total cost of the project for Phase One, Crofts said, which includes engineering costs, comes out to $27.4 million dollars. 
"I think of notable importance is that as a result of the award of this contract, there's a fair amount of local subcontractors that were able to benefit from the work, and I think the M.D. of Taber Council was very proud to see that take place within our municipality," Crofts said.
The part that is being worked on should be operational within the next week, Crofts said, as the water gets turned on for irrigation season and will flow from Taber Lake up to what was previously referred to as the Big Bend Turnout.
Crofts said that some benefits of this regional project will include work on crossings. Highway 36, Range Road 16-3, and Range Road 16-4A, Crofts said, will become property of the M.D. and will become new assets of the M.D. 
Road construction, Crofts stated, will begin in early May, and be completed in early August and will include the installation of double concrete box culverts on all crossings. During the construction, Crofts stated that Highway 36 will become a single lane with appropriate signage on both ends and there will be delays in traffic.
The M.D., Crofts said, is also committed to doing the construction in such a way that has minimal impact on the agricultural operations within that area to avoid the harvesting and seeding periods. 
Crofts emphasized that in terms of approvals for all three phases, the M.D. is simply waiting on permit approval from Fisheries and Oceans Canada. Their approval is relevant, Crofts said, because of the outfall at the Oldman River and the M.D.'s want to do construction upstream of that on the canals and within the coulee outfall that goes into the river.