M.D. Fire contingent assisted with 2023 wildfires
Posted on October 12, 2023 by Vauxhall Advance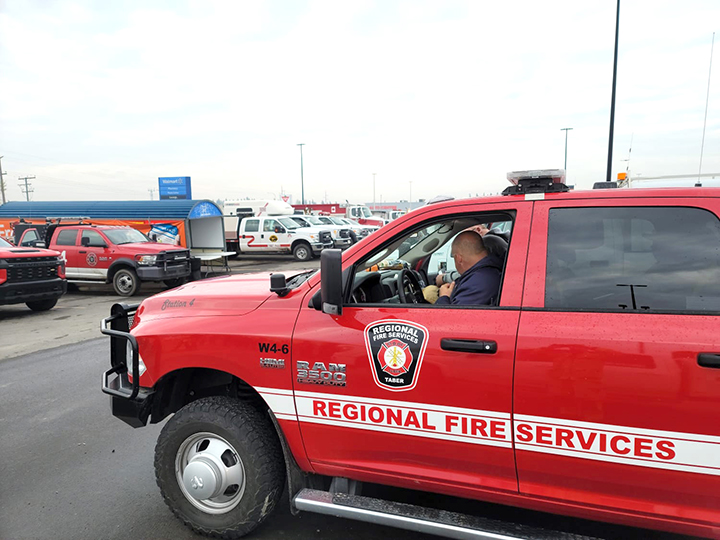 Advance Photo Courtesy of M.D. of Taber Fire Department NORTH: Brazeau County Deployment.
By Trevor Busch
Vauxhall Advance
editor@tabertimes.com
As wildfires swept through parts of central and northern Alberta in 2023, the Municipal District of Taber Regional Fire Services were called upon to send a contingent to help.
"We sent a truck. It's always tough – I mean, they're all volunteers. So they're trying to get time away from their work to go and help," said Nathan Coté, regional fire chief. "But this spring, when central Alberta and northern Alberta were having some major issues, we were able to send one of our wildland trucks with a crew and they went to Brazeau County right around the Drayton Valley area where they were first deployed to and they spent a week or so there, and then they moved up to (Little Red River Cree Nation), it'd be just east of High Level, kind of centre of the province there right up close to the Northwest Territories. So they spent a week up there as well, and some really good efforts to help out with protecting some of the communities and stuff up in those areas. So after a couple of weeks of being gone, they were fortunate to be able to come home – and be able to help out a little bit – but then returned home and other crews took over and continue to help up there."
Cote said the contingent consisted of seven firefighters altogether, with volunteers from the Taber, Enchant, Vauxhall and Barnwell stations.
"So a lot of what they did is they were performing what we call WUI, or wildland urban interface fires. So what they're doing is structure protection. So their jobs were mostly they helped set up sprinkler systems around different communities or different structures, so that those could function when the fires got there, they did a little bit of fire smarting activities, from cleaning up combustible materials that might be in people's yards to even as far as probably cleaning out eavestroughs and things like that. So they were definitely helping out with preparing for the fire when it got there to help lessen the severity of the fire when it got to those communities or structures. And so they worked throughout those communities they stayed in, in camps at some point and hotels, at some point, it depended where they were." 
Coté says the members learned a lot from the experience.
"But it was a really good eye-opening learning experience for them. Not something that we might do all the time here. But it was certainly good setting up those sprinkler systems, setting up pumps and making sure that they were all functional and ready to go should or when the fire got there, they could fire that stuff up and make sure that the sprinkler systems and everything were working."