Vauxhall Jets hopeful for spring baseball
Posted on January 28, 2021 by Vauxhall Advance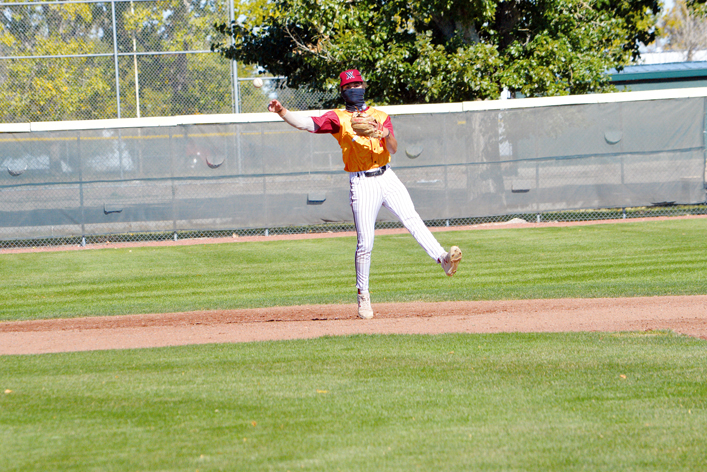 ADVANCE FILE PHOTO
By Cole Parkinson
Vauxhall Advance
cparkinson@tabertimes.com
While the weather outside has hardly felt like a traditional southern Alberta winter, the Vauxhall Academy of Baseball Jets are hoping when spring temperatures roll around, they'll be able to play their usual amount of games.
This fall, the Jets were only able to play the Prairie Baseball Academy in Lethbridge due to the pandemic, though there were no complaints from anyone in the academy after their last season was completely cancelled a few months prior.
With 2021 already well underway, the coaching staff and players have been hard at work inside as they continue to develop their skills for whatever games may come in March.
"We're in the hall taking some batting practice. We are also using the high school gym a lot, so it's been a good combo that we're able to do both," said Jets head coach Les McTavish. "We got in (the hall) officially on Tuesday (Jan. 19) and we're just using a small portion of the hall because they're doing renovations and stuff in there so we're using about one-third of the hall. We're able to get the offensive side of the game completed, which we really appreciate."
While the Jets position players have been able to get in a number of hacks, the pitching staff is beginning to ramp up soon.
Starting this week, pitchers started stretching out and working on their repertoires to be mound-ready.
"The pitchers are in a good spot right now. We are working short boxes and full bullpens (this) week," continued McTavish. "We feel we're in a pretty good spot and we're in the same spot we would be normally. We're fortunate down here that we do live together and they're able to do their training because it is part of a school class. As we go forward, we'll continue to push the envelope and get guys ready the best that we can. At the end of the day, everyone in the world is in the same boat so we'll continue to do the best that we can and make sure we're in a good position for when the time is right, we're able to move forward and play games. We'll be ready."
The Jets' coaching staff is treating this winter training the same as any previously but what awaits them on the other side is hardly what the Jets are used to.
Spring usually brings plenty of opportunities for the Jets to play in British Columbia and the United States but as the pandemic continues to limit travel, the academy has had to develop a variety of different plans.
"We have four different schedules so we haven't produced any of them. One is if the border is open, schedule two is everywhere in Canada is open, schedule three is only Alberta and schedule four is we can only play in southern Alberta. I don't think anybody has the answers to any of this," explained McTavish.
Last spring, the Jets were scheduled to play out of province games in Salt Lake City, Las Vegas, Bozeman, Helena, Kamloops, Abbotsford, Langley and Missoula before the season was cancelled due to the pandemic.
The Jets home tournament during May Long Weekend is another date on the calendar many players and staff circle, and they're hopeful they can get those games in.
"I even look at my own son, Shaye, he's been to every May Long Weekend since he was born and he was born in 2003. And he has yet to experience that yet, so hopefully, we can. We'll just continue as best as we can and be as encouraging as we can," added McTavish.
Since the new year began, Jets' outfielder Micaiah Furbert committed to Depauw University in Greencastle, Ind.