Taberite Brance Orban looks back at 2020-21 hockey season
Posted on April 8, 2021 by Vauxhall Advance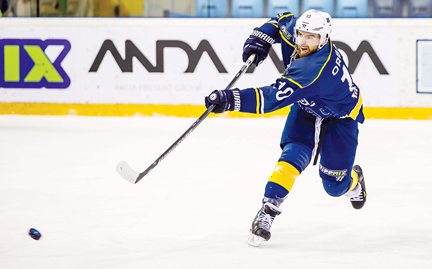 By Cole Parkinson
Vauxhall Advance
cparkinson@tabertimes.com
The 2020-21 Erste Liga (Hungary/Romania pro league) season saw Taberite Brance Orban breakout offensively once again, as he continues his hockey career in Europe.
While it was his fourth year in Budapest, Orban has now played overseas for eight seasons, and has experienced all sorts of success.
In his first season in Budapest (2017-18), Orban was on the championship-winning MAC Budapest in the Erste Liga. For the next two years, the team was promoted to the Tipsport Liga (Slovakia) — which features a higher level of competition. Due to financial difficulties relating to COVID-19, MAC HKB Újbuda dropped back down to Erste Liga last season.
The 32-year-old Taber product posted career highs with MAC HKB Újbuda with 22 goals and 31 assists in 41 games and despite having a younger team, Orban was happy with how the team shaped up.
While they were eliminated in the quarter-final of this year's playoffs, Orban says overall, the season was a success.
"I knew we would have a young team and a new coach, but I was very comfortable with everything because the new coach was our president and the way we have been treated with MAC from day one has been first class. We were very lucky to start our season on time and even with fans. My daughter got to come to one afternoon game even before they stopped allowing fans the rest of the season. We overachieved everyone's expectations this year with a young hard-working club," he explained. "Overall, I think we turned some heads. Everyone counted us out after the merge and the decision to not sign any imports. The mix of our older core group with the passion of the fresh new young players was a good recipe for success. In the playoffs, we lacked depth and experience, but it was a good run for us."
After posting 36 points and 27 points in the prior two seasons, Orban was able to find an even high offensive touch for MAC in 2020-21. Despite his long-running lineman and best friend, Chris Bodo, departing from the team in the offseason, Orban was able to find another level.
"I think just being comfortable. MAC has always treated my family and me amazing on and off the ice. They have given me every opportunity to succeed. My linemates and I were together for almost every game this season, we started out a little slow — but once we got rolling, we were quite dangerous as a line because although we all are different types of players, as far as our styles of play goes, but we are all skilled and are scoring threats," he explained. "I was very focused on it (offensive play). It starts in the summer with training on and off the ice and working on ways to evolve my game. The team game comes first. Whatever it takes to win, but I know it's my job to produce."
Like in Canada, the Erste Liga dealt with the COVID-19 pandemic and fans in the building were limited compared to prior years.
While a select number of fans were allowed at the beginning at the season, the vast majority of the regular season and the entire playoffs saw no fans in the stands.
"We were allowed up to 500 fans until November. After that, we continued the season with no fans. From that point on, almost every game was streamed or televised," added Orban.
From a player and team perspective, several additional safety measures were in place.
"Things were a little different with the masks and testing when we left the country for games in Romania. We had special workout times and only one team was allowed in the gym at a time. Our arena is a regional event centre, so multiple teams play out of our arena. And back before COVID, the world ping pong championship and concerts and shows would be there too," continued Orban.
Empty buildings have been noticeable in North American sports and Orban says it's just as noticeable across the sea.
While Canadians are known for their hockey passion, he says the fans in Europe also bring enormous amounts of energy to each game.
"This was my eighth season in Europe and I have had the luxury of playing in some pretty awesome places with pretty unique fan support and energy in all of them. They do everything from singing and chanting, to banging drums and hissing at the refs when there is a 'non-call' on what they think is a penalty. It's great," added Orban.
With the 2020-21 season in the rearview mirror, Orban and his family have already decided on what the next hockey season will entail.
"With a heavy heart, we decided as a family, this would be a good time to have a new life experience as a family — we signed with Gyergyo (Erste Liga). The club is in a village in the Romanian mountains. Hopefully, fans are allowed soon, as they have great fan support. The club has taken very good care of us so far. We are excited for the new adventure and opportunity. Chris Bodo and I signed a package deal and we will be going together as 'imports.'"