Jets focusing on player development with no games
Posted on April 29, 2021 by Vauxhall Advance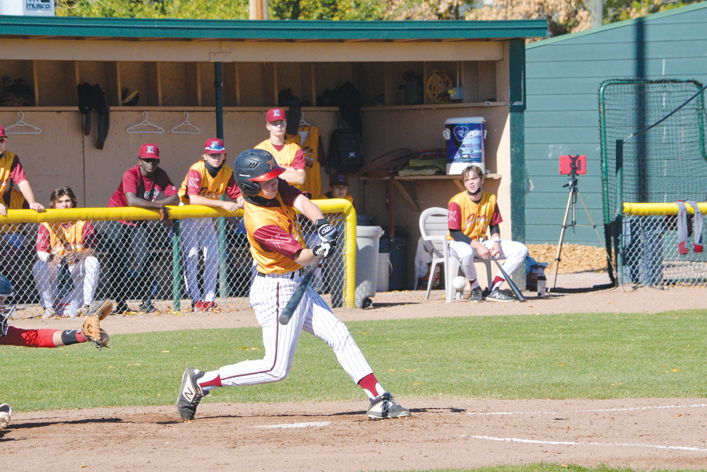 ADVANCE FILE PHOTO
By Cole Parkinson
Vauxhall Advance
cparkinson@tabertimes.com
While the 2020 fall season allowed for some games against the Prairie Baseball Academy in Lethbridge, the Vauxhall Academy of Baseball Jets have yet to suit up in a game this spring.
With Alberta moving back to Phase 1 of the relaunch, AHS guidelines haven't allowed for competition this season.
Despite the setback, the Jets staff and players have continued to grind in Vauxhall by working on development in any way they can.
"We're fortunate — have we played an opponent? No, we haven't. Would we love to play an opponent? We've had a great year so far, we certainly would love to. But we've been fortunate because we all live together, they are able to get out at Jets Stadium and practice, scrimmage and some of those things," explained Les McTavish, Jets head coach. "The developmental side, we have been fortunate to get a whole bunch of scrimmage time in. I think the hitters have had close to 40 at-bats. The pitchers, we've been pretty careful with their pitch counts but in general, they've all had four to five outings in the scrimmage in an inter-squad type format. It's certainly not ideal, but it's better than most."
While it's far from what the group had hoped for, the 2021 spring has still been miles better than the 2020 season. In 2020, the entire season was cancelled and players had to head home early in the spring due to the pandemic. So while it's not what anyone wants, the ability to get out and play baseball in some form has been hugely beneficial for VAB.
"What we've been doing is we have a couple of captains and behind closed doors, they have a draft. We have a best of three series. Fast forward a week, practice in between that and then reshuffle the deck and start another series. The guys have been good. They've been dedicated to it, they've been competitive and I think they've got something out of it. Is it like playing the Lethbridge Bulls or Bishop Gorman High School in Las Vegas? No, but I think keeping it in perspective, they've got quite a bit out of it," continued McTavish, who also confirmed the players have been in high spirits despite the lack of competition against other teams.
"The mood has been good, overall we've spent more time on certain aspects of the game because we are able to. We're not just worrying about trying to win a game. We're pretty happy overall with the guys, we have a great leadership core. Are the guys getting bored at times? Yeah, but we have had some team building activities and we have a couple more planned. They want to be college baseball players or pros. You have two choices — either stay ready and keep developing or you don't. To me, coming out of this pandemic, players are going one or two directions —  curving up because they worked at their game or curving down because they haven't. We're pretty confident most of our guys, if not all of our guys, have done just that."
The spring season normally sees the Jets take off to Las Vegas, B.C. and Montana — but all of those plans have taken a back seat in 2021.
Continuing with player development, as well as getting senior players ready for college baseball in the fall, continues to be a huge focus for the coaching staff.
While the lack of games is not how many Grade 12s envision their last year before college, the coaching staff is doing everything they can to prepare them for the competitive next level.
"You can't replace games and we've been fortunate to have controlled games, but developmentally I think it has helped a lot of our guys because it's taken away the batting average or their ERA and some of those things. They focus more on the process," added McTavish. "We're pretty close to having all of our Grade 12s (signed). We're pretty confident all of our Grade 12s are going to head off to college next year, which is a testament to the kids, program and the school." 
And while the traditional spring season hasn't gone the way they hoped, McTavish and the coaches are encouraging their players to take as much out of this spring as they can. "I hope they haven't fallen behind, but can you really tell? I don't know," said McTavish. "I think it's all relative and excuses — there's no room for it. When they get to college, they aren't going to go 'well, you haven't played much, we'll take it easy on you.' They don't care and some players will lick their chops." 
One positive for the group has been the warm weather — which has allowed them to get outside earlier than in some years past. "It's been super beneficial so there's one positive — we have spent a lot of time outside. We've had more outside reps than maybe we've had in the last dozen years. When you put that into perspective, maybe we aren't behind. We probably have just as many reps as we did two years ago at this point in time, maybe even more because we've continually been outside. Not only that, but when you're scrimmaging, we have 13 or 14 hitters. That means guys aren't playing every game — but when we scrimmage, everyone plays every game. Maybe I'm trying to be optimistic, but I think there are some positives with that. You can't replace outside reps and we avoid the Hall, as much as we can — let's put it that way. At the end of the day, I think it has helped the mindset of the kids," continued McTavish. 
He also explained with Jets Stadium seeing plenty of action overall, the field is actually in great shape, though more maintenance is needed than usual. "The field looks great. We've been on it, we might be on it five times more than we've ever been on it. Normally, we would have been to Vegas, Kamloops and we would have been away for 20 some days already. Well, one we're here, two we've had good weather and we've been spending time on the field, so it's a little beat up. We might have to replace some sod here or there. We just cut it for the first time. We've fertilized, aerated and it looks better than it's ever looked."
And with that warmer weather, the staff has encouraged the players to get outside often and do things other than just play ball. "I think that's important right now. I think for their mental outlook, positivity and all those things. We're really just encouraging them to get outside, as much as they can." The Jets have also been busy on the media side, as they have posted a new highlight video — which can be watched at youtube.com/watch?v=OHdgln3DqiU.