Jets' players honoured as season nears end
Posted on June 17, 2021 by Vauxhall Advance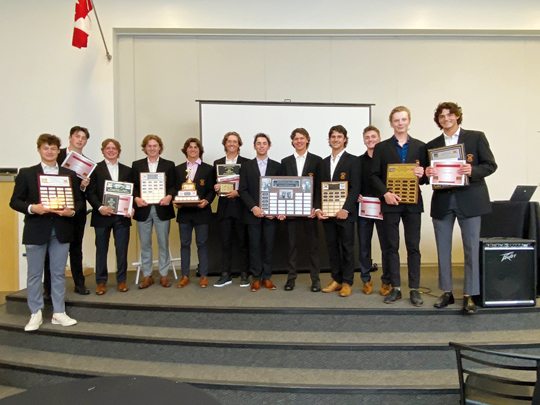 ADVANCE PHOTO COURTESY OF VAB
By Cole Parkinson
Vauxhall Advance
cparkinson@tabertimes.com
While the previous two  Vauxhall Academy of Baseball spring seasons have been unorthodox, the team has been able to adapt.
Last spring saw a complete cancellation of the entire spring campaign, while this year has seen a lack of games compared to a normal year.
The Jets did get to suit up for a pair of exhibition games this past weekend against the Lethbridge Bulls, but before that, the team was under provincial restrictions which didn't allow for games.
While no games were held against other teams earlier this spring, the Jets were able to have inter-squad games throughout the weeks of warm weather.
Despite the lack of a normal schedule game-wise, VAB was able to host their ninth annual Celebration of Achievement dinner and awards in early June.
The event was sponsored by Barbara and Yukio Kitagawa. The Kitagawa's also donated $1,000 for a COVID sponsorship and four players were able to take home $250 in cash — Kalem Haney, Aaron Vulcano, Jared Bendfeld and Dallas Cummins.
The following are the award-winners for the 2020-21 VAB season:
• Reno Lizzi Scholarship/Ring Presentation – OF Jackson Clemett – $2,000 & ring
• Jet of Year presented by Don Groves – OF/1B – Hunter Porter $500 scholarship
• Coaches Award – Hardest worker in the off season – Custom Rawlings Glove – SS Kalem Haney
• Inch by Inch presented by Yukio and Barbara Kitagawa – $1,000 scholarship – RHP Cole Alguire
• Scott Hornstra Memorial Scholarship – Heart & Hustle – $500 scholarship – OF – Dallas Cummins
• Wanda Stober Memorial Award – Volunteers of the Year $500 scholarship – RHP Tyler Boudreau
• Kalvin Odland Memorial Award – Leadership/Dedication $500 scholarship – C – Aaron Vulcano
• Brian Bauman Award – "All in" (voted by the players) Oakleys & New Balance provided by Sports Connection – C – Cardel Dick
• Jan Tolton Memorial Award – Best in the Dorms $500 – RHP Drew Lenehan
• McLeod Family Scholarship – Excellence everyday that doesn't require talent – $1,000 scholarship each – INF/RHP Shaye McTavish and INF/RHP – Nick Backstrom
• Reno Lizzi Underclassman Bursary – Adam Nelubowich – $1,000 tuition credit – RHP – Karter Andersen
• Reno Lizzi Underclassman Bursary  – $1,000 tuition credit – C – Cardel Dick
• Sports Connection Award – Oakleys & New Balance production – RHP Anson McGorman