Spurs wrap up 2021 season with tournament win
Posted on August 12, 2021 by Vauxhall Advance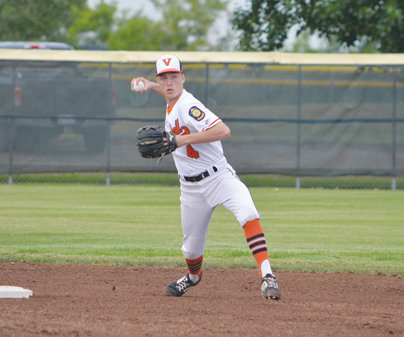 ADVANCE FILE PHOTO
By Cole Parkinson
Vauxhall Advance
cparkinson@tabertimes.com
While the 2021 season didn't end with a district title under their belt, the Vauxhall Spurs were able to end the season on top. After an entire exhibition schedule this year, the Spurs went into the August long weekend in search of a tournament win in Medicine Hat.
"We had a schedule made between Lethbridge, Medicine Hat and Vauxhall (during the regular season). Lethbridge initially had two teams split evenly between their 'AA' and their 'A' and then on July 5, they ended up splitting up into leagues — 'A' and 'AA' and then the 'B' team that played together all year. Med Hat was a mixture of their 'A' and 'AA' split into two evenly-split squads. We played doubleheaders against them throughout the season. We played 14 games in July and then we had a year-end tournament, we played Saturday, Sunday, Monday (July 31-Aug. 2)," explained Spurs head coach Ken Fuglerud.
While the tournament wasn't quite the same as the traditional district tournament in the States, the coaching staff and players prepared for the games as if they were.
"It wasn't playoffs or anything like that, but we definitely treated it as such. All we had was exhibition games all year and we tried to treat this like our district tournament in a non-COVID, normal year. We were built for this time and the boys really showed up and played really well so I was proud of them. We started the year 1-6, which was definitely a surprise and not what we expected. Throughout the year you could see improvements, adjustments and more attention to detail, which was really improved amongst the boys. I think we headed into the final weekend winning our last five games. Then we ended up going 5-0 to win the tournament."
In the first game of the tournament, the team went up against a Calgary U18 team. While the score ended up as a one-sided 12-1, Fuglerud says the game was tight until the final inning.
"We ended up beating them 12-1, but that score can be a bit misleading. It was 1-0 in the top (of the first), then it was 1-1. Then it was 2-1, but they came up with some guys on base and what we saw in that first game was Dallas Cummins on the mound and he threw a complete game, five innings. He just pounded the strike zone and shut them down while also striking out six and only giving up two hits," he said. "The thing about that game that was pretty impressive was that the other team came out firing and swinging it very aggressively at the dish, but we just kept the pressure on. We scored one in the first, one in the second, one in the third, one in the fourth and they just had no answer. We ended up putting up eight runs in the fifth to 10 run them."
With the first game resulting in a win, the Spurs turned their attention to Medicine Hat Red.
"It was a tight match and they had a good arm on the bump who had us shut down for quite a while. We ended up throwing Alonso Tapia who went six and two-thirds innings," continued Fuglerud. "He threw his best game of the year in his final pitching outing as a Spur, which was pretty awesome to see. Alonso stepped up and threw a lot of pitches, then Brian Fehr came in for that last out. It was a 3-2 game, and it was 3-1 going into the seventh. We had a few issues with walks that let them get back into the game, but ultimately, Brian was able to shut it down. Offensively, we had a few guys step up. Caleb Anderson had a triple with an error to score in the sixth inning which put us up 2-1."
The third and final round robin game saw the team play a U15 team out of Calgary.
"We only played four innings and Caleb Anderson threw a four-inning complete game. Blake Kondor went three-for-three with a bomb, a double and four RBI. We beat them 15-0," added Fuglerud. "We ended up finishing first in our pool and Med Hat Red finished second in our pool. In the other pool, number one team was the Calgary Strive and second was Lethbridge Miners."
With a first-place finish, the Spurs prepared for the semi-final where they faced off against the Lethbridge Miners.
In another tight game, the coaching staff saw a great pitching performance and some clutch hitting that led to the team reaching the finals.
"We saw Lethbridge in the semi-final and they had a very difficult arm on the bump so we ended up facing a very good test. We threw Carson Cleland and Carson went six innings and he threw an absolute gem for us. He had his breaking ball working, locations were working and ultimately he gave way to Pierce Dunsmore who came in for the seventh. He shut the door and didn't allow any runs. That was one of Carson's best performances and he threw against Lethbridge three times this year now and he beat them three times," stated Fuglerud. "It was 2-0 us after the first and we got a few unearned runs in that inning. Then their arm really settled down and threw three up, three down for innings three, four and five. In that time span, they scored one through three and then in the fourth inning, they put together an unearned run. In the sixth inning, we had guys step up to the plate and they got the job done. Caleb Anderson hit another double, Dallas Cummins hit a double to score a run. Peyton Howell stepped up to the dish, who was six for nine on the weekend, and he hit very well."
Heading into the final game of the tournament and the season, the Spurs were met by a familiar foe — Medicine Hat Red.
"They had a difficult lefty on the bump to start and it was a pretty tight game. We got up 1-0 and then they ended going up 3-1 on a couple of unearned runs. We gave up a three-spot in one inning. We kicked it around a few times, we walked guys and it was kind of an unfortunate inning, but the boys minimized it because it could have been more than three," said Fuglerud. "We started to focus more on our at-bats and eventually our hitting ability showed through a bit. Eventually, 3-1 turned into 8-3 and then 8-4, then 9-4, 9-5 and finally 10-5. Kondor went a complete game in his final outing as a Spur, seven innings and he threw well. He gave up five runs, four of them earned, he had four Ks and only four hits."
With the season now in the bag, the Spurs will see five graduating players depart — Kaden Liboiron, Caleb Anderson, Pierce Dunsmore, Alonso Tapia, and Blake Kondor.
"It was cool to see all season how our younger guys were able to learn from our older players. We'll have something special carryover next year because of the legacy those older guys will leave," added Fuglerud.
While five players are departing the team, so too is Fuglerud. After two seasons with the team, all of them under the pandemic with irregular seasons, Fuglerud says it's hard not to think what the two teams could have accomplished had there been district tournaments.
"It's hard not to think of what could have been with the unfortunate schedule changes and not being able to head south. That's hard to think about a little bit, but to be quite honest with you, one of the boys put it really well. He said 'we got to play a lot of baseball in the last two years where a lot of people didn't' so, in that regard we were fortunate. We had a lot of people behind the scenes on our board who made this possible, which is pretty impressive. It was a daunting task in the last two years," he explained. "The what could have been hangs in the back of my mind a bit, but ultimately I got to watch the growth of a lot of players in the last two years and it's pretty awesome to see."