VAB hopeful to Jet down to the States in 2021-22
Posted on September 16, 2021 by Vauxhall Advance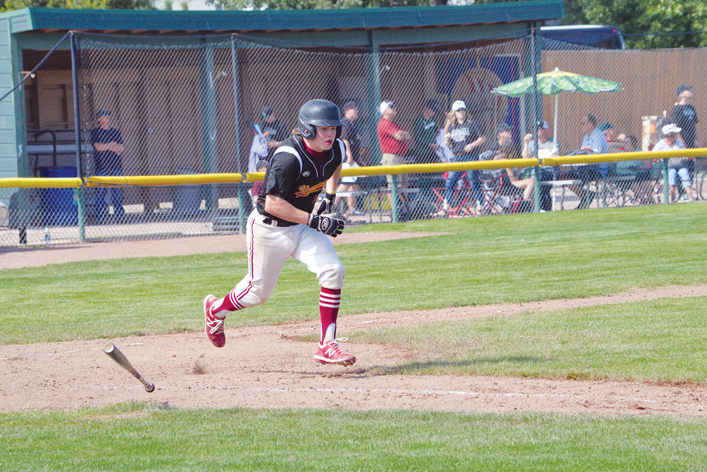 By Cole Parkinson
Vauxhall Advance
cparkinson@tabertimes.com
After winning the Keith Jorgensen Memorial Showcase Tournament earlier this month, the Vauxhall Academy of Baseball Jets were back in action this past weekend for three games.
On Saturday, the Jets took on Parkland Academy out of Spruce Grove, where they won 7-0 on the back of a Drew Lenehan start.
Lenehan went four innings allowing one hit, one walk, and accumulated 10 strikeouts.
Mason DeRuyck earned the save after pitching three innings allowing two hits, a walk and five strikeouts.
With the pitching working all game, the bats were able to produce all the offence they needed, which included Raphael Ranger knocking in an RBI, Jack Wheatley and Cardel Dick going 2-4, Adam Vulcano collecting a hit, Brennan McTavish collecting an RBI, and Colin Fisher going 3-3 with three RBI.
"We played pretty good in all three areas — pitching, hitting, and defence in the first game and it was a good start to the weekend," stated Les McTavish, head coach of the Jets.
The second game saw the Jets take on the Prairie Baseball Academy from Lethbridge once again.
After seeing themselves down 4-1, VAB recollected themselves and mounted a comeback for a 4-4 tie.
"Next game we played against the PBA, and they're obviously older and have college players. We pitched well and we had solid defence — it was solid and we came back from a 4-1 deficit to tie it up. We called it a tie," explained McTavish.
David Stewart had the start, going four innings, allowing six hits and four runs along with six strikeouts and no walks.
After Stewart left the game, Garret Smith tossed three innings only allowing one hit, one walk, and punching out one batter.
Offensively, the Jets saw hits from Dick, Wheatley, Vulcano, Kyle Yip, Kayden Hleucka, Jared Bendfeld, and Carson Boyko.
Heading towards the final game of the weekend, the Jets were hoping to build off two successful games.
Unfortunately, the team turned in their worst performance of the weekend with an 11-4 loss to PBA.
"The last game, we just didn't play very well. We didn't throw enough strikes on the mound, we weren't crisp defensively and at any level, if you don't pitch and play defence you're in trouble," explained McTavish.
Karter Andersen started the game on the mound and went two innings allowing two hits, seven runs, though only one was earned.
Parker Austin threw one and a third inning giving up three earned runs, while Brett Getz went two and two-thirds allowing one hit and striking out four.
In the box, Dick went 1-3, Bendfeld had a hit with an RBI, Yip was 2-3 with a triple and an RBI, and Eric Reiling had a double and an RBI.
With VAB now turning their attention to the rest of the fall schedule, the team is hopeful they're able to travel like they would in a normal year.
"We're back to normal. Let's hope we can stay there, but right now we're back to normal," continued McTavish, who also touched on the possibility of the team heading south. "Let's hope so. Right now we're not sure, but we're hoping so and planning for it. But right now, we're just moving forward and hoping as we go. What do you do, right? You just do the best you can and that's where we are right now. We'll let it play out here for a bit and I'm cautiously optimistic right now. If anything, the pandemic has taught us to do what you can right now and do it as best as you can, because moving forward all can you do is hope. In my world, I'm just hoping we're able to."
Despite not knowing the status of international travel at the moment, having a more normal schedule and routine is going to benefit VAB players this season.
After the past two seasons were disrupted by COVID to various degrees, getting back to a traditional VAB season is more than welcomed by players and the coaching staff.
"I think that puts everyone in a good spot. Did we play great in the last game — no, but at the end of the day, it's just one game. Our guys are just trying to find a way to build consistency and I think we are," confirmed McTavish. "When you're 15, 16 years of age, and just moved away from home, there's so much more to it than just the baseball portion. Some guys are going through some homesickness, some may be struggling in school and learning the Alberta system. There are just so many things they have to work their way through, but we're happy with the group right now."
Another important piece will be the crucial practice time players will get before each weekend of games.
While games help identify where players can fit in the lineup or pitching staff, working hard at each practice is a good indicator for the coaching staff as to which players deserve shots to start.
"100 per cent, and that's probably the biggest piece of the puzzle. We are starting to build a routine and for the most part, the majority of these guys, it's the first time in their life that they have had to do something every single day and they're starting to learn how to handle it, how their bodies can handle it, and all those things that come with it," continued McTavish.
This coming weekend, the Jets are once again playing at Jets Stadium in Vauxhall.
"We have an academy out of Saskatchewan and PBA playing four games in Vauxhall," stated McTavish.
Saturday and Sunday will see all three teams play each other, with first pitches being 11 a.m. and 4 p.m. for Vauxhall.
After that, the Jets hit the road once again for their first real road trip of the season.
"The following weekend we're off to Kelowna for a tournament," added McTavish. "We're looking forward to a couple of great weeks."