Vauxhall U11 hockey team hits the ice for 2021-22 season
Posted on October 21, 2021 by Vauxhall Advance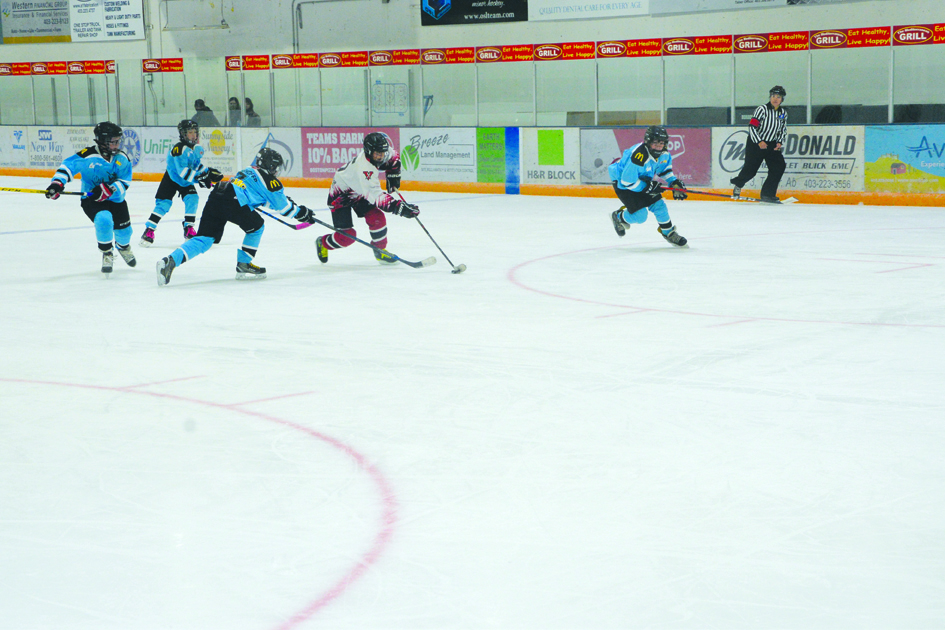 By Cole Parkinson
Vauxhall Advance
cparkinson@tabertimes.com
With October well underway, the Vauxhall U11 Sabres hockey team hit the ice this past weekend for a pair of games.
On Saturday morning, the Sabres travelled south to Taber to take on the Oil Kings. In a high scoring battle, the Sabres would fall 15-11 to Taber. Cole Bouchard had five tallies and Lincoln Deleeuw scored a hat trick in the game, while other goal scorers included Grayson Honess, Gavin Bilsky, and Jhett Stober. The Sabres also saw from Nash Stober in the blue crease.
In the second and final game of the weekend, Vauxhall had a home date against Vulcan. After back and forth scoring for both teams, the Sabres and Hawks would end in a 7-7 draw. Vauxhall got scoring from Bouchard, Honess, and Jhett Stober, who each had two markers, while Deleeuw had a single. Bouchard also racked up two assists, while Jhett Stober, Chance Crowson, Bilsky, Honess, and Deleeuw all had a single assist. Austin Odland, Cooper Broderson, Quaid Finlayson, and Oakley Wall also helped contribute to the tie with stellar play, while Nash Stober once again stood tall between the pipes.
Vauxhall has another pair of games this coming weekend. On Saturday morning, the team heads to Brooks before returning home on Sunday for a 10 a.m. matchup against Redcliff at the Vauxhall Arena.