Vauxhall Queens capture bronze medal at ASAA 2A Girls Provincials
Posted on December 2, 2021 by Vauxhall Advance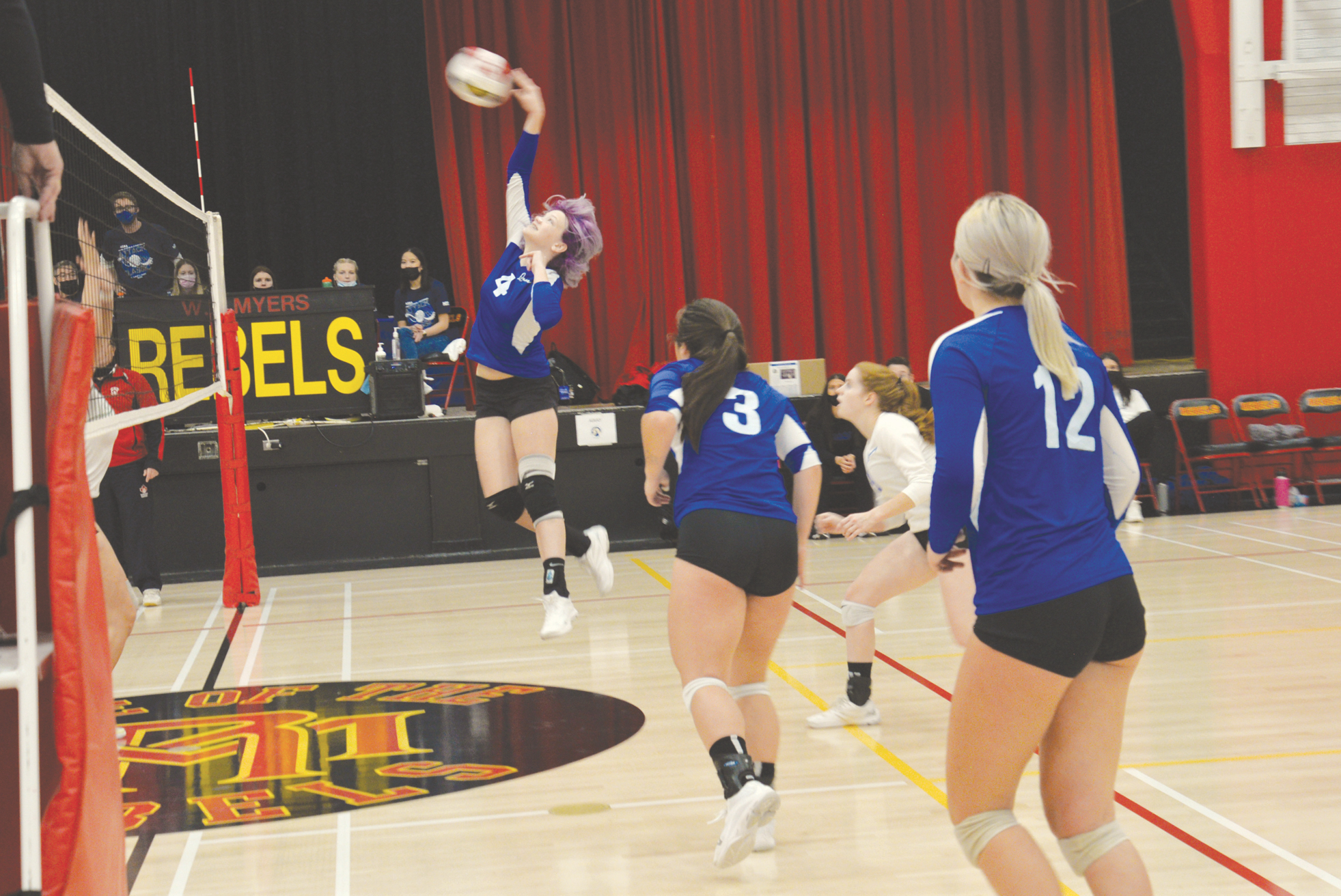 ADVANCE PHOTO BY COLE PARKINSON
By Cole Parkinson
Vauxhall Advance
cparkinson@tabertimes.com
This past weekend, the Vauxhall Queens went south to Taber to play in the ASAA 2A Zone Provincial tournament.
Overall, 10 teams were in Taber playing games at St. Mary's School and W.R. Myers in a search to become provincial champions. From ranking one to 10, teams included Magrath, Sexsmith Secondary, Notre Dame, Edmonton Christian, St. Mary's, Calgary Christian, Rimbey, Onoway, Prairie Christian Academy, and Vauxhall.
In Pool B, Vauxhall was set to face Calgary Christian, Rimbey, Onoway, and Prairie Christian Academy, with pool round-robin games beginning on Nov. 25.
On Thursday morning at W.R. Myers, the Queens hit the court to take on Calgary Christian, which resulted in a loss in straight sets 25-20 and 25-23.
Undeterred, the Queens would bounce back in their second game of the day as Prairie Christian Academy hit the court as the opposition.
Vauxhall would dominate both sets en route to a win in straight sets 25-8 and 25-14.
With another pair of games on Nov. 26, the Queens first had to face Onoway for another round-robin game. Like the final game on Thursday, the Queens would win again in straight sets 25-9 and 27-25.
With a hot streak going, the Queens had one final round-robin game on Friday night against Rimbey. The team once again capitalized on their chances and won in straight sets 25-15 and 25-7.
Thanks to their strong pool play, the Queens finished second in the pool and were set for a quarter-final match against Edmonton Christian on Saturday morning at St. Mary's.
In another strong showing, Vauxhall continued their straight sets dominance as they beat Edmonton Christian 25-11 and 26-24. With that win, the Queens were off to the semi-final, which saw the defending 2A Provincial champs awaiting them — the Magrath Pandas.
In two tough sets, the Queens would fall 26-24 and 25-21, which saw Vauxhall relegated to the bronze medal match. On the other side, Calgary Christian took down Notre dame 25-20 and 25-17.
With bronze in their sight-lines, the Queens hit the court for their final game of the season against Notre Dame. The Queens would take the first set 25-15, but the Wildcats would return the favour in the second with a 25-20 win which would set up a best of 15 final set for the bronze. In a back and forth match, the Queens would eventually down the Wildcats with a 15-13 win and as 2A Zone bronze medalists.
The Queens will see six senior players depart from the school after this season — Marissa Rijkens, Kalley Howg, Kyla Reiling, Avery Sande, Norah Gartly, and Nicole Milos.