VAB goes undefeated over grad weekend
Posted on May 19, 2022 by Vauxhall Advance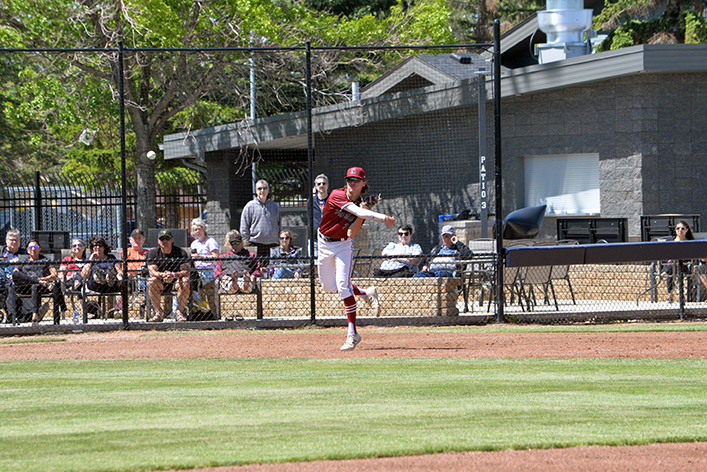 ADVANCE FILE PHOTO
By Cole Parkinson
Vauxhall Advance
cparkinson@tabertimes.com
Friday night saw senior Jets walk the stage at Vauxhall High School's graduation celebration, and then on Saturday and Sunday, it was back to business. Saturday saw the Calgary Bucks come to town for a doubleheader and the Jets were ready to go from the first pitch. In the first game, the Jets scored plenty of runs and were able to collect a massive 11-1 win in the opening game of the weekend. 
The Jets had a combined no-hitter in the first game against the Bucks as David Stewart got the start for the Jets and gave the team five scoreless innings with eight strikeouts, no walks, and no hits. Keegan McNeil came in for 1 1/3 innings and gave up two walks, a run, and struck out two batters. Riley Pearce finished things off with 0.2 innings and a strikeout. Demitri Shakotko led off for the Jets and was swinging it well all game as he mashed a home run, a double, and collected three RBI, and a stolen base, Cardel Dick had a walk, Kyle Yip had a double and an RBI, Kayden Hleucka smacked a pair of home runs, had two walks, and collected three RBI, Pearce was 2-4 with a pair of doubles and three RBI, Raphael Ranger had a walk, Colin Fisher had two walks, Eric Reiling had a double, and Carson Boyko was 2-3 with a double. The Jets had nine hits in the game and they committed four errors in the field.
Even after a short break, the bats were not cooled down in the second game of the day for VAB. The offence continued to roll in the second game of the doubleheader with Calgary as the Jets pushed 14 runs across the plate en route to a 14-5 win. Shakotko had a solo home run and a walk, Dick was 1-2 with a double and a pair of walks, Yip was on fire going 3-3 with a single, double, and home run, four RBI, a walk, and a stolen base, Hleucka continued his hot streak hitting another two home runs, collecting a pair of walks, and four RBI, Jared Bendfeld was 1-4 with a double and two RBI, Pearce had an RBI and two walks, and Ranger had a walk and an RBI. The Jets had eight hits in the game and two errors. Karter Andersen got the start on the mound for VAB and he went 3 1/3 innings, striking out four, walking six, and giving up three hits and four earned runs. Mason DeRuyck finished things off with 3 2/3 innings where he struck out seven and walked one. 
Sunday saw the Badlands Academy Badgers come to Jets Stadium and VAB continued to roll. It may have been a closer game, but the Jets were still able to put forth a 9-4 win. 
Shakotko was 1-4 with an RBI, Dick had a pair of singles, an RBI, and a walk, Yip had a walk, Hleucka was 1-3, Bendfeld was 2-4 with a double and an RBI, Pearce was 2-2 with a double, Ranger had a walk, Brennan McTavish was 2-3 with an RBI, Fisher was 1-3 with an RBI, and Ty Clemett was 1-3 with an RBI. Garrett Smith went four innings on the mound where he struck out four, walked three, and gave up four hits, and four runs (one earned). Parker Austin came in from the bullpen where he struck out five, walked three, and gave up three hits and two earned runs. Overall, the Jets scattered 12 hits and only had one error in the field.
To read the full story, pick up a Vauxhall Advance issue or subscribe to an ePaper digital subscription! You can sign up for digital or traditional subscriptions on vauxhalladvance.com by clicking subscribe under ePaper on the home page.