Olivia Edlund selected to Canada's National Excellence Program
Posted on June 3, 2022 by Vauxhall Advance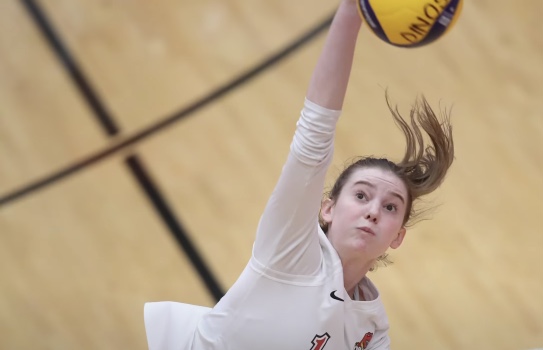 By Cole Parkinson
Vauxhall Advance
cparkinson@tabertimes.com
After years of standout volleyball play in Barnwell and Vauxhall, Olivia Edlund has been called upon to be a part of Volleyball Canada's National Excellence Program (NEP). 
After trying out for the team earlier, Edlund was surprised to see an official invite to the team. Edlund first submitted a tryout video to the program and both she and her younger sister Lauren were invited to be a part of the in-person tryout process.
"When I got the email from NEP head coach Carolyn O'Dwyer inviting me to the program, my heart skipped a beat," said Edlund. "I thought I had a really good tryout, but the thought of being one of 16 girls from across the country selected seemed too good to be true."  
"I played well during the scrimmage, but it wasn't until my club team went to Vancouver to play some games and Canada's Senior Women's National Team head coach Shannon Winzer already knew me by name that I started to maybe think I'd be selected."
According to Volleyball Canada, NEP "is designed to prepare athletes to perform at the highest level of our sport and to continue their development towards the National Senior Team Program and/or playing professional volleyball. It offers individual technical and tactical skill development as well as team play refinement. Athletes are exposed to an array of Sport Science and sports medicine services, dispensed by leading Canadian practitioners in a holistic high-performance environment. NEP athletes, through training and exhibition competition, are introduced to leading international volleyball programs and clubs."
In 2021, five Albertans were chosen to the squad along with eight players from Ontario, four from B.C., and one from Saskatchewan and Quebec. In 2021, the Canadians competed in the 17th edition of the U18 FIVB Volleyball Girls' World Championship in Durango City, Mexico. The Canadians were in a pool with Mexico, Cameroon, Serbia, and Poland. The team went 1-3 in the round-robin, which birthed a matchup in the Round of 16 where they took on Italy. The Italians would go 3-0 against the Canadians, which ended their tournament.
With the hopes of building off of the 2021 tournament, the 2022 squad is formed and ready to go. And Edlund is more than excited to get to work.
To read the full story, pick up a Taber Times issue or subscribe to an ePaper digital subscription! You can sign up for digital or traditional subscriptions on tabertimes.com by clicking subscribe under ePaper on the home page.