Spurs readying for upcoming District tournament
Posted on July 14, 2022 by Vauxhall Advance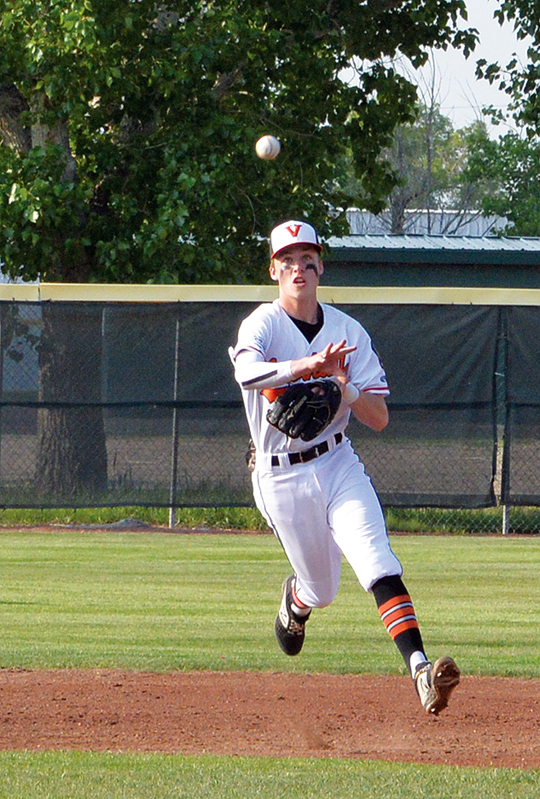 ADVANCE FILE PHOTO
By Cole Parkinson
Vauxhall Advance
cparkinson@tabertimes.com
The summer has been an eventful one for the Vauxhall Spurs and now the regular season is heading towards its end. This past weekend, the Spurs went north to Calgary to play in a pair of doubleheaders which would determine the final rankings for the North Division in the Montana Legion Baseball league.
The Spurs took on Cranbrook and Calgary for a pair of doubleheaders this weekend with games starting on Saturday. In the first game, it was a close battle between the Spurs and Calgary with Vauxhall claiming a 4-2 win. The second game of the day was against Cranbrook which saw both teams unable to find a winning run as the game ended 5-5. Sunday saw the Spurs take home an 11-3 win over Cranbrook before dismantling Calgary 12-2 in the final game of the weekend.
"It was very good, we went up to Calgary and we played a four-game weekend like we have been doing. The big thing was the two games against Calgary were our final Conference games to complete the seeding for Districts," explained Jimmy Vulcano, coach of the Spurs. "We went three wins and one tie this weekend. We beat Calgary Strive 4-2 in the first game on Saturday and then we mercy'd them 12-2 on Sunday. That locked us as the number one Canadian seed going into Districts. We actually ended up with the highest overall win percentage as well. Our conference record is 8-4 and our overall record is currently 22-7-2. When you look at the North Conference as a whole, we ended up with the best win percentage."
Pitching was phenomenal all weekend as the Spurs saw three of the four starters go the distance. With pitching coming up clutch over the weekend, it allowed the bats to come alive and take control of the games.
"Out of the four games, three of the four were complete games by the starters. Adam Vulcano, he faced off against the Strive in the first game on Saturday and it was a two-hitter going into the sixth inning. They couldn't figure him out and he threw it very well," said Vulcano. "Aidan Maxwell, same thing, a complete game against Cranbrook. He pitched very solid and had great command the entire game. In our final game against Calgary, Aaron Vulcano pitched that game. They hadn't seen him yet, and to be honest, he dominated the whole game. His command and his presence on the mound was very strong and he was throwing quite hard. They couldn't catch up to him most of the game."
To read the full story, pick up a Vauxhall Advance issue or subscribe to an ePaper digital subscription! You can sign up for digital or traditional subscriptions on vauxhalladvance.com by clicking subscribe under ePaper on the home page.