Jets kick off fall season with tournament win
Posted on September 12, 2022 by Vauxhall Advance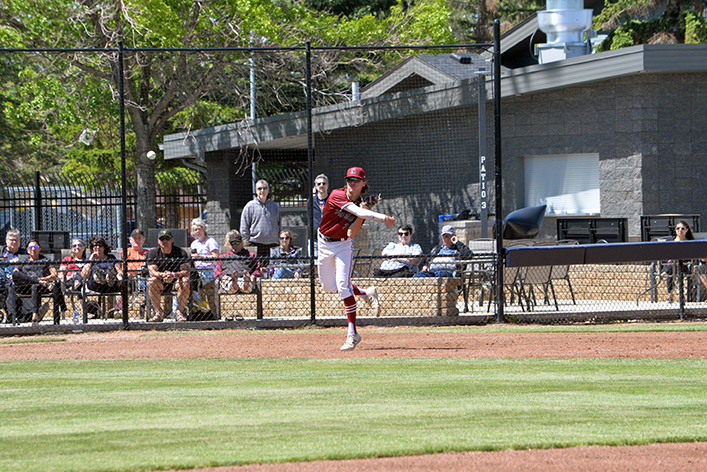 ADVANCE FILE PHOTO
By Cole Parkinson
Vauxhall Advance
cparkinson@tabertimes.com
Fall may be in the air in southern Alberta, but the Vauxhall Jets are revving up for their new season. With a busy few weeks on the horizon for the team, they saw the fall portion of their season begin this past weekend when they travelled to Lethbridge for the Keith Jorgensen Memorial Tournament. 
The Jets kicked off the tournament against the Prairie Baseball Academy and were able to get things going with a 9-2 win thanks to a great offensive performance. 
"Early in the fall, it's just about getting reps and figuring out who your bodies are and who your players are — how they compete and handle things on the field. We started off with a really solid victory over PBA on Thursday night and that set the tone for a great weekend. Overall, throughout the four games, our biggest strength was offence," explained Les McTavish, Jets head coach.
From there, the Jets would continue to roll with three straight wins en route to the tournament win. Game 2 saw VAB match up against Webber Varsity and once again, the bats were unstoppable as they rolled to an 11-5 win. In their final game on Saturday, the Jets saw a 10-2 win over the Calgary Blues. With a three-game winning streak to start the fall, the Jets found themselves in the tournament final against the Badlands Academy. Thanks to an offensive explosion, VAB steamrolled Badlands 20-9.
"We had a couple of injuries, guys got hurt over the summer, so we're a little banged up on the mound already, but overall, the players handled themselves well. We competed in a lot of situations," added McTavish. 
Players arrived for the new season in late August and now the grind truly begins as the fall season runs until mid-October. Since players arrived, the coaching staff has explained what it means to be a Vauxhall Jet and what needs to happen to maximize their time in Vauxhall. 
"You really try to paint the long-term picture as opposed to the short-term picture. You want to build over the course of one to three years, depending on how long they're going to be here, to build them into a college athlete. That comes with some trials and tribulations, some ups and downs, but continuing to work at things and have the right attitude and continue to learn, grow, get better, and learn from situations — good and bad," stated McTavish. "What makes Vauxhall special is you live with your teammates and your best friends. There is a lot learned after the coaches too, when the players get to sit down and chat or go do some extra work on the field. Certainly, we've really noticed over the years things get accomplished when we're not there." 
Another portion of that is players dedicating themselves to being a Vauxhall Jet.
To read the full story, pick up a Vauxhall Advance issue or subscribe to an ePaper digital subscription! You can sign up for digital or traditional subscriptions on vauxhalladvance.com by clicking subscribe under ePaper on the home page.