Spurs sweep games over last week
Posted on June 23, 2023 by Vauxhall Advance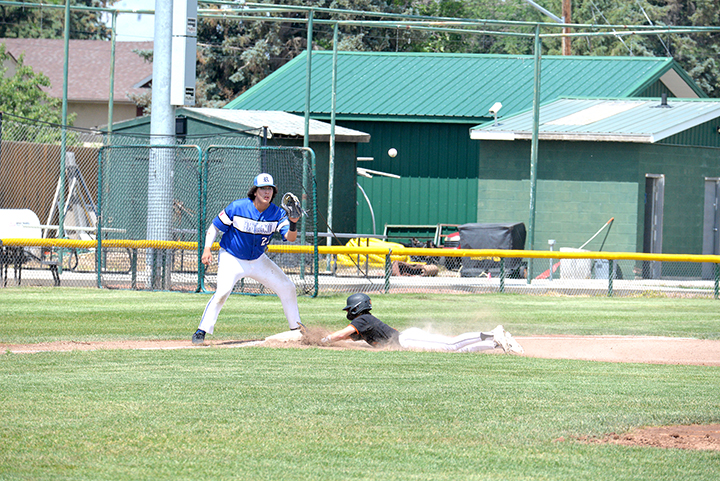 Advance Photo by Trevor Busch ROYAL SWEEP: Spurs baserunner Langdyn Cummins slides in safe to 3rd base seconds ahead of the throw during a doubleheader versus the Fort Macleod Royals at Jets Stadium on Saturday afternoon. The Spurs are back in action Friday for a home doubleheader versus the Havre North Stars.
By Cole Parkinson
For Vauxhall Advance
Local Journalism Initiative Reporter
With two doubleheaders on the schedule last week, the Vauxhall Spurs were able to take all four games. Tri County Cardinals and the Fort Macleod Royals were in town on June 15 and June 17, respectively. 
After a 3-1 week, the Spurs were looking to continue to put wins on the board and they welcomed in the Cardinals for a doubleheader on June 15. The first game was all Spurs as the team was able to shutout Try County with a 10-0 win. Aidan Maxwell was masterful on the mound as the pitcher pitched a complete game shutout. Peyton Howell would add a home run in the Spurs' win. Game two was much of the same for the Spurs as the team continued to pour on the offence. When the final out was made, the Spurs had another win, this time 9-1. Jaxxon Pavka collected the win on the mound while Langdon Cummins and Torbin Jorgensen each had multi-hit games. 
Saturday saw the Fort Macleod Royals come to town for a doubleheader at Jets Stadium. The offence continued to roll for the Spurs as the first game saw the bats once again lead the way. The Spurs would roll to an 8-2 win in game one as Cummins and Landon Howg led the way with the bats. Tanner Bullock and Ashton Lukacs pitched for the Spurs en route to the win. The second game of the day once again saw the Spurs' bats continue to hit the ball all over the ballpark against the Royals' pitchers. When the game came to an end, the Spurs had collected a 14-2 win. Pavka and Adam Vulcano each had a multi-hit day at the plate while Howell collected the win on the mound. 
The Spurs take a 10-2 record into this week's action. Next up for the Spurs is a home doubleheader against the Havre North Stars on June 23. First pitch is at 5 p.m.