Southern Alberta Angus Club Field Day helps educate producers
Posted on August 1, 2019 by Vauxhall Advance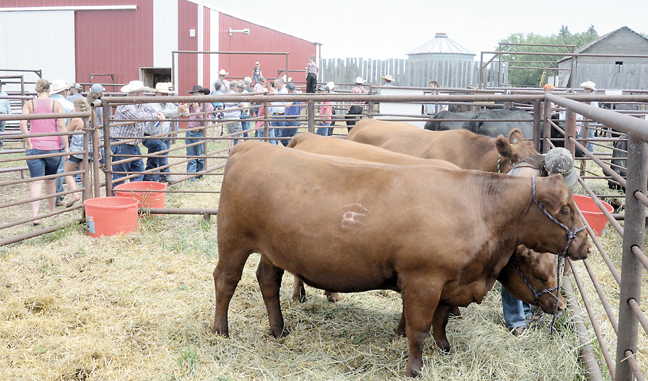 BUCKET LIST: The Southern Alberta Angus Club Field Day was held on Saturday and it saw 16 pens (above) have producers showcase their stock during an event that drew over 150 people to the information sessions and supper. ADVANCE PHOTO BY GREG PRICE
By Greg Price
Vauxhall Advance
gprice@tabertimes.com
The longest-running angus club in Western Canada had its annual field day out at a sale barn just south-east of Taber.
Co-hosted by Allencroft Angus and CD Land and Cattle, the Southern Alberta Angus Club (SAAC) Field Day helped keep producers informed. SAAC's influence is as high up north as Red Deer right down to the Alberta/Montana border.
"We feel it's quite interesting because you keep a set of people informed of what's going on and not just new genetics. There's new vaccines out there and new marketing. It's also a good sounding board for each other, especially when you have a dry year like this. It's a way to work amongst yourselves as well, seeing who is maybe suffering and who has actually been doing some good," said Doug Domolewski, past president, and board member with SAAC.
"It all helps, and we had about 150 people out at the field day. We had 16 pens of different producers' cattle there, too."
SAAC has been around for 70-plus years, and starts off with a charity golf tournament in July (Medicine Hat for 2019, Waterton for 2020), a field day later in the month and then an angus sale in October.
Producers were privy to some of the latest information affecting markets at the field day through various presentations, including Managing Your Herd to Reduce Antibiotic Use (Dr. Steve Henrick of Taber Cattle Clinic), The Importance of Feed Testing and a New Tool to Interpret the Results (Karin Schmid of Alberta Beef Producers), The Science Behind Feeding Mineral (Reed Van Driesten), Utilizing Alternative Forages on Your Operation (Forage Specialist Perry Rose), and Parasite Control (Curtis Delver of Boehringer-Ingelheim).
"It taught us some things about technology which is good for us old boys, we aren't running the world anymore," said Domolewski with a chuckle. "Doing samples on your feed. Now, it's how can you do that right off your phone. In our old system, we took a sample, it was sent away for testing and it was 10 days out before we knew what we really had for feed. Nowadays, it's 24 hours. It has come a long ways now. It's a way to teach us old boys who are behind the times. The younger generation has sped that up a long ways."
The Southern Alberta Angus Club has no host confirmed as of yet for its 2020 field day, with 2018's being in Didsbury as events are circulated around the area.
"Every farmer is busy this time of the year, so you don't really know how many people you are going to get. But, we got a pretty good turnout," said Domolewski.
And while the club is provincial in scope, producers have a world impact in the sustenance they provide to people.
"These problems with China need to be fixed. We trade genetics, but on our total farm, we need to trade canola, we need to be able to trade beef, we need to be able to trade pork," said Domolewski. "That's how our country works. We are an exporting nation, not an importing nation. Those problems need to be fixed and the government needs to step in."